Shen Yun Mystical and Moving, Says CEO
April 27, 2014 3:55 am Last Updated: April 27, 2014 11:34 am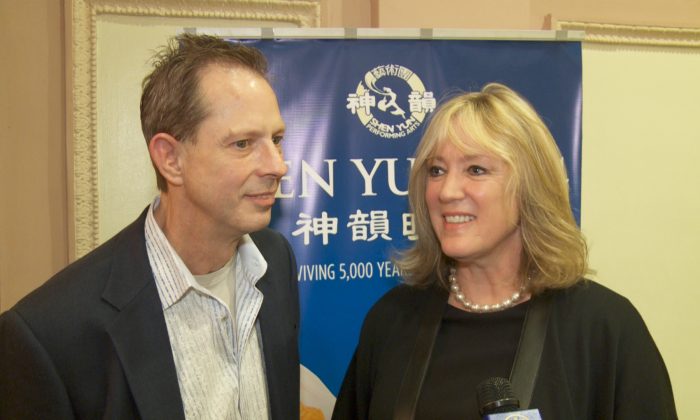 PHILADELPHIA—Mystical, excellent, passionate, these are just some of the words that Diana Ramsay and Michael Greene used to describe Shen Yun Performing Arts and its dancers, after seeing the company's performance at the Merriam Theater in Philadelphia on Saturday evening, April 26.
"There is something about it that's very mystical and very moving. It kind of gets inside of you," said Ms. Ramsay, who is the president and CEO of Woods Services, an advocacy and service organization, after watching the performance. 
Mr. Greene, a computer consultant, also enjoyed watching the performance. 
"It's an excellent show, very entertaining," said Mr. Greene. "It wakes up the mind."
Shen Yun was founded in 2006 with the mission to revive 5,000 years of divinely inspired Chinese culture. Since its inception, the company has become a global phenomenon performing for millions of people around the world. 
The stories depicted in the different dance pieces in Shen Yun are inspired by stories and legends that span China's history from ancient times right through today. 
"It's so dramatic and the stories are very meaningful. Yet it brings kind of a joyful and yet very passionate sense," said Ms. Ramsay.
Mr. Greene said that he thought it was fascinating to come into contact with traditional Chinese stories. "It's fascinating to see the movement tied with the stories," he said.
At the core of Shen Yun's performances is classical Chinese dance. Shen Yun's dancers come from around the world and many of them are award winning dancers. 
"It's hard to believe that people can actually do those things," said Ms. Ramsay, referring to the jumping and tumbling techniques used in the performance.
Both Mr. Greene and Ms. Ramsay said they were impressed by the use of the digital projection in the performance. 
Shen Yun uses state-of-the-art digital projection to create vividly animated settings that reflect China's geography and different cultures. 
"It is so skillfully done," said Mr. Greene.
Ms. Ramsay said she thought the way the dancers interacted with the digital backdrop, allowing them to appear on stage one moment, and the other on the projection was "very skilfully done" and "very entertaining."
Reporting by NTD Television and Jasper Fakkert
New York-based Shen Yun Performing Arts has four touring companies that perform simultaneously around the world. For more information, visit Shen Yun Performing Arts. 
The Epoch Times considers Shen Yun Performing Arts the significant cultural event of our time. We have proudly covered audience reactions since Shen Yun's inception in 2006.