'My heart is lighter,' Says Musician and Tai Chi Instructor
April 14, 2014 11:24 pm Last Updated: April 14, 2014 11:24 pm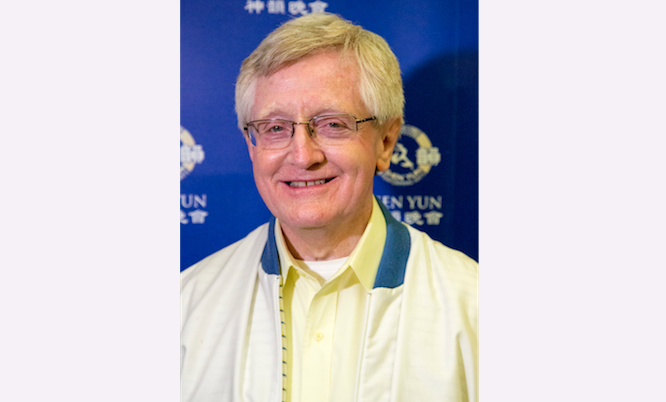 BIRMINGHAM, United Kingdom—Shen Yun Performing Arts gave a warmly received opening night performance at the ICC Birmingham to a full house on Monday, April 14.
For John Zetterstrom, a Tai Chi teacher and musician, it was an experience worth travelling 30 miles to see.
"I came by train and I think I'm going to fly home now because my heart is lighter, it was wonderful!" he said.
"It's so professional; it touched my heart very, very strongly. I'm flying out of the theatre here right now and I really feel so wonderful."
A performance by New York-based Shen Yun includes colourful classical Chinese dance, folk dance, story-based dances retelling myths and legends, and bel canto solo singers. The unique digital animated backdrop extends the stage and transports audiences to both earthly and heavenly locations.
"The dancing is wonderful, the music is so incredible and the effects and the graphics and the scenery, the projection, the whole production, everything is so wonderful," Mr. Zettersrom said.
Each dance is accompanied by the live Shen Yun Orchestra, which combines both Western and Chinese instruments to create a unique and uplifting sound.
Mr. Zetterstrom, who sings, composes and plays piano and guitar, was impressed with the way the music and the dances worked together.
"It fitted, everything fits together. It is perfectly connected. Sometimes on shows the music is wrong or it doesn't fit. Everything here … was so incredibly wonderful … especially with the Chinese classical instruments as well," he said.
The Shen Yun performers train long hours to perfect their techniques, and to master a whole new programme each year.
Mr. Zetterstrom said he could appreciate how much work had gone into the performance, and could also feel a good energy emanating from the dancers: "The energy and the heart from the stage–everything was giving–wonderful!"
He would definitely see Shen Yun again, he said: "It's the biggest, best Christmas present that I've ever had coming tonight, all in one box! …
"I look forward to see it again when it comes by next year."
Reporting by NTD Television, Shaoying Chen, and Kat Piper
New York-based Shen Yun Performing Arts has four touring companies that perform simultaneously around the world. For more information, visit Shen Yun Performing Arts.
The Epoch Times considers Shen Yun Performing Arts the significant cultural event of our time. We have proudly covered audience reactions since Shen Yun's inception in 2006.