Musician: Shen Yun 'Completely calmed the body and the spirit'
April 21, 2014 7:54 am Last Updated: April 21, 2014 8:04 am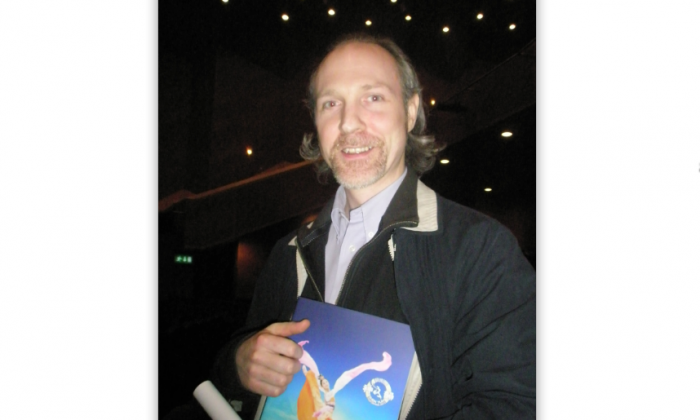 DUBLIN, Ireland—Conor Gillan said Shen Yun "completely calmed the body and the spirit" after seeing the show for the first time in The Convention Centre Dublin on April 20th.
Mr. Gillan, who teaches in a music school in Terenure, said: "It was absolutely fabulous. It completely calmed the body and the spirit. There was so much to see; the music was fabulous, amazing because it is bringing in Chinese instruments as well as Western. It is always a good thing to build bridges between different cultures."
Mr. Gillan said he has experience with traditional Irish music, Salsa, and rock bands. However, despite his extensive knowledge of music, he said that Shen Yun Performing Arts International Company Orchestra had elements he had never encountered before. One such instrument was the violin-like two-stringed erhu. "It was a very natural sound—it sounds like a voice, so it's very useful. It would have multiple applications within different styles; it has more tonality than the violin. It has more of a base tone."
According to its website, Shen Yun's mission is to revitalise traditional Chinese culture. Mr. Gillan said that the show serves as a great education for the rest of the world about the 5,000-year-old Chinese culture. He said: "I hope it's a big success, and will go on to further strength—it is very important that it does. It is an education for the rest of the world about China." 
Mr. Gillan said that how the connection between heaven and earth was depicted in the show impressed him. He said, "This show, I think, is trying to give people the idea that they can make it into a heaven and that it is possible to do this, so hope is really the message for us."
Mr. Gillan said: "I very much enjoyed it, I am very happy. I brought my parents with me. … I will come again next year".

Reporting by Wen Hua and Gerald O'Connor

New York-based Shen Yun Performing Arts has four touring companies that perform simultaneously around the world. For more information, visit Shen Yun Performing Arts.
The Epoch Times considers Shen Yun Performing Arts the significant cultural event of our time. We have proudly covered audience reactions since Shen Yun's inception in 2006.