Musician Enthused by Shen Yun Orchestra
April 25, 2014 1:12 am Last Updated: April 25, 2014 1:19 am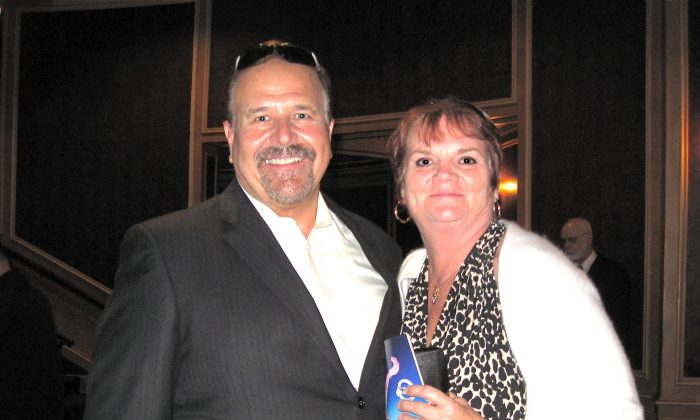 BUFFALO, N.Y.—Being a National Historic Site and one of North America's most elegant and ornate theaters, Shea's Performing Arts Center is a fitting venue for showcasing the wonder and beauty of Shen Yun Performing Arts.
Shen Yun played the first of two shows at Shea's on Thursday evening, delighting the audience with its lavish depiction of traditional Chinese culture through music, song, and dance.
Dan Casamento, a doctor and musician who plays in two bands, was highly impressed with the performance and the orchestra's unique blend of Chinese and Western instruments.
"Quite spectacular," he said. "I really enjoyed the orchestra. The combination of the Western music and the Chinese music is most enjoyable."
"I know music," added Mr. Casamento, explaining that he has been a musician for 45 years. He plays reed, sax, flute, and clarinet.
"Excellent musicians, amazing musicians. Very talented people [Shen Yun has] in the orchestra," he said.
"The composer who moved the music together—that's a very talented person whoever did that. The Chinese sound is much different than the Western sound but the combination together makes it very, very enjoyable."
Mr. Casamento also noted the coordination between the music and the dancers. Shen Yun showcases both classical Chinese dance and folk and ethnic dances that pay tribute to the vast Middle Kingdom's many diverse regions and ethnicities.
"The choreography is amazing and the director of the orchestra is really very good. He's excellent. You can tell his training is wonderful. I can see his training easily," he said.
Mr. Casamento's friend, Pam Kardeen, was also thrilled with the performance.
"I loved it, loved it. It was fabulous," she said, adding that she bought tickets to the performance for Mr. Casamento and two other friends.
"It just looked like so much fun, and it looked colorful. I love dancing, and it was just something I had to do," she said. 
Based in New York, Shen Yun was founded in 2006 by a group of leading classical Chinese artists who wished to revive the true traditional culture of China that has been all but lost following decades of communist rule.
"We love the revival," said Mr. Casamento. "[Shen Yun] brings it back to life again. It's very enjoyable."
"We're looking forward to next year when [the show] comes back," said Ms. Kardeen.
Reporting by Allen Zhou and Joan Delaney
New York-based Shen Yun Performing Arts has four touring companies that perform simultaneously around the world. Shen Yun's Touring Company will perform in Buffalo from April 24-25. For more information, visit ShenYunPerformingArts.org
The Epoch Times considers Shen Yun Performing Arts the significant cultural event of our time. We have proudly covered audience reactions since Shen Yun's inception in 2006.