NORTHRIDGE, Calif.—If you're new to Shen Yun Performing Arts, there's a lot to take in. A rainbow of costumes fill the stage, heavenly maidens and dragon kings come alive, and the animated scenery of grand palaces and celestial paradises transport you.
For composer Robert Noriega, it was the music that immediately captivated him.
"I think Michael Jackson would be very proud if he were here today," Mr. Noriega said.
Mr. Noriega, CEO to a media group that works in film, television, and music production and development, spent a good part of his career working with international pop icon Michael Jackson.
As a former member of Michael Jackson's studio team, Mr. Noriega participated in about a third of his over 130 releases. He was one of the singers for Michael Jackson, and a music producer. Formally trained in music, Mr. Noriega has since composed and orchestrated music for everything from corporate clients to the U.S. Energy Department.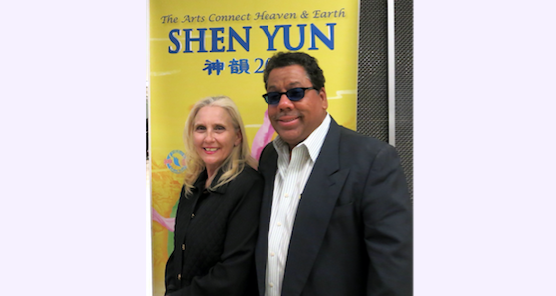 "I love music; my life has been dominated by music. Music is a real passion for me," Mr. Noriega said.
So the unique instrumentation and oft-praised feat of amazing synchronization was all the more interesting to Mr. Noriega. In fact, he was thrilled.
"I listen for different things than other people listen for, but I think they did an outstanding job. I really enjoyed the more cultural instruments. That makes it authentic, which is fantastic, and I think it's a wonderful thing that more people need to experience," he said.
Peppered throughout the full orchestra in the orchestra pit were instruments like the two-stringed erhu and pipa, sometimes called the Chinese violin and lute, respectively. Several Chinese percussion instruments created new beats and tones in the back, and the Chinese woodwind suona brought a sort of brightness to many pieces.
These Chinese instruments are a permanent part of the ensemble, which is unique in all the world. Shen Yun's composers have explained that to really harmonize these two schools of music, traditionally thought to be entirely different in tone and style, they have played to the strengths of each, rather than forcing the music to be something it is not.
The Chinese instruments lead the melodies that can evoke images of a certain dynasty or regions, and the Western orchestra provides the kind of grandeur that fills the space.
"I think the presentation is excellent. It absolutely demonstrates the cultural differences, the visuals behind the costumes," he said. "I think I might have to buy the company."
The company was established in 2006 in New York, as a non-profit with the mission to revive the authentic traditional Chinese culture. For 5,000 years, China was a land where the divine and mortal coexisted in a civilization believed to be divinely inspired.
But in recent decades, under communist rule, the regime has sought to systematically upend and destroy the traditional arts, beliefs, and values—to replace the ancient culture with that of the Chinese Communist Party.
So in a Shen Yun performance, audiences are treated to classical Chinese dance, a form that has been tempered and passed down through the dynasties. There is no better form to convey the depth and breadth of this longstanding culture, according to Shen Yun, as the dance form is both incredibly expressive, and distinctly that of traditional Chinese culture.
This is partly because, in addition to the form of the dance (which was developed over thousands of years in China), there is an emphasis on the dancers' inner spirit. Each movement and gesture is imbued with the bearing of the dancer and the character they are portraying, whether it is a Manchurian princess or the mischief-wreaking Monkey King. When audience members see Shen Yun, they often say they feel transported into ancient China.
This inner meaning in the music and performance overall was evident to Mr. Noriega, who felt the art had a spiritual foundation.
"I think the spiritual element is an important thing," he said, because it served as the foundation. "I think people need to know more about those kinds of things because we live in a society now where we have departed from the foundation of those things."
Though this was the first time Mr. Noriega had seen Shen Yun, it was not entirely new to him. He had seen billboards and heard wonderful things about the performance a few years ago, as it is popular in Southern California and draws tens of thousands across several cities every year.
"It took me a little time to get here. I'm happy to be here," he said.
"I would summarize my experience as very fulfilling," he said. "The production here is so deep in its cultural roots that it's something to really appreciate."
Reporting by Michael Ye and Catherine Yang
New York-based Shen Yun Performing Arts has four touring companies that perform simultaneously around the world. For more information, visit Shen Yun Performing Arts.
Epoch Times considers Shen Yun Performing Arts the significant cultural event of our time. We have proudly covered audience reactions since Shen Yun's inception in 2006.
Northridge, United States
Shen Yun New York Company