A Colorado mom went on social media to warn others about the potential dangers of giving small children popcorn.
Nicole Johnson Goddard said she gave the movie-time snack to her son, a toddler.
"I didn't think twice to give Nash popcorn," Goddard wrote on Facebook, referring to her son.
She added that "Nash had [a] small choking episode but was fine. We didn't see anything come out so we assumed he swallowed it. He seemed completely fine and continued to watch the movie."
However, the next day, she said her son developed a cough, but his mother believed it was due to a cold.
The next day, Goddard said her son started feeling "warm" turned "super fussy."
Goddard gave Nash some fever medication and put him to bed. Later, she noticed Nash's breathing became increasingly labored and called her doctor out of concern.
The worried mother then took her boy to the hospital and he received a chest X-ray and a bronchoscopy.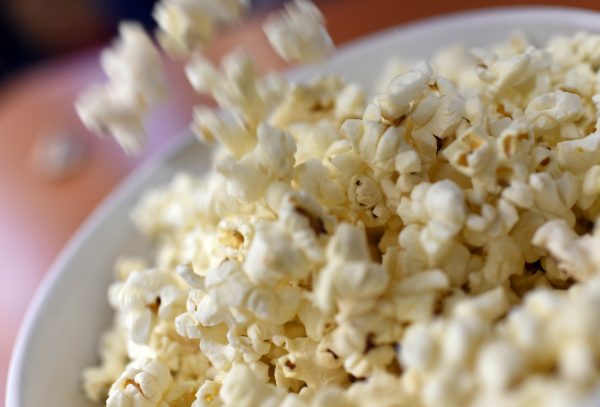 Doctors informed the family that Nash had aspirated popcorn into his lungs as he choked. They removed six pieces while he went under anesthesia.
"The body recognized it as a foreign object and put puss pockets around it," Goddard wrote in the post.
She added that "all the inflammation caused him to develop pneumonia in his left lung… there was so much inflammation so the doctor wasn't [sure] he got it all, so [they] scheduled him to be admitted and repeat the procedure in 2 days… It was an up and down roller coaster but we were in the best care."
Doctors were able to remove another piece of popcorn from the child's lungs.
"We're so thankful our little man came out OK," she wrote. "All of this over popcorn which is eaten on a regular basis in our home."
The doctors then told her that popcorn shouldn't be given to children under the age of five.
Her post has been shared over 124,000 times over the past few days.
"I wrote it as an eye opener for people to see how something that you think is fine can quickly turn into something bad," she said, adding: "Always trust your gut because it's right!"
Is Popcorn Dangerous?
In 2009, pediatricians urged for warning labels for some food items, including popcorn.
The American Academy of Pediatrics (AAP) said in its report (pdf) that "high-risk foods include hard candy, peanuts/nuts, seeds, whole grapes, raw carrots, apples, popcorn, chunks of peanut butter, marshmallows, chewing gum, and sausages."
"Many of these foods, such as round candy, grapes, marshmallows, and meat sticks/sausages, share the same high-risk physical characteristics that create effective plugs for the pediatric airway," according to the report.
Meanwhile, according to one website, it's not a good idea to give babies or toddlers popcorn.
"I'd say 4 years is the youngest age when you can let a child eat popcorn," Susan Moores, a registered dietitian in St. Paul, Minnesota, told Babycenter.com.
The reason is that popcorn can cause choking and gagging.
Aspiration
According to Healthline, "Aspiration means you're breathing foreign objects into your airways. Usually, it's food, saliva, or stomach contents when you swallow, vomit, or experience heartburn. This is common in older adults, infants, and people who have trouble swallowing or controlling their tongue."
Most of the time, it won't cause any problems or symptoms.
"Aspiration increases your risk for aspiration pneumonia. This is a condition where pneumonia develops after you've inhaled bacteria (through food, drink, saliva, or vomit) into your lungs. Too much liquid in your lungs can also result in a pulmonary edema, which puts a strain on your lungs," the website says.