Summery beers are already on shelves or on tap, but another great way to enjoy a brew is in a mixed drink. In some cases, the blending lightens the alcohol for light drinking in the summer heat, while in other cases the beer becomes the mixer for booze.  
Never fear to experiment (stout floats, anyone?) but here are a few reliable options to get you started.
Shandy and Radler
Not the name of a 1970s buddy-cop series, but two monikers for essentially the same drink, though they originated independently in the UK and Germany, respectively.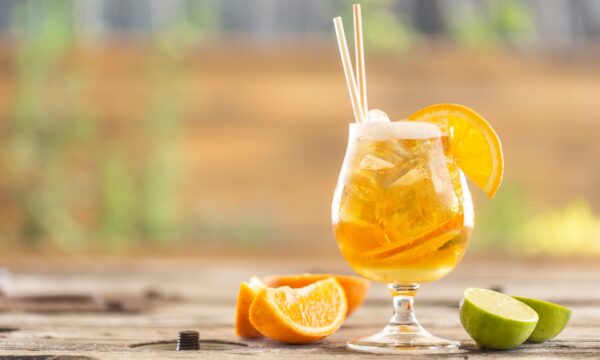 The Shandygaff first appeared in 19th-century Britain as lager blended with ginger ale or ginger beer. The mixer evolved to lemon soda, eventually, and when it crossed the pond, it was replaced with lemonade. Americans may make it this way due to a mistranslation from English to English: The Brits call lemon-lime soda "lemonade." 
Over in Germany, Franz Kugler, a Bavarian innkeeper, took advantage of the 1920s bicycling rage and created a trail that led, conveniently, to his door. On a hot day in June, a massive amount of riders had him worrying about beer supply, so he cut his beer with some lemon soda, and Radlermass ("cyclist liter") was born. 
Austrian brewer Steigl cans a nice grapefruit-flavored radler, and the 2 percent ABV keeps it nice and light for, say, a cyclist. Or, make your own: pour yourself half a glass of light lager or wheat beer, and top it off with Sprite or 7-Up. Refreshing, but light on alcohol. Both ingredients should be chilled, but adding ice is not recommended.
Michelada
Lime juice and beer go together (see Corona) but the Mexican michelada goes one step beyond by adding tomato juice and hot sauce. More popular than straight-up tomato juice is Clamato, which adds seasonings and some clam juice to the formula.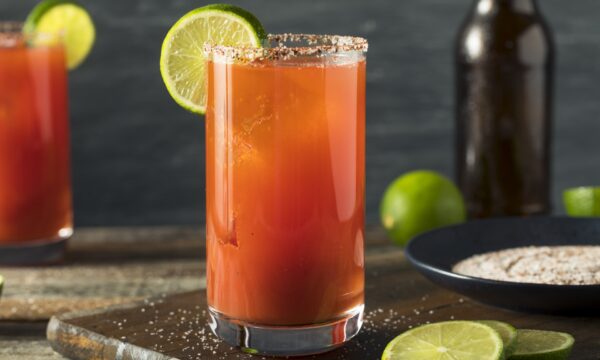 You'll get two servings from one 12-ounce bottle of Mexican lager. Take two pint glasses, wet the rims, and dip them in a mix of hot chili powder and salt. Fill with ice. Split the beer, and add 1/3 cup of Clamato and an ounce of fresh lime juice to each. Add a couple drops each (or more) of hot sauce (try Cholula), Maggi (brand name of a soy-based seasoning sauce), and Worcestershire sauce, and garnish with a lime wedge. 
I've heard tell it's good for hangovers, too.  
Mimosas Gone Weiss 
The mimosa is a 50-50 mix of sparkling wine and orange juice. Here's a good beer version: fill your glass two-thirds full with wheat beer (think Bell's Oberon or a German hefeweizen) and finish it off with OJ. 
Riffing on this theme, try an IPA with a strong grapefruit-y hops presence, and top that off with grapefruit juice. 
Beerlini
A fruity alternative to the mimosa and a beer pun that was just waiting to happen, the Bellini brings together two parts Prosecco and one part peach puree. A Beerlini calls for two parts sparkling wine and one part grapefruit puree sweetened a bit with sugar in your blender, topped off with beer. Use a grapefruit-flavored beer or a brew with hops of such character. Serve it in a stylish flute because we're being fancy here. 
Beer Slushies
Truth is, I usually make these when I've forgotten cans quick-chilling outside in the winter. But to do it intentionally takes a bit of time and care.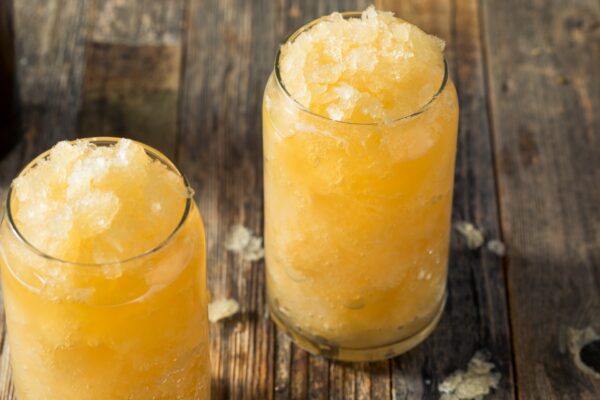 For each serving, pour a wheat beer into a shallow pan along with a couple of tablespoons of your chosen fruit juice or syrup and its liqueur counterpart. For cherry, the syrup from a jar of maraschino cherries works, along with some Luxardo Maraschino Originale liqueur or even some German kirschwasser (cherry brandy) if you want a bigger punch to it. 
Place the pan in the freezer and come back every half hour with a fork to stir the ice crystals forming along the edge into the center of the pan and mix. Repeat until the crystals grow into a slush-like mass. This may take a couple of hours. Then spoon it into glasses to serve. 
Alternatives: Triple Sec with orange syrup, Limoncello with lemon syrup.
Dublin Iced Coffee 
Give your iced coffee a beer-y twist.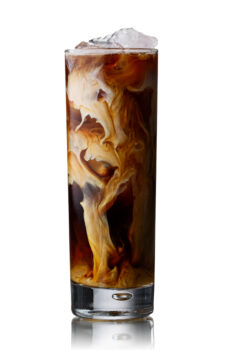 Start with 2 ounces each of cold-brew coffee and your favorite stout or porter—Guinness if we're keeping this strictly Irish. Bonus points if you can find a stout aged in Irish whiskey barrels. 
Mix in 1 1/2 ounce of Irish whiskey and 3/4 ounce of simple syrup, and fill the rest of the glass with ice. Then pour up to an ounce of heavy cream slowly into it for a beautiful presentation as it sinks and swirls into the dark drink. 
Another option: Swap dark rum for whiskey, making this … Havana iced coffee? 
Kevin Revolinski is an avid traveler and the author of 15 books, including "The Yogurt Man Cometh: Tales of an American Teacher in Turkey" and several outdoor and brewery guidebooks. He is based in Madison, Wis., and his website is TheMadTraveler.com