BIRMINGHAM, England—Anita Gatehouse, a company director, started off 2020 feeling uplifted after watching a "mesmerizing" Shen Yun performance on Jan. 1, 2020.
"I think you couldn't help but be moved by how beautiful it was … I think in the world at the moment, there are too many things that aren't very pleasant … so to have something as beautiful and spiritual as it [Shen Yun] is very important," said Gatehouse.
Gatehouse attended a sold-out New York-based Shen Yun Performing Arts performance in Birmingham to kick off her new year. Gatehouse, along with a full house of 1,500 others, spent two hours in Birmingham's International Convention Centre experiencing 5,000 years of Chinese civilization.
Gatehouse's overall impression was that Shen Yun was "mesmerizing … It was really mesmerizing, beautifully done."
"I thought it was really fantastic," Gatehouse said. "Very organized, very polished, beautifully presented."
The Ancient Chinese Instrument With 4,000 Years of History
Gatehouse had glowing praise for Shen Yun's music, and one of the instruments, in particular, surprised her.
"A surprise was listening to the two-string instrument that the woman was playing. It was absolutely beautiful," Gatehouse said.
Gatehouse said the Chinese two-stringed instrument called the erhu was her favorite instrument in the orchestra.
"When I was listening to that stringed instrument, it was just flowing over me, and I was really enjoying that," she said. Gatehouse added it was an experience that could only be described as beautiful.
According to Shen Yun's website, the origins of Chinese music can be dated back to distant antiquity:
"Ancient Chinese instruments share a deep connection with Heaven and Earth. The delicate notes of the plucked pipa evoke a sense of celestial realms. The enchanting sound of the 4,000-year-old erhu mimics the human voice. Leading the melody amidst a full Western orchestra, they create a profound musical experience that resonates deep in the heart," Shen Yun's website states.
"Some of the parts of the orchestral music were really uplifting, some of it was very beautiful," said Gatehouse. "Overall, marvelous."
An Inner Difference
Gatehouse thought the Shen Yun dancers were incredible.
"So coordinated, so elegant. To think today they are doing that performance twice [today], must be absolutely tiring. Beautiful," Gatehouse said with admiration.
Shen Yun's artistic philosophy goes beyond the physical. As its website states, the artists "are also spiritual seekers on a shared journey. They meditate together, study teachings together, and strive to live by the principles of truth, compassion, and tolerance. Their self-discipline is remarkable, and they believe that cultivating the heart is the way to create art that is beautifully sublime."
Gatehouse said she could feel Shen Yun's inner difference through the dancers' performance.
"Yes, that definitely came through, it was a very spiritual performance," she said. "I think it was very sincere, I thought it was really wonderful."
She expressed that it made her feel very uplifted, and made her quite interested in Chinese culture.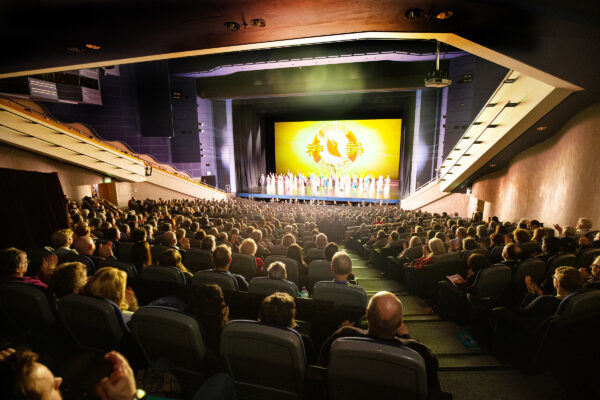 A Visual Splendor
Gatehouse also marveled at the beauty of Shen Yun.
"They were gorgeous, absolutely gorgeous. The colors were incredible," Gatehouse said. She had as much praise for the backdrops accompanying the dances.
"I thought some of the transitions between the visuals and the dancers were very clever, very clever," she said, adding she couldn't work out how it was done.
Shen Yun indeed has a clever trick (or two) up its sleeve when it comes to bringing its scenes and stories to life with its animated backdrop, an invention so original the program states it has been patented.
Like many of us, watching Shen Yun's dancers graciously and effortlessly float and glide across the stage, Gatehouse expressed her wish to be able to dance like a Shen Yun dancer.
"I'd love to be able to dance like that," she added.
With reporting by NTD Television and Grace Coulter.
The Epoch Times considers Shen Yun Performing Arts the significant cultural event of our time and has covered audience reactions since the company's inception in 2006.