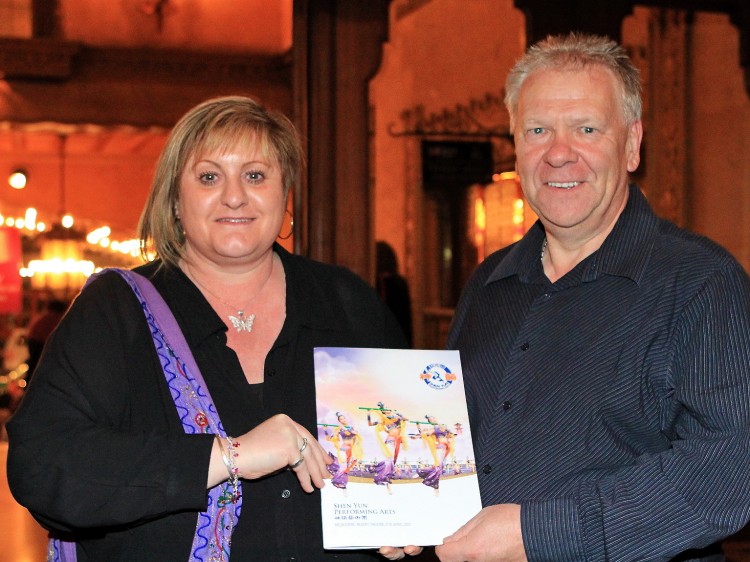 MELBOURNE, Australia—Fresh from sold-out shows in Taiwan, Shen Yun Performing Arts New York Company continues its successful 2012 world tour 'down-under' at Melbourne's Regent Theatre.
The New York-based company, renowned for its presentation of classical Chinese dance and music, wowed last night's audience for the second of six shows on April 12.
Rod Dalglish, general manager of Variety—the Children's Charity, and his wife, Julie, urge everyone to come and experience the global extravaganza.
"To really understand it, they need to see it," Mr. Dalglish said. "It's something you really can't explain as well as you would like to, it's really a visual thing for people. I'd never seen anything like it before, it was an absolutely brilliant show. The costumes, the movement, the coordination of all the dancers were just unbelievable."
Unbeknown to Mr. Dalglish, Shen Yun was designed to revive China's 5,000-year-old divinely-inspired civilisation and cultural values, through story-based dance, song and music—almost lost under 60 years of communist rule.
"It was something that, when you [haven't seen] another culture before and you experience it the first time, you're absolutely amazed at everything that happens. And there just wasn't one person that was out of place in their movements throughout the whole show."
Among Shen Yun's unique trademarks, the Shen Yun New York Company Orchestra's blend of ancient Chinese and modern Western instruments in all-original composition, drew praises from Mr. Dalglish, who also praised tenors, Tian Ge and Hong Ming, and soprano Chia-Ning Hsu.
"The orchestra absolutely was fantastic and made it a really great spectacle," he said. "The people that did the singing and that lady that played the instrument. I don't know what the instrument was called, but she's absolutely amazing."
Mr Dalglish was referring to the erhu, a two-stringed ancient instrument that can be traced back to China more than a thousand years ago. Played by soloist virtuoso Xiaochun Qi, its mesmerising tonality is said to be the closest to the human voice.
He admitted he had no idea of China's profound cultural and spiritual legacy, but appreciated the opportunity of finding out. "Just to see the history of what's happened in the past in China was a real experience, and something can now take away and think very differently of how the Chinese [people] have developed over the years."
He was also amazed by the hi-tech digital backdrop scenes, one of Shen Yun's unique trademarks, where the dancing interacts seamlessly between the projected screen and a dance at hand.
"The dancers seemed to fly into the stage," said Mr. Dalglish.
Animated figures fly down off the backdrop screen and appear on stage as if by magic, complete a dance at hand, then disappear backstage only to reappear on screen and fly into the distance disappearing into the heavens.
Reporting by NTD Television and Kati Turcu
Shen Yun Performing Arts, based in New York, tours the world on a mission to revive traditional Chinese culture. Shen Yun Performing Arts New York Company will perform in Melbourne, Australia from April 11 to April 15.
For more information, visit ShenYunPerformingArts.org.