Medical Professionals Delight in Shen Yun
April 22, 2014 10:31 pm Last Updated: May 2, 2014 10:36 pm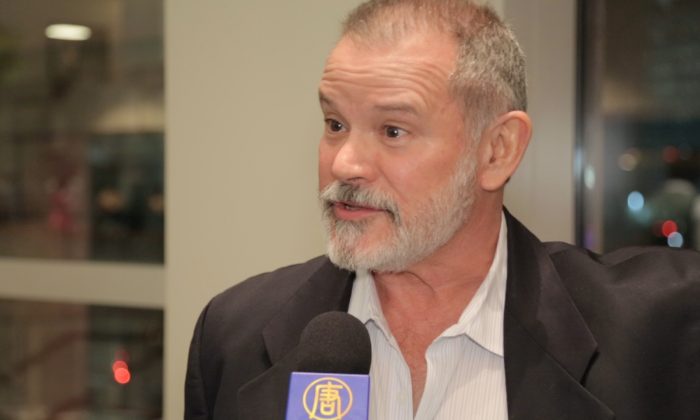 MIAMI—Shen Yun Performing Arts' depiction of ancient China delighted Dr. Basilio Garcia, M.D., when he saw the performance at Miami's Arsht Center on April 18.
"Excellent, very beautiful," Dr. Garcia said. "And I think we saw China this time in a different way—coming from heaven."
According to its website, New York-based Shen Yun aims to revive 5,000 years of Chinese civilization—said to be divinely inspired—through the universal language of music and dance.
Dr. Garcia said Shen Yun gave a "very spiritual performance," especially the last dance, which he felt portrayed freedom. The dance Buddha's Compassion Shines Forth tells the story of a young couple practicing Falun Gong, a traditional meditation form also known as Falun Dafa, whose practitioners are persecuted by the Chinese regime.
"You see Chinese youth looking for freedom to liberate themselves from oppression. I can see Tiananmen Square right there. And I see the last performance when you see the future of China is different from the past," Dr. Garcia said.
"It's a liberating feeling. You see the youth of China looking at the outside world, and I think the outside world will reflect in the future of the young people of China, and they will liberate themselves from oppression someday."
Since its inception, the Chinese Communist Party has attempted to eradicate the traditional culture with its moral principles and its reverence for the divine.
"Over its past 60 years of rule, the communist regime has treated traditional Chinese values—centered on the idea of harmony between heaven and earth—as a threat to its existence," the Shen Yun website states. "And in its systematic campaigns like the Cultural Revolution, it has uprooted traditional beliefs … bringing traditional 5,000 years of civilization to the brink of extinction."
Dr. Garcia said many people haven't seen the spiritual side of China as portrayed by Shen Yun and recommended they come to see the performance.
"They will see a different China. Many people don't have [any] idea … of China this way. It's very artistic, very spiritual. I like the spiritual part."
"I'm not familiar with the ancient Chinese culture, but you do perceive the spiritual part right here in this show," he said.
'Absolutely Breathtaking'
Dr. Cole, another medical professional in the audience, was equally delighted by the Shen Yun performance that had unfolded on the stage.
"Magnificent! It was absolutely breathtaking. The dancing was fantastic. The costumes were beyond my imagination, and the music was beautiful as well. It was a wonderful performance," he said.
Dr. Cole is a member of the Arsht Center, where he has seen a number of different performances. "This was outstanding, though. I was very, very impressed," he said. "We were very happy to have come this evening. We feel very fortunate and lucky to have seen such a magnificent performance."
"I thought it was done very well. Absolutely breathtaking. Very nice," he said.
Dr. Cole paid homage to Shen Yun for sharing China's ancient culture. "It's nice that they take us Westerners and introduce us to the Chinese culture in a way that shows the music and the dancing and the [spirituality] that makes it easy for us to understand," he said.
He said he learned from the program that the Chinese regime alone had banned the spiritual practice Falun Gong and that China is the only country in the world that does not allow Shen Yun to perform there.
"I would like to thank [the performers] for their dedication and their hard work. Obviously their performance shows the sacrifices that they make. I very much appreciate all the hard work they've done," he said.
Reporting by NTD Television and Raiatea Tahana-Reese
New York-based Shen Yun Performing Arts has four touring companies that perform simultaneously around the world. For more information, visit Shen Yun Performing Arts.
The Epoch Times considers Shen Yun Performing Arts the significant cultural event of our time. We have proudly covered audience reactions since Shen Yun's inception in 2006