Marketing Director Impressed by Shen Yun
April 5, 2014 9:43 pm Last Updated: April 6, 2014 1:51 am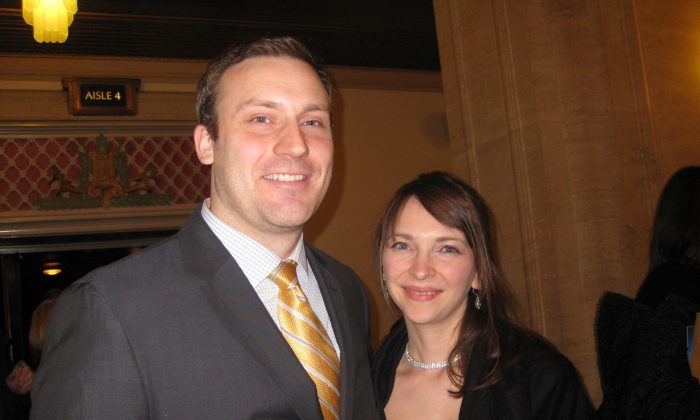 CHICAGO—"I thought the dancing was beautiful! Very visually stunning," said Trisha Vicenzi. Trisha is the wife of Matt Vicenzi, who is a marketing research director at Hall & Partners.
They both enjoyed seeing Shen Yun Performing Arts at the early performance on Saturday, April 5, at the Civic Opera House in Chicago.
"For 5,000 years divine culture flourished in the land of China. Humanity's treasure was nearly lost, but through breathtaking music and dance, Shen Yun is bringing back this glorious culture," states Shen Yun's website.
It does so through dance performances of classical Chinese dance and folk dance which are accompanied by a unique sounding orchestra which combines the beauty and distinctiveness of Chinese sounds with the power and precision of a Western orchestra
"It was unique with the visuals and the music combining together," said Mr. Vicenzi. "I thought it was impressive, and I'm just happy."
Shen Yun portrays the traditional and cultural heritage and positive beliefs of the divine culture that is said to have been rooted ancient China. According to Shen Yun's website, "Its stunning beauty and tremendous energy leave audiences uplifted and inspired."
"We were just talking about how it was a good cultural lesson as well," added Mrs. Vicenzi. "It's more impressive than we were familiar with."
"We were saying it's a shame that they can't do this in China," said Mr. Vicenzi.
"That was probably the one thing that really stuck. Beyond that, there were lots of little stories, so I think it will take a little while for the information that was conveyed to sink in," he said.
Established in 2006 by a group of overseas artists, Shen Yun has set out on a mission to revive 5,000 years of civilization, in particular the spirituality that was part of China's divinely inspired culture.
"I think that was tied in very well," continued Mr. Vicenzi. "I think that was part of what made it impressive and educational, was that they made it not just its own point, but part of the performance."
Reporting by Catherine Wen and Paul Darin
New York-based Shen Yun Performing Arts has four touring companies that perform simultaneously around the world. For more information, visit Shen Yun Performing Arts.
The Epoch Times considers Shen Yun Performing Arts the significant cultural event of our time. We have proudly covered audience reactions since Shen Yun's inception in 2006