Managing Director is 'Whisked Away' by Shen Yun
April 21, 2014 9:31 am Last Updated: April 21, 2014 9:47 am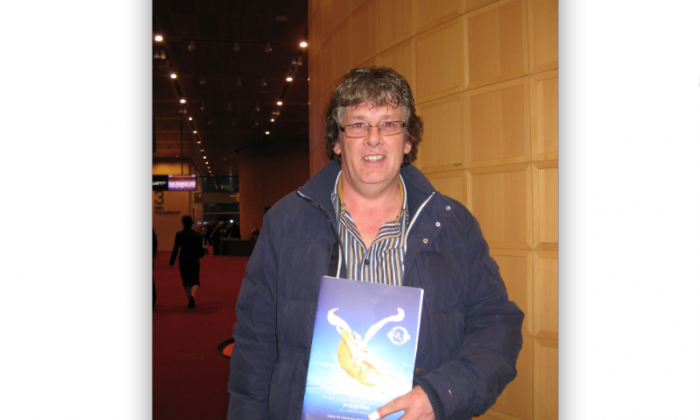 DUBLIN, Ireland–Mr. Aidan McCann, managing director of advertising company Promo Post, was "whisked away" by Shen Yun when he saw the show in The Convention Centre Dublin on April 21st.
He said, "It's absolutely fantastic. We were whisked away by it. It's brilliant."
Mr. McCann said that the marketing materials for the show couldn't do it justice. "I've seen YouTube clips on the website and I was really looking forward to seeing it. But it didn't do it justice. What I'm looking at tonight is just incredible," he said.
According to its website, Shen Yun's mission is to revitalise traditional Chinese culture with a performance that features classical Chinese dance, symphonic music, colourful handmade costumes, and interactive digital backdrops.
Mr. McCann described being taken on a fantastic odyssey through 5,000 years of Chinese culture: "It's taking us on a journey. It started at the very beginning and it's taking us through all the different stages of Chinese culture."
Mr. McCann also spoke of how he was moved by the plight of a mother and daughter portrayed in one of Shen Yun's dances, The Steadfast Lotus, where they are persecuted by the Chinese communist regime for their belief in the peaceful Falun Dafa meditation practice.
It broke his heart, he said. "What I'm thinking is, that's happening today. What you saw, the bullies coming, what they did to the mother, the punishment they put on the daughter, that's real. That's real life. Portrayed in dance. 
"And my heart just broke for people having to suffer that. It's a meditation, it's a religion. It's something that's goodness," said Mr. McCann.
Reporting by Liu Shuting and Gerald O'Connor
New York-based Shen Yun Performing Arts has four touring companies that perform simultaneously around the world. For more information, visit Shen Yun Performing Arts.
The Epoch Times considers Shen Yun Performing Arts the significant cultural event of our time. We have proudly covered audience reactions since Shen Yun's inception in 2006.