WORCESTER, Mass.—Shen Yun Performing Arts received lavish praise on Sunday afternoon from its Worcester audience. Whether out for a family outing or a personal treat, the colors, sound, and movement of the performance drew enthusiastic responses.
Engineering manager Firas Azar treated himself to the performance, which he said was "masterfully executed." And even though he was back for his fourth time, Mr. Azar said he was very impressed by this year's all-new production.
"Especially when the dancers go vertical with their legs, I think to myself 'Ouch! They make it look so easy!'" he said. "I think: 'How is it they can, first of all, memorize each and every move, and synchronize it with millisecond precision?' This is something. And the play on colors … I'm deeply impressed."
Shen Yun has elicited such responses from audiences since its inception in 2006.
Based in New York, Shen Yun explores and presents the stories and traditions of ancient China, contrasting them with the events of modern China under communism. At the core of its mission is to give audiences a taste of what China's culture would be like had it not been systematically destroyed by the foreign ideologies of Marxism and atheism.
So no matter what you may think, no matter what you may believe, it's a good thing that culture and the past—even the bad—should be preserved.
"It's very essential that history be preserved," Azar said. "Especially [because] China is one of the oldest still-living civilizations. So no matter what you may think, no matter what you may believe, it's a good thing that culture and the past—even the bad—should be preserved."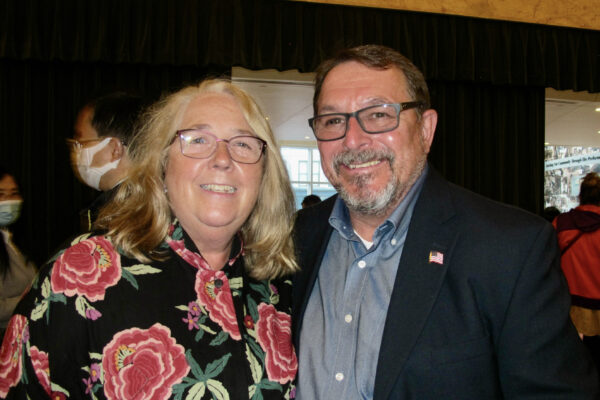 Retired aircraft engine manufacturer Michael Morgan and his wife Denise Morgan, owner of the Brush-It-Off creative center, were both deeply touched by the show.
"She accuses me of crying, I cried for the whole show," Mr. Morgan said. "My feelings of the divine—of course, it's in all of us—the strength could possibly help more."
Shen Yun, despite depicting Chinese culture, is ironically not free to perform in China, precisely because the program exposes persecution perpetrated by the Chinese communist regime.
"[I]t's heartbreaking that they can't do this in China anymore," Mrs. Morgan said.
Mr. Morgan added that he couldn't get enough of Shen Yun: "It's extremely important that we see more of these shows. One show once a year is not good enough, okay. I need to see it five days a week.
"More, more, more culture," he said. "The music, so appropriate. The dance, fundamental and pure. [I]t's a fantastic show. We bought the tickets way back in May, and it is not disappointing at all."
Family Impressed by Shen Yun Storytelling
Attorney Jennifer LaBaire and her husband, Bill LaBaire, a high school computer science teacher, brought their young son to the performance as a belated birthday present.
Mrs. LaBaire commented: "I like the classical Chinese dancing and I like the stories about the relationship with the divine. And also, up to the present day, what's happening in present-day China as well."
Mr. LaBaire gave special mention to Shen Yun's storytelling, elevated with its animated digital backdrop.
"I also really enjoy incorporating the old culture with new media, the special effects with the digital effects that have also been included in this production. It's just so accurate," he said.
The performance opened his eyes to a different side of Chinese culture.
"I don't know much about Chinese [culture], but for as long as I've known China, it's always been communist," he said.
He resonated with Shen Yun's theme of "China before communism" and the show's message that spirituality is important to humankind.
"[T]hey (the Chinese people) should be free to practice what they want, and have those values," Mr. LaBaire said.
Reporting by Ya Wen, Mary Mann and Epoch Times Staff.
The Epoch Times considers Shen Yun Performing Arts the significant cultural event of our time. We have proudly covered audience reactions since Shen Yun's inception in 2006.