Jet Flight Simulator Owner Transported to Another World by Shen Yun
April 26, 2014 10:56 am Last Updated: April 26, 2014 7:23 pm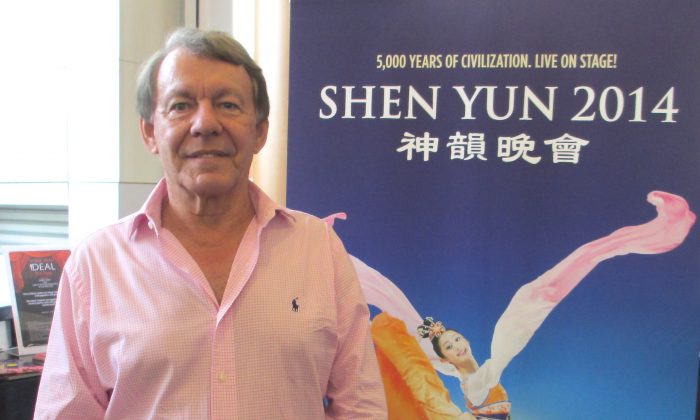 GOLD COAST, Australia—"Absolutely fantastic! Just one of those marvellous things that we are lucky in Queensland, or on the Gold Coast, to have the privilege to witness," said Daniel Giron, a qualified pilot and founder and owner of jet flight simulator, after his Shen Yun Performing Arts experience.
Mr. Giron attended the Saturday matinee performance at the Arts Centre, Gold Coast on April 26. He was taken by the beauty he saw onstage saying, "Beautiful, fantastic, it was out of this world."
Taking in many aspects of the performance he said, "I think it's the beauty of the past and the history of China including the dance, including the dress and the whole atmosphere. It's just absolutely extraordinary—fantastic," he said.
"A unique feature of Chinese civilization is that its history has been documented and passed down uninterrupted for 5,000 years. This provides Shen Yun with vast source material, making it possible to revive this ancient culture on a present-day stage," according to the Shen Yun website.
"So the story … obviously some things go back 5000 years ago and come back to the modern day. I think the stories are beautiful. Even though at the beginning we don't understand that because we haven't melded into it," said Mr. Giron.
"Mortals and divine beings merge on stage as one. Principles such as benevolence and justice, propriety and wisdom, respect for the heavens, and divine retribution, all come to life, washing over the audience," says the website.
"The divinity coming down and then melding with humanity. You can see that and you can feel that," he explained.
"There is a spiritual side. Like in every society, you get mystique, spirituality, you get belief, and you get all the things like that, so you can find it here definitely," he said.
Mr. Giron spoke from the heart of a sense of becoming one with the performance.
"I think you can develop your own self and get inside every single movement of the show and feel … you can feel part of it."
Mr. Giron's business of Jet Flight Simulators has branches nationwide. Jet Flight Simulator is where people can practice flying a 737-800. Daniel plans on expanding the business into USA.
Reporting by NTD Television and Christine Ford
New York-based Shen Yun Performing Arts has four touring companies that perform simultaneously around the world. For more information, visit Shen Yun Performing Arts.
The Epoch Times considers Shen Yun Performing Arts the significant cultural event of our time. We have proudly covered audience reactions since Shen Yun's inception in 2006