NAGOYA, Japan—"We, Japanese people, are very good at synchronization. But we are far behind Shen Yun," said Mr. Amano Takahiko, a tax accountant, after attending Shen Yun Performing Arts at the Aichi Prefectural Art Theater in Nagoya on Jan. 17.
Mr. Amano said all Shen Yun dancers danced at exactly the same pace and in line with each other, even when they jumped, spun, or did other difficult movements, which amazed him. The word "amazing" was constantly on the tip of his tongue after witnessing Shen Yun's performance.
"The performance is gorgeous! It showed us scenes in ancient China, in heaven, and more. It really presented a historical picture scroll in front of us," he said. "It's really amazing!"
The dynamic backdrop, too, was amazing, Mr. Amano said.
"The coordination of stage and backdrop is seamless. The dancers leaped on the stage and then flew to the sky in the backdrop. It surprised me. It's amazing," he said.
Japanese people are also familiar with stringed instruments, Mr. Amano said, and the erhu virtuoso in Shen Yun gave the traditional two-stringed Chinese instrument new life.
"The music she played was both classic and fresh. Her advanced skills brought us new experiences," he said.
Mr. Amano felt grateful when he realized Shen Yun is headquartered in New York.
"No performance company in China can present the values and virtues that Shen Yun presented," he said. "What Shen Yun presents are the most beautiful parts of traditional Chinese values. Japan has learned a lot of things from China in history, which include Buddhism."
New York-based Shen Yun is the world's top classical Chinese dance company, and has a mission to show the beauty and goodness of "China before communism." For 5,000 years China's civilization was built on values and virtues from the spiritual teachings of Buddhism, Taoism, and Confucianism.
'I Became Full of Energy'
Mr. Nakamoto Tomonori is the president of an anti-vibration system installation company. He felt strong energy from Shen Yun and said he felt cured by the dances.
"The music is very pleasant to our ears. The nice expressions of dancers and their magnificent movements cured my soul," he said. "I became full of energy. I thank Shen Yun very much for bringing me this wonderful performance!"
Mr. Nakamoto said the current world is facing many worrisome things, such as the pandemic. Shen Yun inspired and uplifted the theatergoers such as himself.
"Shen Yun represents the highest standard in the world. Nobody can find any flaw in it. Its perfection is stunning," he said. "Music is medicine. I believe every audience member felt the curative effects of Shen Yun."
Mr. Nakamoto felt Shen Yun delivered a message that human beings should have faith, and he agreed.
"I believe that if everybody has his or her own belief, we will work hard toward peace. The world will become a better place," he said.
The name "Shen Yun" means the "beauty of divine beings dancing." Each Shen Yun performance consists of nearly 20 vignettes, presented through highly-expressive art forms such as classical Chinese dance, original orchestral music performed live, soloists who sing in the bel canto tradition, animated digital backdrops, and more.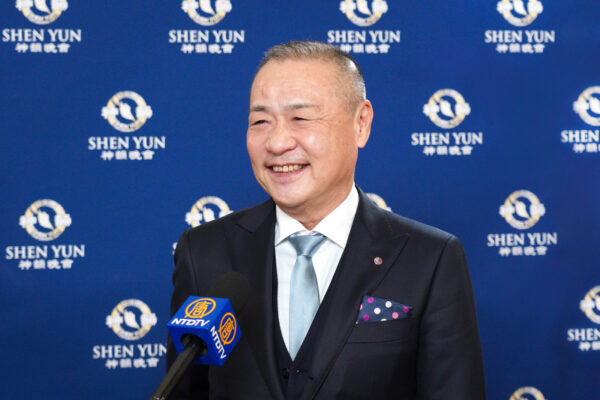 Breathtaking Beauty
"Shen Yun is very beautiful. It's a beauty of Eastern character, subtle and specific, and isn't found in Western culture," said Ms. Takano, the chief nurse of a welfare hospital.
"In our Japanese people's eyes, the dancers' movements are very elegant," she said. "The beauty of their postures is breathtaking. And their bodies are very light and flexible. They jumped very high but landed on the stage quietly."
Ms. Takano said she felt Shen Yun dancers have magic powers that can express the stories very deeply and in an interesting way.
"This is a must-see. Shen Yun represents the beauty of the East," she said.
Reporting by Epoch Times Staff in Nagoya, Japan.
The Epoch Times is a proud sponsor of Shen Yun Performing Arts. We have covered audience reactions since Shen Yun's inception in 2006.