TAINAN, Taiwan—Situated in southern Taiwan, Tainan City is Taiwan's oldest city—rich in cultural significance and historical values. On Sept. 29, 2019, the New York-based Shen Yun Symphony Orchestra delighted concertgoers at Tainan's Cultural Center Performing Hall. Among the enthusiastic audience members was Hou Cui-ling, the general manager of a public relations company and an advisor to Tainan City Government.
Hou Cui-ling was captivated immediately when seeing the first piece, "The World Divinely Restored," was performed. "As soon as the gong sounded, there seemed to be many fairy maidens entering heaven with a ribbon dance," she said. "Though we were in the performance hall physically, our souls were brought to the firmament."
"[Shen Yun music] seems to enable us to transcend time and space, and usher us into another dimension," she added. "It made us feel relaxed and carefree as if we were in a fantastic environment."
As explained in the Shen Yun website, "The Shen Yun Orchestra combines the spirit, beauty, and distinctiveness of Chinese music with the precision, power, and grandeur of the Western symphony orchestra. The result—two great traditions producing one refreshing sound."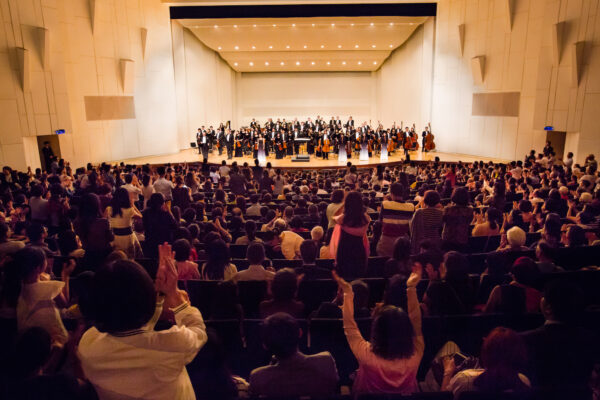 Hou Cui-ling felt awed by Shen Yun Symphony Orchestra's seamless synchronization of traditional Chinese musical instruments and Western instruments. She said, "The combination of Chinese and Western instruments is perfect. Regardless of whether it was imposing music or soothing notes, they made me feel very comfortable."
Having attended Shen Yun concerts many times over the years, she said, "It's a perfect performance that is worth inviting others to—to appreciate it together." Hou Cui-ling believes that the success of Shen Yun's performance has something to do with its musicians' spiritual practice. "Since all of them are cultivating decent principles, they are people with positive energy," she said. "What they disseminate is distinctive energy, so we feel uplifted after attending the performance."
"As a [Shen Yun concert] has positive energy with healing effects, all aspects of our lives, including our minds, can be energized and boosted," she said.
"Whenever I've attended [a Shen Yun concert], I felt recharged, and that is a fantastic experience," she said. "It's worthwhile for more people to enjoy [a Shen Yun concert]."
Reporting by Chen Ting and Billy Shyu.
New York-based Shen Yun Symphony Orchestra comprises musicians from the six Shen Yun Performing Arts touring companies. For information about the October performances, visit: ShenYun.com/Symphony
The Epoch Times considers Shen Yun Performing Arts the significant cultural event of our time and has covered audience reactions since the company's inception in 2006.