International Real Estate Director: Shen Yun 'Excellently Produced'
April 22, 2014 12:21 am Last Updated: April 22, 2014 11:40 am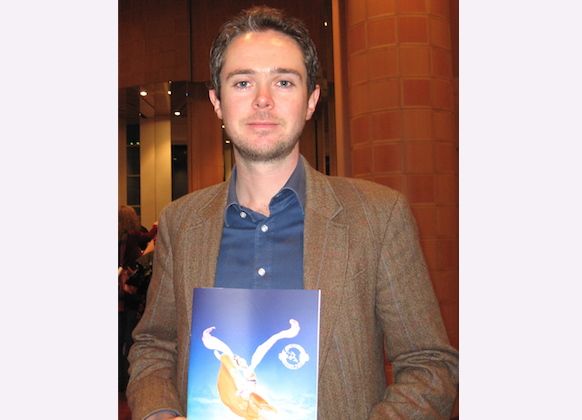 DUBLIN, Ireland—Shen Yun Performing Arts' final night in Dublin's Convention Centre on April 20th, greatly impressed the director of a real estate company with branches in Ireland and New Zealand.
Darren Harrison, a director of Channor Ltd, said, "The performance was excellently produced. The synchronised dancing was very impressive, the whole stage, the projector at the back, I thought was excellent. Overall, very well produced."
The Shen Yun website states, "Sophisticated dance techniques, an orchestra joining instruments from both the East and West, beautiful costumes, and a stunning back drop—this is Shen Yun at first glance. But digging deeper, one discovers a sea of traditional Chinese culture."
"I can't say I know a huge amount about Chinese culture," Mr Harrison said. However, he felt Shen Yun was a good reflection of Chinese culture.
"It certainly gave me an insight into some of the Chinese culture," he said, "The way it is portrayed by dance and entertainment gives me an insight and education into the performance and the way the Chinese like to share the history of their culture."
Shen Yun is 'Enjoyable and Educational'
Also at the Convention Centre on April 20th was Francis Dowling, an employee at the Department of Agriculture. He found Shen Yun to be "enjoyable and educational."
"My daughter was born in China," Mr Dowling said. "We came along especially so that she could see the performance."
Shen Yun draws upon stories and legends that span China's history and have been documented and passed down uninterrupted for 5,000 years, leading up to the current times.
"I have learned a lot," Mr. Dowling said. "I wouldn't have known a lot except from reading. I know that Chinese culture is very ancient and is a very spiritual culture but just to fill in some of the blanks that I wouldn't have known about has been good."
The most touching part for Mr. Dowling were the digital backdrops. Despite its focus on ancient Chinese culture, New York-based Shen Yun uses the latest digitally animated techniques to make its projected backdrops interact with the live performers.
Mr Dowling said, "Just to see it in the context, especially the backdrops of the Chinese scenery and specific places that are important in China, and to have the story told in the context of those places, makes it a bit more relevant. Some of the scenery would be of Guanxi Province. We were there of course, when we were adopting Kate."
Reporting by Shuting Liu, Wen Hua, Damian Robin, and Gerald O'Connor

New York-based Shen Yun Performing Arts has four touring companies that perform simultaneously around the world. For more information, visit Shen Yun Performing Arts. 
The Epoch Times considers Shen Yun Performing Arts the significant cultural event of our time. We have proudly covered audience reactions since Shen Yun's inception in 2006.