Hutt City Councillor Says Shen Yun Is Spectacular
April 8, 2014 10:39 am Last Updated: April 18, 2014 1:09 am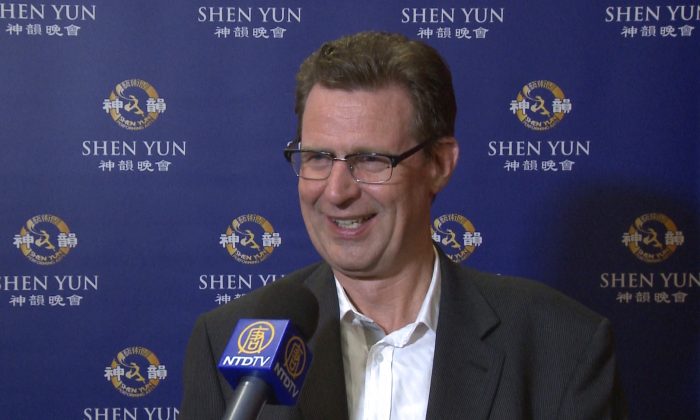 WELLINGTON, New Zealand—On a wet and windy night in Wellington, Hutt City Councillor, Max Shierlaw, is very glad he travelled to see Shen Yun Performing Arts International Company on Tuesday April 8.
He said Shen Yun is "very spectacular" and "worthwhile" seeing.
Mr.Shierlaw is a chartered accountant and the Western Ward representative on Hutt City Council. He has worked on various committees.
Wellington is very multicultural and diverse, Mr.Shierlaw said Shen Yun "will always be well supported and well received here."
Based in up-state New York, Shen Yun's mission is to revive 5000 years of traditional Chinese culture which was almost lost.
The Shen Yun website explains "Principles such as benevolence and justice, propriety and wisdom, respect for the heavens, and divine retribution, all come to life, washing over the audience. Originating from Confucianism, Buddhism, and Taoism, these ideals are the essence of traditional Chinese culture."
Mr. Shierlaw believes Shen Yun brings this culture to life through their performance.
"The Chinese culture [and] the messages that are being conveyed through the dancing and the performance," is important to Mr. Shierlaw.
Shen Yun has classical Chinese dance at its heart, but also includes ethnic and folk dance.
Mr. Shierlaw was impressed with all the different dances. He said Shen Yun displayed "the skill [of the] classical dancing and how much diversity there is in China and Chinese culture."
He was particularly taken with the Mongolian Chopsticks dance. He said, it was "very well coordinated."
According to the website, "Mongolian ethnic dances can be some of the most dynamic and breathtaking numbers in Shen Yun performances. Often set to a backdrop of a tall blue sky and vast, open grasslands."
The feel is sprightly, bubbling with energy and enthusiasm.
Mr. Shierlaw was also taken by the seamless use of the digital backdrops, a unique feature of Shen Yun performances.
The website states "With state-of-the-art graphics technology, Shen Yun's digital-backdrop team creates vividly animated settings, extending the stage and transporting the audience to a world where heaven and earth are one."
Mr. Shierlaw said, "you get a spectacular sort of entrance and an exit on the back screen. It's done very well [and] looks very effective."
He said he would encourage his friends and family to see Shen Yun.
Shen Yun has one further performance in Wellington on Wed. April 9th then on to Auckland on April 11 and 12.
Reporting by NTD Television and Judy Shakespear
New York-based Shen Yun Performing Arts has four touring companies that perform simultaneously around the world. For more information, visit Shen Yun Performing Arts.
The Epoch Times considers Shen Yun Performing Arts the significant cultural event of our time. We have proudly covered audience reactions since Shen Yun's inception in 2006.