In Italy, antipasto is the prelude to a feast. It can also be one in and of itself.
Meaning "before the meal," the traditional Italian first course is a generous spread meant to welcome guests, stave off their hunger, and kick-start both appetites and conversation. They're finger-friendly starters, often pulled from pantry staples and based on seasonal and regional specialties.
Platters might include fat slices of salami or thin wisps of prosciutto; cheeses from soft and supple to dense and crumbly; even seafood and rustic cuts of roast meat; and all manners of pickled, preserved, and grilled vegetables in baths of olive oil or vinegar.
At traditional restaurants, plates of antipasti are often lined up on a free-for-the-taking buffet table, stretching long enough to induce decision-paralysis. At-home ensembles may be humbler in scale, but just as abundant in spirit.
Stretching the Meal
Though antipasti are meant to simply whet the appetite, they can be all too easy to fill up on before the meal to come. But whoever said that had to be a bad thing?
In her new cookbook, food writer and Saveur editor-in-chief Stacy Adimando demonstrates that it can be a very good thing indeed.
"Piatti" is a celebration of antipasti, inspired by Adimando's Italian American family and many travels around Italy. So often in the meals she ate throughout the country, she writes, "they had me … at the antipasti."
The book is based on a simple idea: Instead of limiting antipasti to a first course, why not stretch it to a full meal? As it turns out, antipasti-style dishes check all the boxes for easy entertaining: they're simple and fast to throw together, mostly based on what you already have on hand; they can often be prepared ahead of time, and served just as tasty at room temperature; and they encourage casual grazing and conversation, dispelling any awkward formality and easing the pressure on host and guests alike.  
They're also vibrant and exciting—going far beyond the simple cheese and charcuterie boards that dominate much of our definition of "grazing food."
Adimando's book is full of colorful, shareable platters, large and small, that can be mixed and matched into a mosaic of a meal. Many of them are family recipes from her Italian American childhood, some with her own twist on them—seared Italian sausages like her grandma would make, with a few extra frills; a variation on the oil-marinated eggplant that has anchored her family's signature antipasti dish every holiday, without fail, for decades.
Others are inspired by various regional Italian cuisines, and yet others are not strictly Italian but are "Italian in nature," she said, in that "they're that same style of rustic and approachable and happy-making food."
They're all meant to be served family-style, sparking the natural camaraderie and conversation that arise from sharing food. "I think just those first moments of being together, when the first plate of food hits the table and everybody's feeling so rambunctious and excited to see each other, that's the feeling I'm striving to recreate in this book," Adimando said.
Below, she shares tips for throwing your own antipasti party.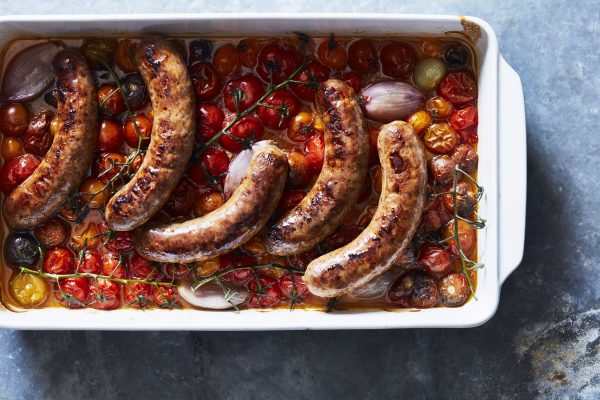 Carb-Load
When you're feeding a crowd on a budget, adding plenty of carbohydrates to the mix is an easy way to fill people up.
Crostini are easy and always welcome, for pairing with meats and cheeses or sopping up sauces and stews, but try expanding your repertoire, too. Different regions of Italy have different specialty crackers and flatbreads to explore: paper-thin sheets of carta di musica ("music sheets") from Sardinia; dry, crumbly rings of taralli from Puglia; long, crunchy, pencil-sized grissini from Turin.
For an extra special touch, make homemade bread and crackers for your table. If you set aside some time to do so every couple of weeks, "it's really not hard," Adimando said, "and then you have these beautiful, go-to herbed crackers to put out, instead of the same store-bought brands that everybody has at their house."
Work With the Season
Take to the markets for inspiration, and let what you find guide your menu. Not only will it equip you with top-notch raw materials, but it'll also take some of the stress out of the planning process.
One of Adimando's go-to's is a crudite platter, a multi-colored, multi-textured compilation of what looks best at the market. In her book, she offers a classic raw platter for spring and summer and a roasted variation for fall and winter. Pro tip: For a raw platter, Adimando likes to soak the veggies in cold salt water in the fridge for 15 minutes up to half a day. It keeps them fresh, boosts their flavor, and as a bonus, gets some prep done ahead of time.
Plan Ahead
Keep a supply of versatile meal building blocks on hand. "Anything that you can jar and keep in the fridge is such a savior," Adimando said. Stock your pantry and fridge with all things oil-preserved, pickled, fermented, cured, and dried, perfect for quickly pulling out to feed surprise guests or supplementing fresh dishes in a larger spread. Adimando highlights giardiniera, a traditional pickled vegetable medley, as a versatile accompaniment for anything from sandwiches to seared sausages. Cherry tomato confit, slow-cooked with garlic in olive oil, is another instant favorite; all it needs is crusty bread.
For the rest of your spread, choose dishes that taste just as good at room temperature, such as hardier vegetable salads over ones with delicate greens, and make them ahead of time.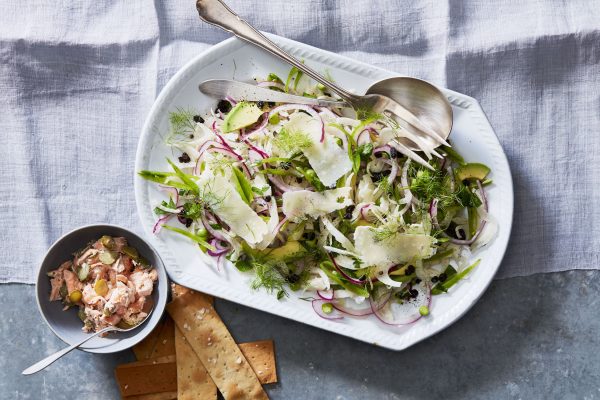 But don't take all the fun out of it—for more involved dishes, ready all your components but leave the assembly until the end. Rather than having a picture-perfect table already set, "I really like to be finishing up things when guests arrive," Adimando said, whether that means drizzling herbed olive oil on rounds of creamy goat cheese, or pulling a pan of still-sizzling pork roast out of the oven to slice and serve.
"People tend to congregate around the kitchen anyway, and if you're putting a couple finishing touches on things, it gets people excited."
Play With Your Food
Play with a variety of colors, flavors, and textures for a spread that pleases the eyes as much as the belly.
Make sure all your bases are covered—a simple vegetable dish, more elaborate seafood or meat dish, a healthy selection of carbs to round it out—and get creative, mixing finger foods with fork-and-knife dishes, some stacked on plates and others piled in jars. Adimando encourages taking the opportunity to show off your plateware, whether your prettiest vintage platters or simply the same trusty roasting pan you used to cook, worn with love and oil splatters.
And don't sweat the small stuff—"I love when antipasti gets a little bit messy," Adimando said, "so that people can really feel like they're committing and can stay a while."
Add Something Unexpected
To really wow your guests, surprise them with something different—and that doesn't necessarily have to mean a lot more effort.
"They might expect to come over and see cheese and crackers, or a charcuterie board, but they're not going to expect to see roasted cherries or squash blossom fritters," Adimando said. "I think anything you can do to wow people conceptually, even if it's not hard work, goes a long way."
Her secret weapon of choice: white clam pizzettes, inspired by the New Haven pies she grew up with in Connecticut, topped with crispy bacon, garlic, parsley, and grated Parmesan and sliced up into antipasti-sized bites. "It kills it every time," she said.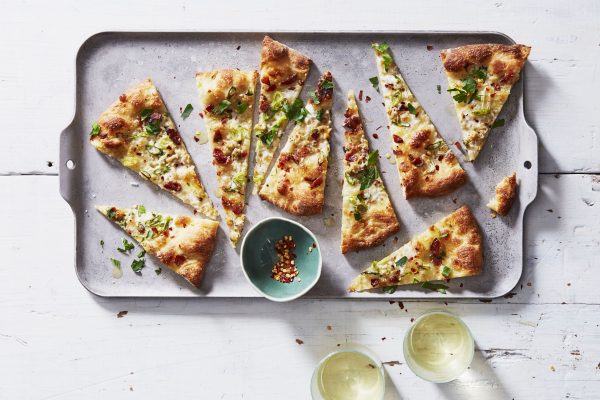 RECIPE: Shaved Fennel Salad With Sweet Peas and Avocado
RECIPE: White Clam Pizzas With Scallions and Bacon
RECIPE: Seared Italian Sausages With Roasted Cherry Tomatoes and Shallots