HOUSTON—Doctors, attorneys, business owners, and others turned out en mass to see Shen Yun Performing Arts at the Jones Hall for the Performing Arts this New Year's Eve. For many, it was a way to celebrate 2019 and usher in 2020. And what better way than with the colorful costumes, animated backdrops, and beautiful storytelling dances by New York-based Shen Yun.
Attorney Touched by Shen Yun's Scenes of Persecution
"The costumes were amazing. The music's beautiful," said Lori Matthews, a lawyer who attended Shen Yun with her teenage daughter.
"It's very, very moving too. I was very touched by the scenes with them fighting the communist party. It was touching. Yes," she added.
Shen Yun is reviving traditional Chinese culture, but it cannot perform inside China today due to the regime's policy of eradicating traditional culture and persecuting people of faith. Shen Yun depicts these real-life stories of brutality and compassion in their stage production.
Upon learning about how spirituality and divine presence was intertwined with everyday life in ancient China, Matthews said, "I was very surprised by that. I guess my picture of China was the communist. And I knew they had to try to eradicate any religion. So for me to see all this spiritual meaning behind the dances was surprising."
A Medical Doctor's Impression: 'It was beautiful'
Barbara Hayes is a physician who attended Shen Yun in Houston just before ringing in the new year.
"We absolutely enjoyed it. It was beautiful. Just breathtaking with all the colors. The interaction with the screen, with the backdrop, that was pretty awesome. The orchestra is fabulous. The music was just wonderful. We enjoyed it thoroughly," Hayes said.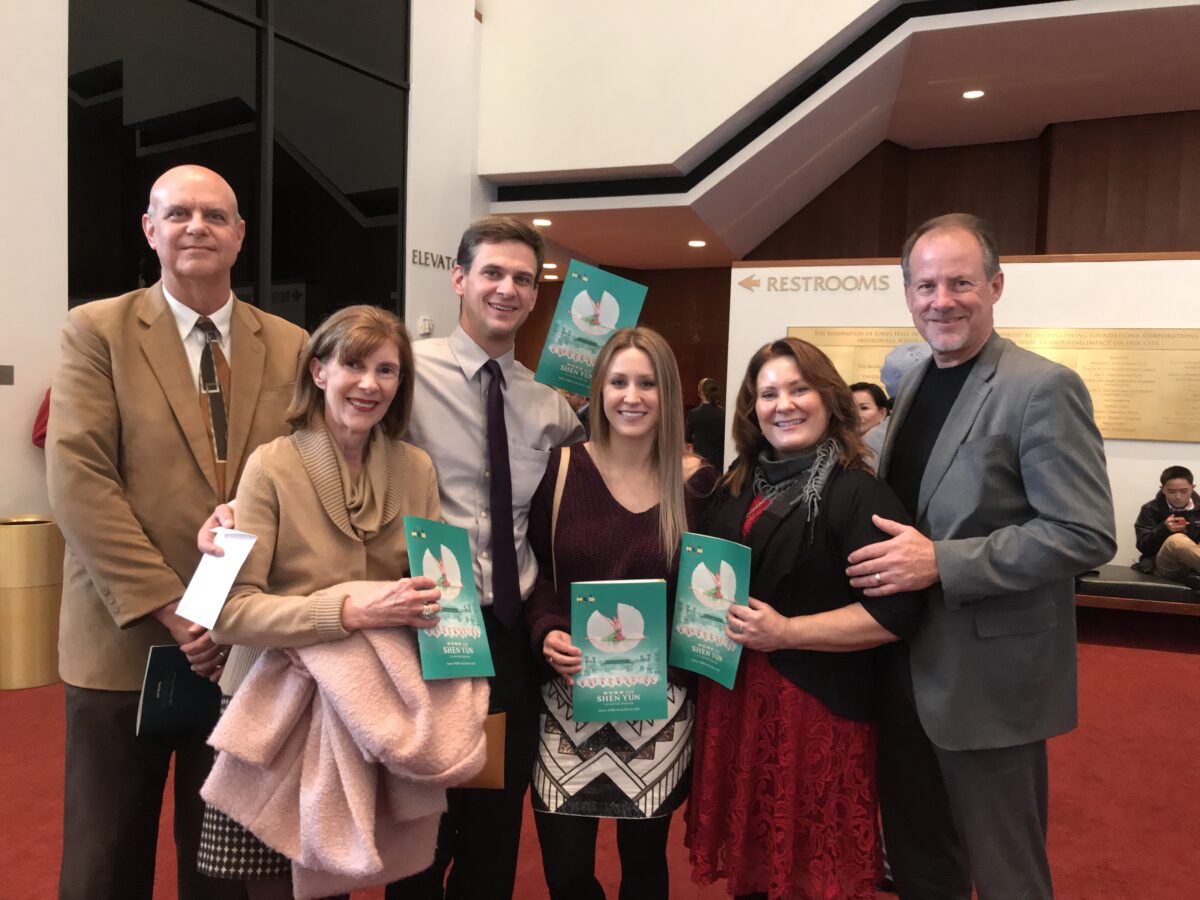 "I loved the comic relief parts that were in there too, as well as the serious parts, in talking about China and the other issues going on today in China. So we found that very interesting and quite good."
Musicians Feel Shen Yun's Mission Is Important
From the moment the curtain went up, pianist and cellist Charlotte Carey felt Shen Yun was "beauty, just beauty. Artistic perfection. The lines are so perfect."
Rodney Mason is the Director of Choral Activities at Brazosport College. He also plays the piano and sings.
"The music is wonderful! I love the orchestra—very professional. And the music is unfamiliar to me, the style of it. But it's beautiful," Mason said.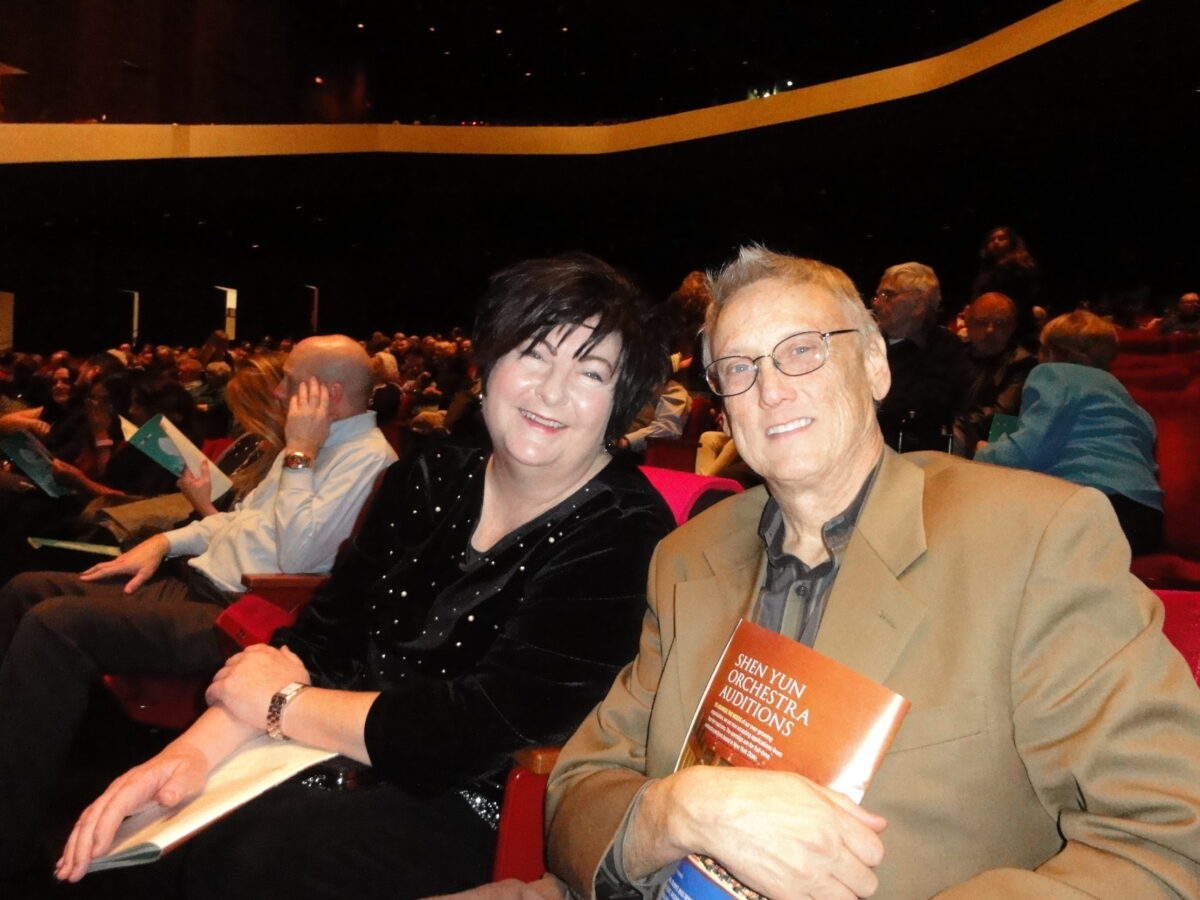 "We're both musicians. So I think the story, and the foundation of it, and why it was created, it's important," Carey said.
Shen Yun combines Chinese instruments and melodies with Western orchestration in its completely original compositions. Did Mason feel that the delicately-balanced harmony works?
"I think it works beautifully. They combined it just right. The combination of Western instruments and Chinese is just amazing. Very nice," he said.
Casey agreed: "The arrangement is beautiful. They are all just gorgeous."
Something to Remember 'All of my lifetime'
The Mahadevs received something greater than they expected from Shen Yun, and will take home unforgettable memories from the show's divine themes. Wish Mahadev is managing director of a solar energy company and an engineer. He attended with his wife, Raji, and son, Arun.
"It was out of this world," Wish said.
"Great—first time seeing the show and I think I'll probably remember it all of my lifetime. I can say for my age I have not seen anything like this [Shen Yun] in my life so far. I am really thrilled, I should say. They have given more than money is worth … it is a permanent memory in our lifetime," Wish said.
"We come from India, a land of spirituality, so this is very, very similar to our own culture and our own spiritualism so we felt quite united with the program aspects," he added.
"It is quite elevating. It's not just a casual performance of art, it is touching our mind, I can say that. Absolutely, absolutely uplifting."
With reporting by Sonia Wu, Sophia Zheng, and Brett Featherstone.
The Epoch Times considers Shen Yun Performing Arts the significant cultural event of our time and has covered audience reactions since the company's inception in 2006.