OTTAWA, Canada—Shen Yun Performing Arts astounded and delighted one of Carlton University's top history professors at the National Arts Centre on Dec. 28, 2019, with its presentation of authentic Chinese culture as well as its depictions of a heart-wrenching persecution happening in modern-day China.
For Jacob Kavalio, associate professor in Carlton's department of history, today was his third time attending New York-based Shen Yun.
"Exquisite. Wonderful. … Every single time I see [Shen Yun], to me at least, it is a joy in the broadest sense of the word. Joy, artistically of course, visually—no question about that—colorfully. The technique includes not only the artistry of the dancers themselves but the most up-to-date technology that is welded into it so that the impression is absolutely unforgettable."
Shen Yun's patented digital backdrops combine real dancers with their animated counterparts in a way that seems to transport theatergoers to other dimensions and make many gasp with surprise and delight.
"[Shen Yun] is a wonderful combination of brain, brawn, and beauty," Kavalio said.
"But I'm looking around me, looking at this full [theater]—this site here is full to capacity—and I really hope that the average Canadian that doesn't deal with Chinese culture, Chinese history, every day will be inspired to consider looking at what this culture is all about and how they can be aware of it."
"And that is what something as colorful, as exciting, as exhilarating as the Shen Yun performance can really be a vehicle for, connection between our people and Chinese people at large. And therefore create a better future for ourselves as well, not only for the people in China, particularly the group, importantly the large group, that Falun Gong is," Kavalio said.
Shen Yun consists of over a dozen short dances told using highly-expressive classical Chinese dance. Some of these stories depict adherents of Falun Gong, an ancient spiritual discipline, who have found themselves targets of a brutal persecution by the communist regime in China.
Kavalio, an expert in Chinese culture and history, praised these stories in Shen Yun as especially poignant and important for all Canadians to see.
"Extremely well balanced between culture and history as well as things that are occurring right now. And it's a very nice way of informing Canadians and people throughout the world of what is occurring now in the context of China," Kavalio said about the stories of modern-day China in Shen Yun.
Values of Freedom
As a professor of modern Asian history, Kavalio points out Shen Yun is telling an important truth about freedom and China that many have not been aware of for some decades.
"[Shen Yun] deals with … an issue which has been at the center of internal Chinese socio-political situation for exactly 20 years, since Jiang Zemin introduced these policies that persecute the Falun Gong movement. And it's a very good reminder of how important it is for people to be aware of what it is that is happening and how people can contribute to the improvement of situations that should not be allowed to occur in the first place," Kavalio said.
"And when they do occur, people should never forget, or give up, or give in, but do their best in order to create the kind of environment that will bring to an end this particularly onerous policy against the Falun Gong movement that the Beijing regime has been engaged in for exactly 20 years, since 1999."
"Shen Yun is not allowed to perform in mainland China, which speaks for itself," Kavalio said.
When someone sees a Shen Yun performance, Kavalio continued, "you get a reminder of the antiquity of this culture, of its exquisite artistic tradition, of the way in which artistry and society work together and reinforce one another, if you will. And the manner in which, while staying the same as a tradition fundamentally for 5,000 years, it evolves."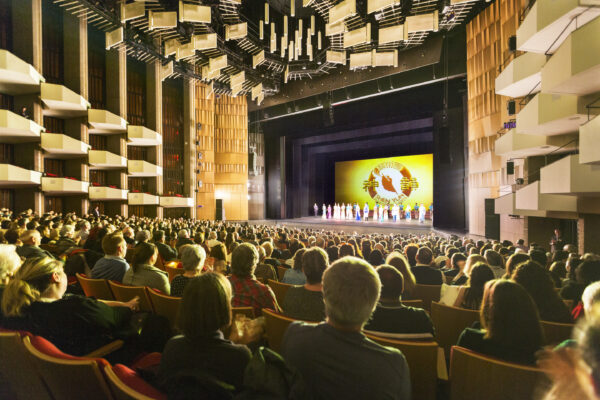 Kavalio urged Shen Yun Performing Arts to continue their efforts to revive China's traditional culture, adding how vital their mission is to the world's well being.
"Shen Yun's effort is not only worthy but extremely important in the sense that the kind of political regime that has existed in mainland China for the past 70 years is one that has tried in a variety of way to not only change but do away with it [traditional Chinese culture] altogether," Kavalio said.
"If you consider major, major historical developments or events like the Great Leap Forward, like the so-called Cultural—which of course was never cultural—Revolution, like Tiananmen 1989 and so on and so forth, we all hope, that the ancient tradition will not only last but be transmitted from generation to generation."
"But on the other hand, there is a reminder of exactly the history of, a relatively short history of 20 years of Falun Gong persecution by the Beijing regime, that you never give up on fundamental values—which are by the way not only Chinese, they are global."
The associate professor was glad to hear that Shen Yun now has seven touring groups performing around the world.
"The more, the better. Absolutely, the more Shen Yuns, the better. Precisely because it is a message that is conveyed in a historical, artistic, and even technological manner. That is just wonderful. Very, very much needed," Kavalio said.
"It is done in a very successful way. Otherwise, it would not have been able to expand into having seven concomitant existing groups that present this wonderful message to the world," he added.
He urged Shen Yun's artists not to rest on their laurels.
"But it has to be continuing relentlessly because there is a need for it," Kavalio said.
In the end, Kavalio had a clear message to his fellow academics, and everyone, about Shen Yun Performing Arts.
"Go see it. Just three words: go see it."
With reporting by NTD Television, Grace Dai, and Brett Featherstone.
The Epoch Times considers Shen Yun Performing Arts the significant cultural event of our time and has covered audience reactions since the company's inception in 2006.