If you google for the unhealthiest food, red and processed meat will represent an overwhelming portion of the results.
While the World Health Organization has classified processed meats like bacon, sausages, ham, and others as a group 1 carcinogen, equivalent to the danger level of asbestos and tobacco smoking, Berg says that french fries may be worse due to a range of factors, from advanced glycation end products, trans fats, glyphosate, and unknown side effects that may develop over time.
Americans, Australians, and those in the UK love their fries—which are made from thinly sliced potatoes and deep-fried until crispy—with even a national day dubbed National French Fry Day observed yearly on July 13.
But the American Journal of Clinical Nutrition released a
study
revealing some surprising implications about the effect fried potatoes' have on our mortality rate.
While correlation doesn't imply causation, below are some reasons why french fry enthusiasts may want to rethink their consumption:
1. Harmful Combination
The first reason fries are potentially the most dangerous food is that they combine starch and fat under high heat.

"Anytime you combine a starch or carb with a fat or protein, and you heat it up, you create a compound called an advanced glycation end product," Berg said.

"This compound becomes sticky in your body, and it locks up all sorts of cells and tissues in the eye, in the brain, in the heart, and in the kidney, and it makes these tissues not able to function correctly."

Heat-processed foods contain high levels of advanced glycation end products (AGEs), the authors of the study

wrote

.

AGEs contribute to increased oxidant stress and inflammation, which are linked to diabetes and cardiovascular disease.
2. Trans Fats
The next ingredient is hydrogenated oils, or trans fats, such as cottonseed oil or corn oil.

Berg said that trans fats make your cells plastic-like and harden the arteries.

"There are reports that it triggers cancer and does a lot of damage inside the body," he said.

"A lot of foods have gone away from hydrogenated oils, but not all types of foods."
Seed oils such as corn, canola, cottonseed, soy, peanut, safflower, or sunflower oil have also been used to cook today's fries and are highly problematic.
These oils create oxidation when used in high heat and become highly inflammatory for the body.
3. Acrylamide
Further, the heating process of fries creates a neurotoxin called acrylamide, which occurs when you deep fry certain root vegetables.

Acrylamide is a chemical substance used in making things such as paper and plastics and found in some foods, which is thought to cause cancer and Alzheimer's because it affects the neurons.
4. Sugar
Sugar is the next ingredient; it is found in fries and often doesn't come in the form of regular table sugar but dextrose, which is synthetic and increases blood sugar more quickly.

Table sugar has a glycemic index of 65, whereas dextrose has an index of 100.

High glycemic index foods tend to 

spike

a person's blood sugar, causing the body to produce more insulin, increasing the risk of obesity, type 2 diabetes, and cardiovascular disease.

Made from rice, wheat, or corn, maltodextrin is another common type of sugar used in fries that is not classified as sugar.

Often used as an inexpensive thickener or filler, maltodextrin is usually manufactured from genetically modified (GMO) corn.

According to the FDA, GMO corn is safe and meets all of the same standards as non-genetically modified plants.
However, maltodextrin raises blood sugars and creates high insulin, which has many complications, Berg said.
"Because they manipulated this carbohydrate to a polysaccharide (or many sugars), they can classify it as starch and not as sugar, so when you look at the label, it's not under sugars, it's under carbohydrates," he said.
"It makes it seem like it's low sugar, but on the glycemic index, maltodextrin is the highest on the index."
5. Glyphosate
Glyphosate is another ingredient that can severely affect the digestive system.

It is a herbicide sprayed on oats, lentils, soil, potato, sugar beets, and corn.

Research says that glyphosate is safe for humans, and because it kills certain microbes, it is classified as an antibiotic.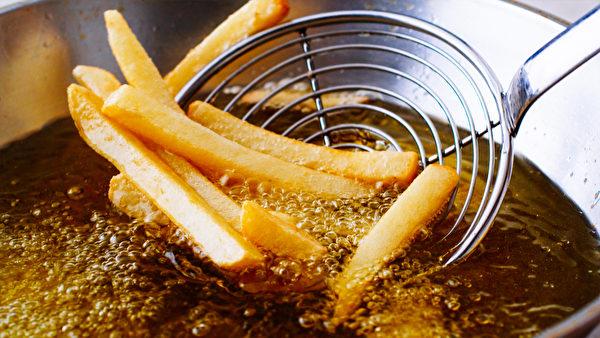 However, there is increasing evidence that glyphosate is causing harm. Dr. Stephanie Seneff, an expert in glyphosate and its effects on the human body, has told
The Epoch Times
 that studies have shown that glyphosate has been found to inhibit nutrient processing in infants.
"Lactobacillus is a critical microbe in the gut. And when you're born, that's the … microbe that's going to help you digest milk," Seneff says.
"[Lactobacillus] really depends on manganese … to be healthy, and the glyphosate is chelating the manganese, making it unavailable to the [lactobacillus], and that's part of what's making [infants] sick. [All this is] on top of, of course, disrupting that enzyme [EPSP synthase]."
The use of glyphosate has also increased dramatically in the past 20 years.