Editor's Note:
Elizabeth Stein shares some of her favorite healthy and delicious recipes in her latest cookbook, "Eating Purely: 100 All-Natural, Organic, Gluten-Free Recipes for a Healthy Life." 
Stein, a holistic nutrition counselor and founder of Purely Elizabeth, is on a mission to help others to live a more health-conscious lifestyle.
With this philosophy in mind, she wrote a cookbook to "take familiar and well-loved foods and prepare them using the most nutrient-rich ingredients, which leaves you feeling more energized, healthy, and radiant," she writes in her book.
So, with Memorial Day just around the corner, we have curated some of our favorite gluten-free recipes for you to try. Add a few of these healthy (but delicious!) options to your Memorial Day feast and impress your guests!
Roasted Eggplant Dip
vegan, gluten-free
Ingredients:
2 eggplants, cut into ¼"–½" slices
4 tablespoons olive oil
2 cloves garlic
3 tablespoons tahini
½ teaspoon cumin
1 teaspoon salt
1 lemon, juiced
Pomegranate seeds to garnish
Instructions:
Preheat oven to 375°F. On a parchment-lined baking sheet, place sliced eggplant and drizzle with 1 tbsp olive oil. Roast for 25 minutes. When the eggplant has cooled, place all ingredients in a food processor. Pulse into a creamy consistency. Serve with pomegranate seeds and a drizzle of olive oil.
Grilled Zucchini Boats
(with chickpeas, tomatoes & artichokes)
vegetarian, gluten-free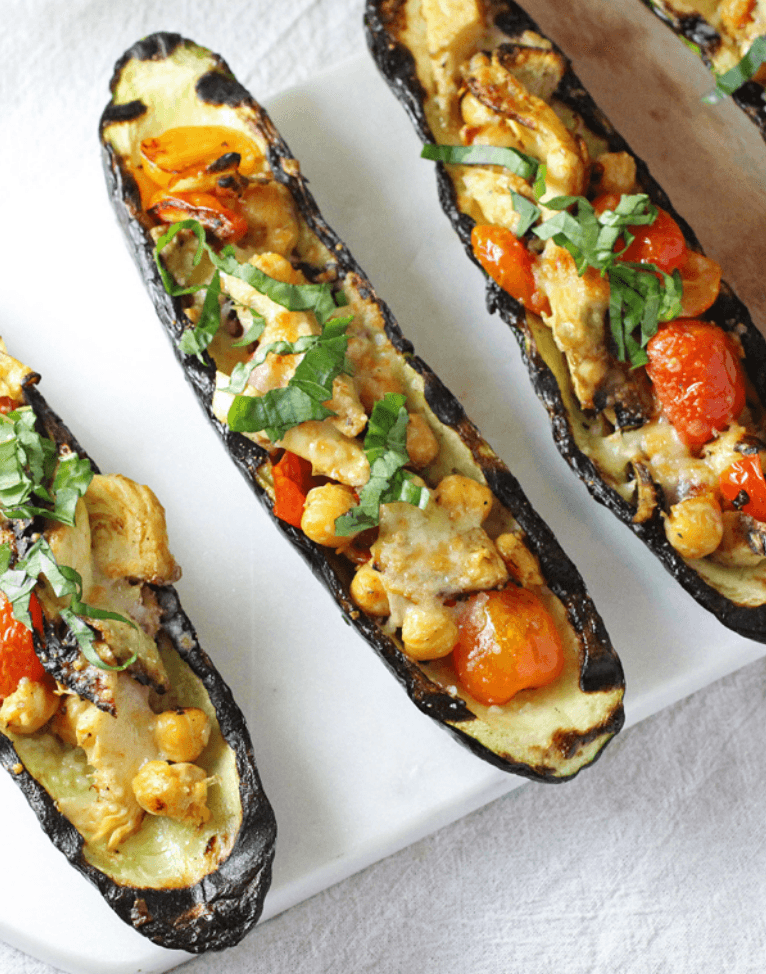 Ingredients:
2 large zucchini, cut in half lengthwise
2 tablespoon olive oil
1 clove garlic, minced
½ cup grape tomatoes, halved
½ cup marinated artichoke hearts, chopped
½ cup canned chickpeas
½ cup Parmesan cheese, shaved
Basil
Instructions:
Scoop out the center of the zucchini, leaving about ½" of zucchini on the skin. Drizzle 1 tbsp olive oil over zucchini. Heat a grill to medium-high heat. Place zucchini on the grill and cook for 4–5 minutes per side. Meanwhile, in a skillet over medium heat, add 1 tbsp olive oil. Add garlic and sauté until fragrant, 2–3 minutes. Add tomatoes, artichokes, and chickpeas and sauté for 3–5 minutes. Fill the zucchini with vegetables and top with cheese and basil. Place back on the grill (or under the broiler) for another 5 minutes or until the cheese is melted.
Grilled Corn, Avocado & Tomato Salad
vegan, gluten-free
This simple, summery salad is the perfect example of farm-fresh eating. With summer's sweet corn and tomatoes, this salad really doesn't need too much more.
Ingredients:
2 ears of corn
2 cups grape tomatoes, halved
1 avocado, diced
1 tablespoon olive oil
1 clove garlic, minced
1 lime, juiced
Instructions:
Remove husks from corn and grill over medium heat for 10 minutes. Cut the corn off the cob with a knife. Set aside and let cool. When cooled, combine with the remaining ingredients in a bowl and serve.
Maple-Glazed Salmon
(with stir-fried veggies & cashews)
gluten-free
I've been making this staple salmon for years, probably since college when I had my first kitchen. Friends and clients who don't even like salmon love this preparation. It's super flavorful and will definitely have your guests asking for more.
Tip: Marinate the salmon in the fridge for 24 hours to maximize flavor.
Ingredients:
¼ cup tamari
3 tablespoon maple syrup
3 tablespoon sesame oil
2 (8-oz) wild salmon
1 tablespoon fresh ginger, thinly sliced
2 cloves garlic, minced
2 scallions, thinly sliced
2 tablespoons sesame seeds
Instructions:
In a large, shallow dish, whisk the tamari with the maple syrup and sesame oil. Add the salmon and turn to coat. Press the ginger and garlic onto both sides of the salmon. Cover and refrigerate for 2 hours, turning the salmon a few times. Preheat oven to 450°F. In an ovenproof dish, cook salmon for 10–12 minutes or until the salmon is opaque in the center. Transfer to a serving plate and garnish with scallion and sesame seeds, serve with stir-fried veggies.

Stir-Fried Veggies & Cashews:

1 tablespoon coconut oil

1 small yellow onion, chopped

1 cup shiitake mushrooms, sliced

2 heads baby bok choy, chopped

1 tablespoon mirin

1 tablespoon tamari

½ cup cashews, crushed

Sesame seeds
Instructions:
Heat oil in a large pan over medium heat, add onion and cook for 5 minutes, stirring occasionally. Add shiitakes, bok choy, mirin, and tamari. Cover and cook for 3 minutes. Toss in cashews and stir. Serve and garnish with sesame seeds.
Raw Raspberry Lemon Cheesecake
vegan, gluten-free
When I was 15, I discovered the Cheesecake Factory with my best friends from camp. I can still taste that life-altering first bite of cookie dough cheesecake. I literally thought I had found dessert nirvana. God knows what was in that cheesecake that made it weigh a pound. I don't think I want to know. Here's a much lighter and healthier option, which is actually raw. The cashews provide a totally rich taste; you'll be surprised how amazing a raw cheesecake can be.
Ingredients for cheesecake crust:
1 cup pecans
1 cup dates, pitted
½ tablespoon coconut oil
1 tablespoon chia seeds
½ teaspoon cinnamon
Ingredients for cheesecake filling:
2 cups cashews
1 teaspoon vanilla
2 lemons, juiced
⅓ cup coconut oil
⅓ cup coconut sugar
2 cups raspberries
¼ cup maple syrup
Instructions:
In a food processor, blend crust ingredients until a crumbly paste is formed (so it can stick together with your hands). Place a piece of parchment paper on top of a pie dish and spoon the crust mixture on top of the parchment paper. With your hand, press the mixture into the pie dish. In a high-speed blender, blend cashews, vanilla, lemon juice, coconut oil, and coconut sugar. Pour half the filling on top of the crust.

With the remaining half, continue to blend with raspberries and maple syrup, leaving a few raspberries to the side for decoration. Pour raspberry filling on top of cashew filling and place in the refrigerator for an hour before serving. When ready to serve, remove the parchment paper and top with raspberries.
Skillet-Baked Apple Cranberry Crisp
gluten-free, vegan
Ingredients:
2 gala apples, cut into thin slices
1 cup cranberries
2 tablespoons lemon juice
¼ cup coconut sugar
Topping:
¼ cup coconut sugar
¾ cup Purely Elizabeth Ancient Grain Original Oatmeal
1 ounce vegan butter
Instructions:
Preheat oven to 350°F. Meanwhile, heat a cast-iron skillet over medium heat. Add sliced apples, cranberries, lemon juice, and coconut sugar. Stir and cook for 5–7 minutes. In a bowl, combine the topping ingredients. Stir to combine into clumpy pieces. Pour over the apple and cranberry mixture and place in the oven for 20 minutes. Serve with coconut milk ice cream on top.

Elizabeth Stein is the author of 'Eating Purely' and the founder and CEO of Purely Elizabeth.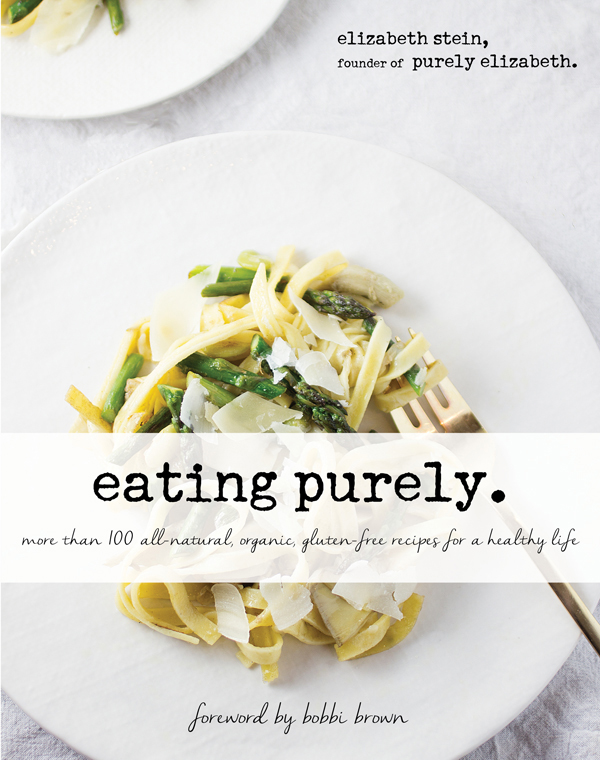 This excerpt has been adapted. Recipes from "Eating Purely: 

100 All-Natural, Organic, Gluten-Free Recipes for a Healthy Life

" by Elizabeth Stein. Republished with permission. To buy this book, click here.