GOLD COAST, Australia—A Queensland Member of Parliament has extended his deepest gratitude to Shen Yun Performing Arts for sharing the magical world of ancient China with the Gold Coast, at the city's third and last performance on March 13, 2019.
Queensland Member for Bonney Sam O'Connor thanked the entire Shen Yun dance company for showcasing 5,000 years of Chinese civilization at the Gold Coast Home of the Arts on March 12 and 13.
"Thank you for coming and putting on such a great show, it was very professional and I thought they were all exceptional in what they did and we look forward to having them back," said O'Connor, who is the shadow assistant minister for youth and to the opposition leader. "It was wonderful, it was an extraordinary display and it was fantastic to have something like that here on the Gold Coast … this is a real honor for our city to host this and [I am] very proud to see it today."
When asked how he would rate New York-based Shen Yun's world-class classical Chinese dance, live orchestra music, and 3-D animated backdrops, he could not fault the show.
"A hundred percent, they did a fantastic job of conveying that and showing that spirituality through the art," O'Connor said. "The whole thing was just mind-blowing, especially some of the acrobatics, it was extraordinary to see. … It was a very impressive performance and especially with that moving backdrop. That was great to see how that linked-in with all the dancers and everything—it was wonderful."
He commended Shen Yun's mission to revive China's lost traditions.
"Oh wonderful, it's a fantastic mission [to revive China's lost culture]," he said. "Good to see at our show with audiences all around the world."
O'Connor also found the performance to be valuable in discovering the divine origins of Chinese culture.
"I've never seen anything like that, so it was fabulous to see," he said. "I wouldn't have even known that that existed without this sort of a show. I wasn't even aware that it was being lost."
He felt compelled to see the performance when he learnt the show was being presented by local Falun Dafa practitioners, a peaceful spiritual group in his electorate that he and the Gold Coast City Council has supported many times in the past.
"To see some of the Falun Dafa there was incredible to see just what goes on over in China, to show that to an audience I believe is very important," O'Connor said.
High-profile members of the city's business community were also captivated by the beauty of the performance.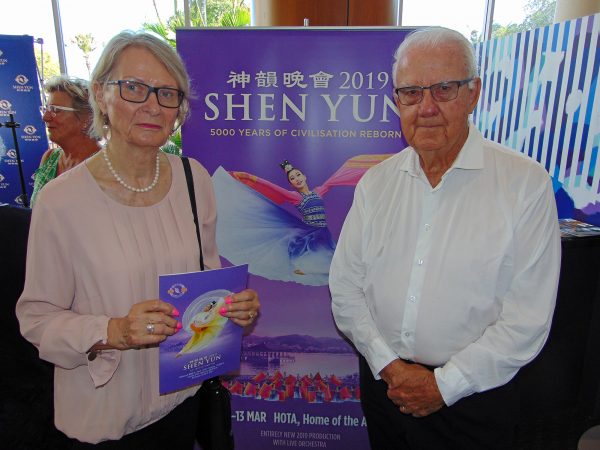 Neumann Contracting Founder John Neumann loved watching Shen Yun.
"I just love the beauty of it all, actually. The colors and the acrobatics, the whole show was very, very well done," he said.
His wife Gabriele, who works as a house manager at the family business, had seen performances in China before but never saw anything quite as elegant as Shen Yun.
"We have seen ballet shows in China and their performances were much more acrobatic than ballet, and here I'm very surprised how beautiful and elegant the [Shen Yun] dancers are, and meaningful," she said. "It's a wonderful show, and it should stay here longer than just for a few performances."
She said Shen Yun lives up to the promise of being a world-class performance.
"Definitely. … I would say it's very much worthwhile seeing. It is very artistic, it is very sweet and tender and reminds me much more of real ballet than the acrobatic ballet I know from some performances I know in China," Gabriele said.
John, whose company is currently renovating a small picture theater in Italy's Tuscany region, said he would be very honored to host a show of such high caliber as Shen Yun.
"If we could afford to get them there it would be marvelous," he said. "We [will] get some of the leading artists from Florence and Pisa and they are all in that general area there … we [are] just hoping that we can do something special there."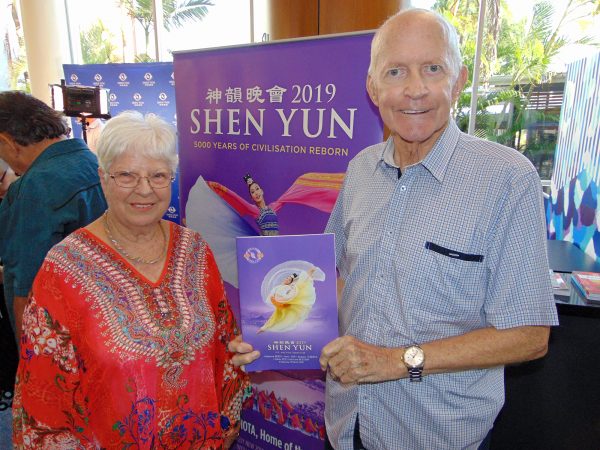 Gold Coast City Brass Band Musical Director Denise Collins commended Shen Yun's combination of Chinese and Western musical instruments for creating a beautifully unique sound, and praised the performance with the two-stringed Chinese instrument, the erhu.
"The [erhu] was beautiful. Very interesting that they're playing on just the two strings—that was fascinating … the harpist was beautiful [too]. I grew up with a harpist, I'm a flutist myself, so I was listening a lot to the flutes."
Collins also enjoyed the solo song towards the end of the show.
"I was very interested in the soloist," she said. "It was beautiful."
She applauded Shen Yun's creative storytelling in introducing China's divine origins.
"I thought it was very tastefully done and told its story very clearly," Collins said. "The dance is beautiful and it leaves itself open for that sort of interpretation."
Collins revealed she also used to practice interpretive ballet and found Shen Yun to be valuable in gaining a deeper understanding of classical Chinese dance.
"I have always realized the diversity within Chinese dance. … It's very acrobatic as well that went beyond my abilities," she said. "What I love most was the total unanimous movement, arms, legs all at the same height. It's beautiful and so smooth, their whole body movements are so smooth. … Very beautifully done."
For anyone wanting to see Shen Yun for the first time, Collins recommends sitting there with an "open mind and let it wash over you."
With reporting by NTD Television, Nina Yan, Mary Yuan, and Richard Szabo.
The Epoch Times considers Shen Yun Performing Arts the significant cultural event of our time and has covered audience reactions since the company's inception in 2006.