Gold Coast Councillor Gains Deeper Understanding of Chinese Culture
April 26, 2014 12:27 am Last Updated: April 26, 2014 7:34 pm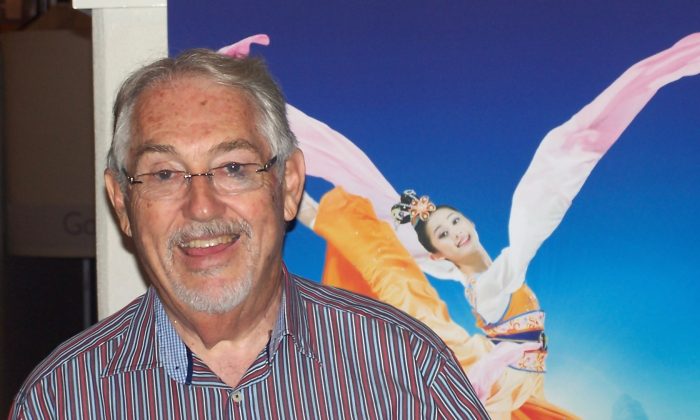 GOLD COAST, Australia—" The whole performance certainly was excellent," said Gold Coast councillor, Lex Bell after experiencing the wonder of Shen Yun Performing Arts at The Arts Centre Gold Coast, on April 26.
Having seen Shen Yun several times before he was continually impressed with the level of professionalism and plans to keep coming to the show when it tours Australia again next year.
"The show was very good indeed, its always a sparkling performance, I've seen a number of them now, there always very colourful, meaningful and very competent."
Mr. Bell was taken by the depth of Chinese culture portrayed in the show particularly when compared to the young culture of Australia.
"Here in Australia except for the Aboriginal culture we have a very short term culture, where as China of course goes back to a civilized country for centuries and centuries"
Enriched with Chinese culture through the music and dance of Shen Yun Mr. Bell said, "I'm not really very familiar with the Chinese history, so it touched upon some of the traditions and the myths and the history of China in a way that was quite entertaining."
Shen Yun takes the audience through 5,000 years of culture from ancient times to the present—beloved myths, legends, and history. The New York-based company does so by way of story-based dances, folk and ethnic dances, music, and vocal soloists.
Alongside the traditional Chinese culture Mr. Bell commented on the modern issues bought to life on the stage,
"I think it comes through as a peaceful country, one that has a lot of thought and perhaps philosophy behind it and certainly it (Shen Yun) also brought forward the message relating to Falun Dafa. He recalled the story of Falun Dafa being told through dance in last years performance, but thought the message was more prominent this year.
Falun Gong, also known as, Falun Dafa is a spiritual meditation practice that is based on following the universal principles of Truthfulness, Compassion, and Tolerance.
Shen Yun traverses the globe with a mission of reviving China's ancient, divinely inspired culture, following years of that culture's attempted destruction at the hands of the Chinese communist regime.
Mr. Bell offered kind words to the performers of Shen Yun
"I would say well done, you've certainly achieved a very high standard of quality and ability and keep going, look forward to seeing you again."
Reporting by NTD Television and Emma-Kate Stampton
New York-based Shen Yun Performing Arts has four touring companies that perform simultaneously around the world. For more information, visit Shen Yun Performing Arts.
The Epoch Times considers Shen Yun Performing Arts the significant cultural event of our time. We have proudly covered audience reactions since Shen Yun's inception in 2006.