Gift of Chinese Culture Seen Through Shen Yun
April 7, 2014 12:39 am Last Updated: April 7, 2014 4:56 am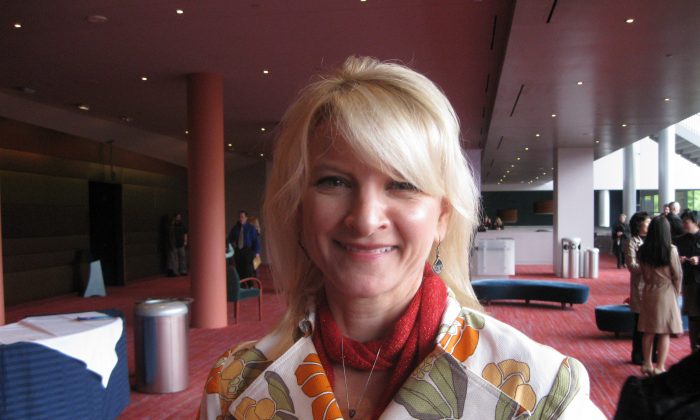 SEATTLE—The first thing to strike L Michelle when she saw Shen Yun at the Marion Oliver McCaw Hall on Saturday afternoon, April 5, was the combination of athleticism and grace in the dancing during the Performing Arts company's presentation.
"The dancing stood out the most for me," said Ms. Michelle, communications director at the Issaquah School District. "What I saw was a beautiful art form—[it had] athleticism mixed in it."
"They looked like they were just floating on air, just to see they were so light on their feet [with] all that grace," she added
Shen Yun's website explains aspects of the classical form of dance: "Dance is one part of human culture. Classical Chinese dance is grounded in 5,000 years of divinely inspired culture, and is a dance art form built upon a deep foundation of traditional aesthetics. Classical Chinese dance is rich with expressive power."
The variation in today's performance is what surprised Ms. Michelle. She was expecting the usual paper dragon running across the stage, but not today.
"I wasn't quite sure what to expect," she said. "There were different forms than I had seen before, so I was a little surprised at just that."
Shen Yun performances bring beautifully choreographed dance stories to their audiences—stories and legends that span China's history, from the Yellow Emperor through the Tang and Song dynasties and all the way up until modern day.
"We're seeing a lot of classical dances. [Seeing a] modern take of things certainly surprised [me] about the cultural side of it; the lack of ability to express, not so much in the performance but that there's a barrier to seeing that in China."
Ms. Michelle was thoughtful when she realized this show cannot be seen in China today.
"It struck me," she said. "We take so much for granted in the United States in the freedom we have. Wow, this is really a gift to have an opportunity to see this and how sad that in China right now they're not seeing it."
Shen Yun Performing Arts' mission is to revive authentic Chinese culture and the values it upholds, since the country's 5,000 years of history ahs nearly been lost at the hands of the Chinese Communist Party, which has banned cultural shows such as Shen Yun in China.
Shen Yun website explains this destruction of traditional Chinese culture: "Forcing atheism upon society, the Chinese Communist Party has for decades launched various campaigns destroying not only cultural sites and temples but also the Chinese people's belief in virtue and faith in the divine."
Having had a wonderful afternoon out, Ms. Michelle said she would ask her friends to come. "I'd tell them it's a real opportunity to see something [to] broaden your mind a little bit," she said. "And if you appreciate dance and seeing other cultures, [then] in two hours you're going to get quite a bit of opportunity to see beautiful athleticism, beautiful dancing."
Reporting by Michael Green and Judy Shakespear
New York-based Shen Yun Performing Arts has four touring companies that perform simultaneously around the world. For more information, visit Shen Yun Performing Arts.
The Epoch Times considers Shen Yun Performing Arts the significant cultural event of our time. We have proudly covered audience reactions since Shen Yun's inception in 2006