DETROIT—Robert Christie, owner of A & G Central Music, said that people express themselves through art. Shen Yun Performing Art's performance at the Detroit Opera House on Saturday, Jan. 15, reminded him that "not everyone has the freedom to express themselves the way we do here, and that we shouldn't take it for granted."
Shen Yun, based in New York, brings five millennia of Chinese culture to the world through the media of traditional music and dance. And whereas this performance can be experienced around the globe, it cannot be seen in China itself, due to the Communist regime's decades-long dismantling of traditional culture and beliefs.
Mr. Christie helps to facilitate music programs for children. As individuals, he believes, people have the right to think for themselves "and if you're not given the freedom to share your personal feelings, opinions, thoughts, and we get homogenized, there's no humanity to it."
As a musician, Mr. Christie appreciated the harmony of the performance in many ways. "What struck me was that the harmony of the music was also reflected in concert with the dance."
He also noted the harmony expressed in the orchestra. "Obviously the Western instruments are not traditional as some of the dances, some of the ethnic dances that we saw. Yet introducing those instruments in with the more traditional Chinese instruments created a harmony that's different, that we haven't seen before—so it was beautiful."
Mr. Christie encourages people to come see Shen Yun.
Retired Physical Therapist Says Shen Yun Will Wake Up Young People
Sheila York, a retired physical therapist, came to see Shen Yun at the Detroit Opera House with two daughters, one teaches high school algebra and the other works in a book depository.
Ms. York had wanted to see Shen Yun since 2006 and found a lot to appreciate. She loved the dances that presented events from modern China. "I thought it was very appropriate. I liked the spirituality of it, too."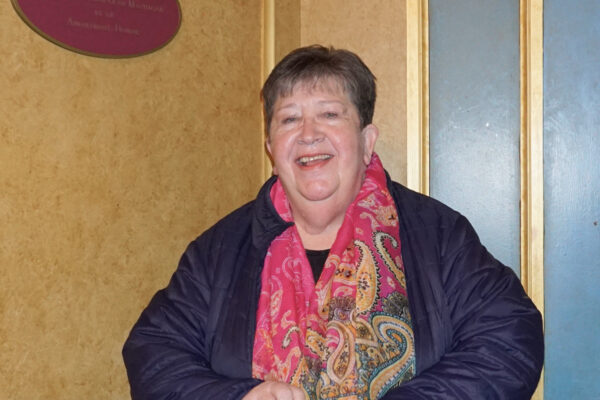 As for people coming to Shen Yun during the pandemic, Sheila said, after covering all the requirements, "sometimes you just have to let go and let God take care of things. If you let go and you have faith, it's going to be okay."
When listening to the music and feeling its healing effect, Ms. York said she felt joy and peace.
She noticed that people came in tired and weary but when it was over "it's just wonderful. It just makes you glow inside and feel like the world's going to be okay no matter what."
It's going to be okay because people can get together and be safe and learn a little bit about Chinese history.
With the restrictions of the pandemic, Shen Yun provided a welcome relief. "Especially with COVID now, I think it's going to be okay. It's going to be okay because people can get together and be safe and learn a little bit about Chinese history."
Ms. York had special words for the young. "For the young people that were here today, I think it wakes them up to some new ideas and new things that are happening in the world."
She believes people should come with an open mind. "I want to go home and tell my granddaughter she should have come."
She said she will bring her grandchildren next year to experience the energy in the performance.
"When you spend a couple of hours here and see the joy and happiness and the explosion of excitement, you can't be negative. You see the good."
Reporting by Nancy Ma, NTD, and Yvonne Marcotte.
The Epoch Times is a proud sponsor of Shen Yun Performing Arts. We have covered audience reactions since Shen Yun's inception in 2006.