Founder of New Jersey Performing Arts Center Calls Shen Yun 'Superb'
April 13, 2014 2:25 am Last Updated: April 14, 2014 3:46 pm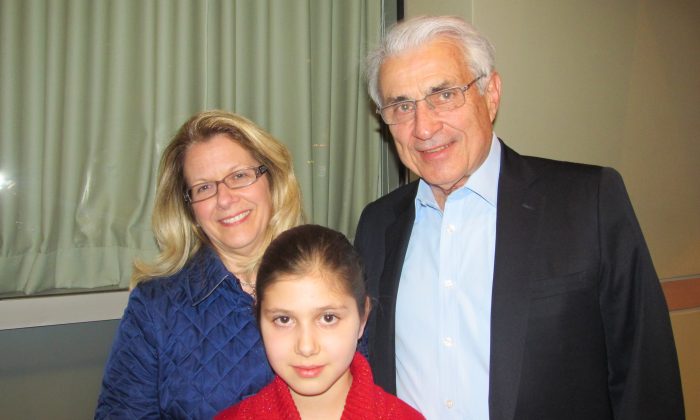 NEWARK, N.J.—Founding member and current director of the New Jersey Performing Arts Center, Robert C. Waggoner, came to see Shen Yun at the venue he helped build on April 12. 
"It's very impressive," said Mr. Waggoner, who is also a trustee and chairman emeritus of the New Jersey Symphony Orchestra, and a member of the Council on Foreign Relations. 
"I know some things about China, but I think for a presentation of Chinese culture for Americans this was superb. Outstanding presentation I thought, really good." 
New York-based Shen Yun revives China's rich 5,000-year-old culture, displaying ancient legends, ethnic dances, and classical Chinese dance, as well as scenes from contemporary life in China. The performances are accompanied by a traditional Western orchestra including Chinese instruments.
Mr. Waggoner, who is currently the CEO of public relations service company BurellesLuce Inc., was accompanied by his wife, Mary Ellen, and their daughter. His wife, a former professional oboist, especially enjoyed the orchestra of Shen Yun. 
"I thought the orchestra was exquisite. Especially the oboe." 
Mrs. Waggoner also thought the dancing "was really very well done."
Chinese dance combines graceful moves with more dramatic leaps and tumbling techniques. "It is able to transcend ethnic, cultural, and even linguistic barriers, taking this well-established Chinese culture and presenting its essence to the world," according to the Shen Yun website.
Overall, she thought "it was quite well done and just beautiful. I just really appreciate the Chinese culture so much more." Mr. and Mrs. Waggoner enjoyed the show so much they would recommend it to their friends. 
"Oh we would definitely recommend it. Very highly," said Mr. Waggoner. 
In case Shen Yun makes it to Singapore, he said he will send an email to his old Harvard roommate who now is a dean at a law school there. 
Reporting by Wei Yong and Valentin Schmid
New York-based Shen Yun Performing Arts has four touring companies that perform simultaneously around the world. There will be four performances in Philadelphia April 25-27. For more information, visit Shen Yun Performing Arts.
The Epoch Times considers Shen Yun Performing Arts the significant cultural event of our time. We have proudly covered audience reactions since Shen Yun's inception in 2006.
CORRECTION: An earlier version of this article incorrectly stated the type of orchestral instrument Mrs. Waggoner enjoyed the most. It was the oboe. Epoch Times regrets the error.