FORT WORTH, Texas—Beautiful, phenomenal, and "something we need to see now" is the impression Shen Yun Performing Arts and its storytelling dances, rife with divinely-inspired themes, left on Fort Worth area residents who attended the performance at the Bass Performance Hall, Jan. 7, 2020.
President's Heart Touched by Shen Yun's Representation of Persecution
Aaron Sisk is the owner and president of a bank marketing and consulting firm. He said New York-based Shen Yun is one of the greatest shows he's seen.
"It's amazing. I'm glad I saw it. It's phenomenal," Sisk said.
What touched him the most about the performance were "the stories behind everything."
"The historic value of everything is phenomenal," he said. "The piano and the [baritone] singing. … The persecution part was very touching."
Shen Yun's mission is to revive China's traditional 5,000-year-old civilization. While it is headquartered in the United States, the artists are not allowed to perform in China today, due to the communist regime's policy of doing away with traditional Chinese culture and replacing it with its own atheist and materialistic one. These policies go so far as to have China's security forces abduct spiritual believers from their homes and subject them to brutal brainwashing and persecution, with the goal of mental "transformation," in other words submitting to the atheism of communist belief.
Shen Yun performances include around 20 vignettes, including dances that depict stories of the hope, faith, and compassion displayed by victims of this persecution, especially followers of the ancient meditation practice, Falun Dafa.
Sisk commented on the positive and powerful impact of these stories.
"Having to get through persecution to fight for your beliefs is phenomenal. And to come out and be able to do a show like this when they could probably still be persecuted today is amazing. [I have] a lot of respect for that," he said.
Accountant Sees Deep Meaning in Shen Yun's Stories
Gwen and Bill Dunlap thoroughly enjoyed Shen Yun's artistry, stories, and its acknowledgment of heaven's role in our everyday lives.
"It was beautiful," said Bill, who is a former engineer. "The choreography, the music, the performers were flawless. It was just a wonderful performance. I love it."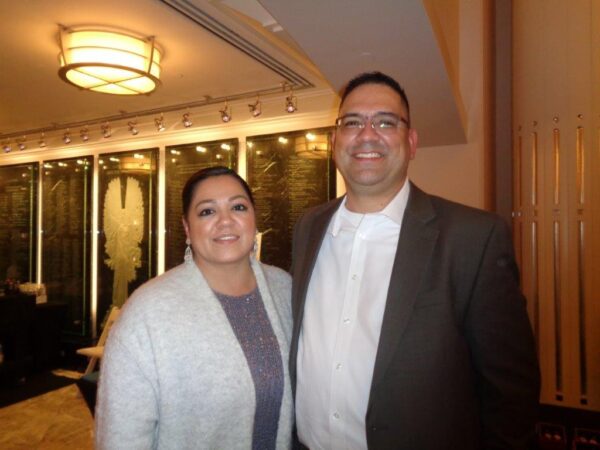 Gwen, an accountant, felt that Shen Yun's mission of revival has enormous value in the world.
"The message that it brought I think is something that we need now to remember. I just loved it. … There's a message for people to hear, to be put down or persecuted for your belief, we know that it's very prevalent in this day and age everywhere—people should be free to practice their religion whatever they believe in, without persecution."
Gwen elaborated on the message she interpreted from the show, "Where we came from, and what our purpose is here, and that we all have something that we are here for; to perform and help mankind and do good to others. And when we've done that we get our rewards back in heaven again. I thought it was beautiful."
Shen Yun Is 'What We Need', Says Probation Officer
The Shen Yun pieces that most resonated with Dana Victorson, a juvenile probation officer, were also those of overcoming injustice with belief in the divine.
"Just the perseverance of the characters in the stories and overcoming adversity," he said.
His companion, Joy Newkirk, agreed.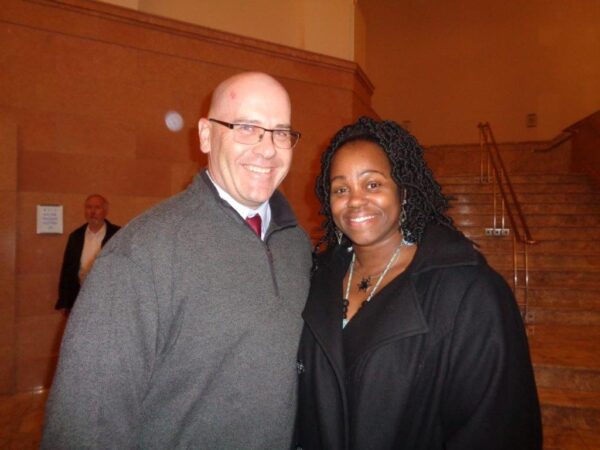 Newkirk said she enjoyed those stories of faith, of the people "persecuted for their belief but no matter what they still held on to their beliefs, to their faith no matter what."
"Evil comes against them, they still held on to their faith and they didn't let go of that and that's what we need nowadays. I love that, that's what we need. I love it," said Newkirk, also a probation officer. 
"My impression from the show, those are amazing dancers, amazing talents, balance, the quality of the music, the graphics, the background, it's amazing, everyone needs to see this show," she added.

Victorson came to the same conclusion: "You just got to go see it yourself because no words will be able to describe it for you," he said.

With reporting by Amy Hu, Ya Wen, and Brett Featherstone.
The Epoch Times considers Shen Yun Performing Arts the significant cultural event of our time and has covered audience reactions since the company's inception in 2006.
Fort Worth, United States
Shen Yun North America Company