Former TV Producer Finds Shen Yun Spiritually Meaningful
April 16, 2014 4:57 pm Last Updated: April 16, 2014 4:58 pm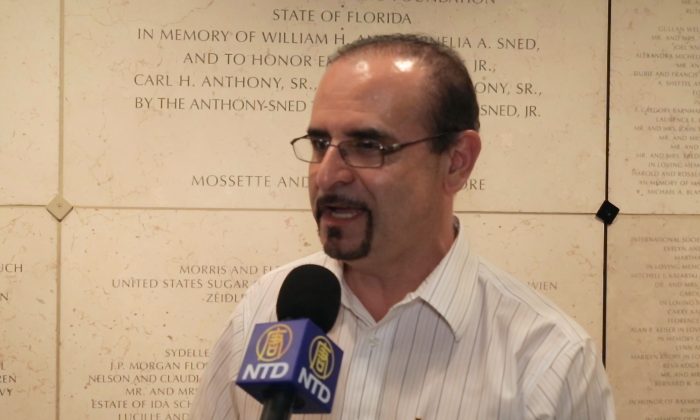 WEST PALM BEACH, Fla.—Jose Lopez, a former TV producer for the Univision and Catholic Television networks, was struck by the spiritual meaning he found in Shen Yun. He saw the first of Shen Yun's three performances at the Kravis Center for the Performing Arts on April 15.
Mr. Lopez, currently a financial adviser, said he is a spiritual person and described his experience of the performance as beautiful and awesome.
"We have to search for the heavens," he said. "We're here as temporary human beings, and … everything we do should be toward God being in heaven, [should] be more spiritual. This [world] is just temporary. The main thing is in heaven and is God."
In 2006, classical Chinese artists came together in New York with the goal of reviving "the true, divinely inspired culture of China," the Shen Yun website states.
Through song and classical Chinese dance, the performance conveys ancient beliefs and ideals—the heart and soul of traditional Chinese culture. "Principles such as benevolence and justice, propriety and wisdom, respect for the heavens, and divine retribution, all come to life, washing over the audience," the website states.
Overall, Mr. Lopez found the performance "excellent, very refreshing." He said that the orchestra and the dancing were wonderful. "The music was spectacular."
He said he would tell his friends to see Shen Yun "because of the message and the show and the performers." "It was excellent."
Reporting by Serene Lee and Louise Rothman
New York-based Shen Yun Performing Arts has four touring companies that perform simultaneously around the world. For more information, visit Shen Yun Performing Arts. 
The Epoch Times considers Shen Yun Performing Arts the significant cultural event of our time. We have proudly covered audience reactions since Shen Yun's inception in 2006.