Former Painter Connects With Spirituality in Shen Yun
April 27, 2014 11:09 pm Last Updated: April 27, 2014 11:09 pm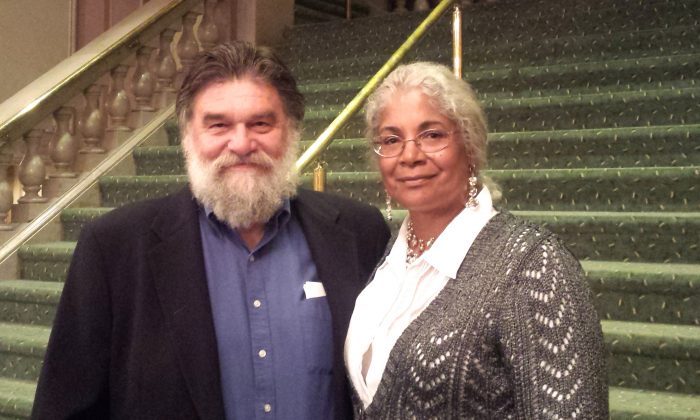 PHILADELPHIA—Exhibiting painter Dawn Majewski felt a similarity between traditional Chinese culture and her own beliefs after seeing Shen Yun Performing Arts at the Merriam Theater on April 27.
"We all should do things to make sure that we return to heaven and God," Mrs. Majewski said. She attended the performance with her husband, Ray.
Although the couple holds different views of faith, Mr. Majewski, former rehabilitation services director at the Delaware Psychiatric Center, found the idea of a higher power as exhibited in Shen Yun fascinating.
New York-based Shen Yun revives 5,000 years of Chinese civilization—said to be inspired by the heavens—through the universal languages of music and dance.
"It was a wonderful experience," Mr. Majewski said, adding that he saw a message of hope.
"Even though they can't put this on in China because of the oppression of certain groups, it was good to see it here, and the participants seemed to enjoy what they were doing," Mr. Majewski said. "That was good to see."
Mrs. Majewski complimented the digital backdrop Shen Yun uses to bring to life scenes from ancient legends and various dynasties. She added her admiration for how the dancers moved.
"Oh, it's beautifully done," she said.
"It flowed very nicely," Mr. Majewski said. "The costumes were beautiful—just all of them, beautiful."
Reporting by Valentin Schmid and Catherine Yang
New York-based Shen Yun Performing Arts has four touring companies that perform simultaneously around the world. For more information, visit Shen Yun Performing Arts.
The Epoch Times considers Shen Yun Performing Arts the significant cultural event of our time. We have proudly covered audience reactions since Shen Yun's inception in 2006