Former EPA Director Finds Every Facet of Shen Yun Incredible
April 6, 2014 12:21 am Last Updated: April 9, 2014 12:28 am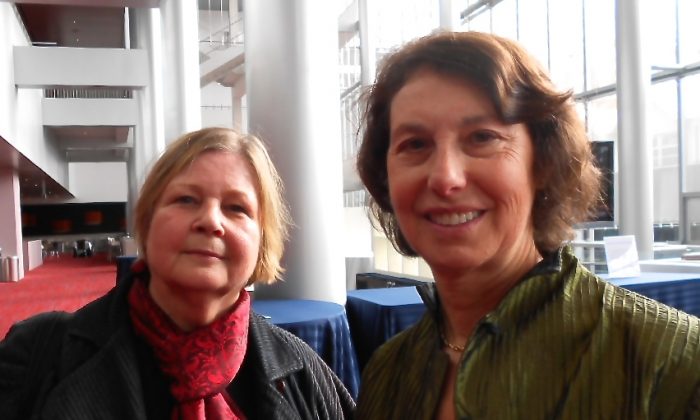 SEATTLE—Shen Yun Performing Arts graced the stage of Seattle's Marion Oliver McCaw Hall on April 6. Together in attendance were Anita Rockefeller and Nancy Shroeder.
"I love the show," said Ms. Rockefeller. "The skill level, the music, the costuming—incredible!"
Through music, dance, and state-of-the-art technology, Shen Yun travels the globe to deliver genuine Chinese culture to millions. Shen Yun is reviving the Middle Kingdom's glorious and well-documented culture of 5,000 years.
Having just returned from Vietnam, Ms. Rockefeller, a former Environmental Protection Agency director, appreciated learning more about Chinese spirituality through the performance. "[I] saw a lot and learned a lot about Buddhist culture and the inspiration for a better life and enlightenment, maybe," she said. "We look toward more freedoms for the people there."
An importance part of Shen Yun is its orchestra, which combines the expressiveness of Chinese instruments with the precision of Western orchestration.
Ms. Schroeder said that she was particularly touched by the erhu, or the Chinese violin. "It to me sounds like a combination of a flute and a violin, but it has the sound of a poignant human," she said.
Shen Yun's music also features soloists who sing in the highly technical bel canto technique while still maintaining the proper Chinese vocal inflection. "That woman's voice is the most powerful voice ever, "she said. "She's amazing."
"Oh, I'd say it's a spectacular feast for the senses," Ms. Scroeder concluded.
Reporting by Echo Liu and Michael Fitzgerald
New York-based Shen Yun Performing Arts has four touring companies that perform simultaneously around the world. For more information, visit Shen Yun Performing Arts.
The Epoch Times considers Shen Yun Performing Arts the significant cultural event of our time. We have proudly covered audience reactions since Shen Yun's inception in 2006.