Finance Director Says Shen Yun Is Exquisite
April 12, 2014 6:39 pm Last Updated: April 12, 2014 6:39 pm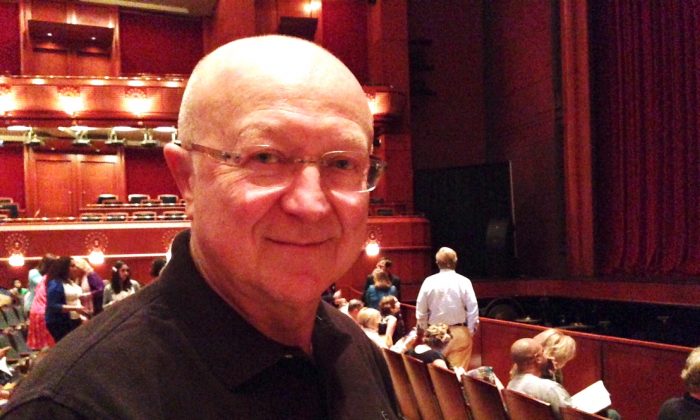 NEWARK, N.J.—William Frymer, a senior managing director of high yield securities in New York City, said Shen Yun Performing Arts was "outstandingly enjoyable," after seeing it at the New Jersey Performing Arts Center on Saturday afternoon.
"Wonderful, it's absolutely beautiful," said his wife, who declined to give her full name. "It's very clever the way they used the screen technique to combine with the dancers to create the stories. It's very clever."
Shen Yun, based in New York, brings 5,000 years of Chinese culture to the stage in classical Chinese dance. It uses state-of-the-art technology to bring ancient scenes to life. The digital backdrop opens the stage onto dynastic courts with their unique characteristics, onto vast and colorful landscapes, and even onto heavenly scenes. 
The Shen Yun website explains that Chinese culture is held to be divinely inspired: "Principles such as benevolence and justice, propriety and wisdom, respect for the heavens, and divine retribution, all come to life, washing over the audience. Originating from Confucianism, Buddhism, and Taoism, these ideals are the essence of traditional Chinese culture."
"I think it's exquisite," Mr. Frymer said. "The timing is beautiful," he said of the dancer's synchronized movements. Shen Yun features the world's best classical Chinese dancers. For thousands of years, legends have been passed down through this dance form. The website states: "Soaking up profound wisdom from every era and dynasty, it has become a complete system of dance, embodying traditional aesthetic principles with its unique dance movements, rhythms, and inner meaning."
Shen Yun Performing Arts Orchestra blends Chinese traditional instruments with Western classical instruments. The website explains that many have tried and failed to find harmony between the disparate sounds of East and West, "But the ability to seamlessly blend these two systems to create one fresh, harmonious sound is what makes the Shen Yun Performing Arts Orchestra unique."
Mr. Frymer said he would absolutely recommend the performance to friends. His wife said: "It's hard to pick out the best thing, because everything is the best."
Reporting by Ivan Pentchoukov and Tara MacIsaac
New York-based Shen Yun Performing Arts has four touring companies that perform simultaneously around the world. For more information, visit Shen Yun Performing Arts.
The Epoch Times considers Shen Yun Performing Arts the significant cultural event of our time. We have proudly covered audience reactions since Shen Yun's inception in 2006.