Filmmaker and Philosopher Praises Shen Yun for Commitment to Performing Arts
April 1, 2014 5:13 am Last Updated: April 2, 2014 7:34 am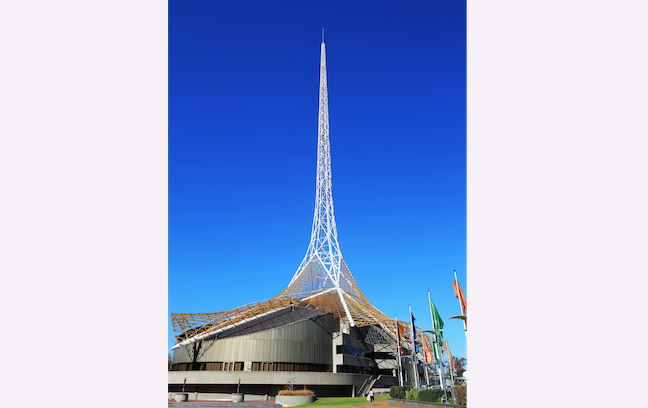 MELBOURNE, Australia—Award-winning filmmaker and philosopher, Larelle Bossi, was utterly amazed by the commitment shown by Shen Yun Performing Arts to the performing arts and classical Chinese dance, music and song.
Based out of New York, Ms. Bossi attended the Arts Centre's State Theatre on March 29 describing her overall feeling about the presentation as "very entertaining and very fantastic.
"The live [performance] was absolutely magnificent. I really enjoyed the fusion of the Eastern and Western traditions and instruments, the performances were fabulous," she said.
"They were very energised, the colour was spectacular, and the singers, the opera singers, were just beautiful too."
Ms. Bossi was captivated with the voice of soprano Min Jiang who sang, "The Music is Truth", bel canto-style in Chinese lyrics. She was also pleased to see on stage Australian-born principal dancer and soprano Rachael Yuning Bastick.
Ms. Bossi has written and directed films and theatre productions in Australia, according to linkedin.com. With a keen eye for detail and belief in creating the impossible, she has a passion and background firmly imbedded in philosophy as well.
Ms. Bossi likes to experiment with ways of visually exploring philosophical concepts. She has examined themes of control and chaos, pleasure, samsara, science, religion and morality, making her work reflective and thought provoking.
So, not surprisingly, Shen Yun transported Ms. Bossi to otherworldly realms by the state-of-the-art backdrop graphics technology, a technique she was experiencing for the first time.
"It was a very nice way to present the spiritual perspective of the show, which is often difficult to portray on a stage, so it was really nice to be able bring in that digital media, because it really fused those difficult concepts that are often hard to present," she said.
Ms. Bossi trained in classical ballet as a child and danced on stage over a period of 16 years. So fittingly, as a birthday surprise, her mother bought tickets to Shen Yun.
"I grew up with going to see the ballet and it was really nice to see a classical [Chinese dance] performance. … It was really beautiful," Ms. Bossi said.
"It was really fantastic and also the tumbling was just beautiful. The men were very strong, even though classical dance was really delicate. But the men were really very strong, and obviously the women were very graceful, it was nice."
Ms. Bossi studied philosophy at university which included Eastern traditions, Buddhism and Taiosm.
"It was interesting to see it performed, the [spiritual] ideas performed on a stage through the performing arts.
"I think it was more than just philosophy. It was the symbolism. I had never seen that before and you don't get that in Western traditions. You don't get the performing arts conveying the idea of divinity, whereas, that was very much present in this. It was done very well, it was very unique."
She recalled growing up in the 1980s, a play called "Monkey Magic" and some of the stories featured on stage reminded her of her childhood years.
"You can see the influences Eastern and Western constantly had on each other throughout history, so whether it was–even the high heels for example that they wore in the 15th century in China."
Ms. Bossi said the Western world was "incredibly secular" and religious concepts and spirituality has been taken away—"like the performing arts and freedom of speech."
"People don't talk about it anymore," she said.
She said for Shen Yun to incorporate these concepts freely in its production was touching.
"Spirituality across the board speaks to everybody. You know there's spark of divinity in everyone and the fact it was presented in all of the performances was an undertone and more inertly in contemporary style—we have stopped from speaking about our beliefs and our faith."
Ms. Bossi said she would recommend Shen Yun to her friends and family.
"It's not only entertaining, but it's historical and you can learn something from it. I think a lot of children would really enjoy this. We have a four-month-old baby and we thought, could you imagine taking him to a show like this? I think he would be wide-eyed just by the colour.
"The commitment [of Shen Yun] to dance and the performing arts, and to song and music. It's fantastic to be able to show it to the rest of the world which is what they are doing."
Reporting by Mary Chen and Raiatea Tahana-Reese
New York-based Shen Yun Performing Arts has four touring companies that perform simultaneously around the world. For more information, visit Shen Yun Performing Arts.
The Epoch Times considers Shen Yun Performing Arts the significant cultural event of our time. We have proudly covered audience reactions since Shen Yun's inception in 2006