Famous French Singer Says Shen Yun Is Purity
April 1, 2014 10:36 pm Last Updated: April 1, 2014 10:36 pm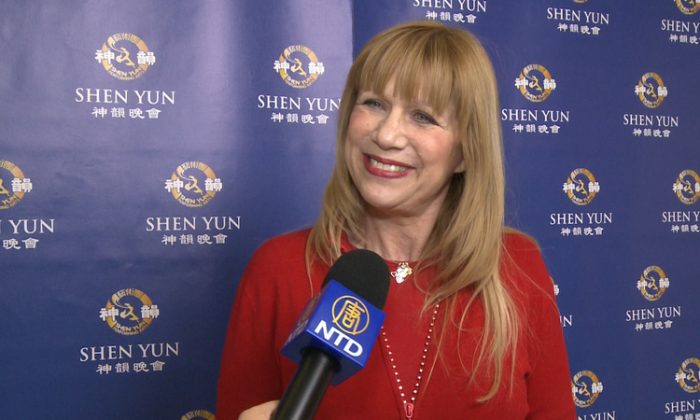 PARIS—For the French, L'Avventura and Made in Normandy are well-known tunes of the 1970s, with their singers, the musical duo Stone et Charden, ever present in the lyrical memories of many.
Annie Gautrat, better known by her stage name Stone, attended Shen Yun Performing Arts' opening performance at the Palais des Congrès in Paris with her husband Mario D'Alba on March 28.
Based in New York, Shen Yun aims to revive China's divinely inspired culture through breathtaking performances that feature classical Chinese dance and music.
The Palais des Congrès is well known to Stone who has performed there most recently as part of the Age Tendre et Tête de Bois' band tour late January. However, she said, Shen Yun "is very different from what we did."
"This is purity, precisely. Because this is very far from our Western habits when we see this kind of show. There are no notions of eroticism, things like that, it's all quite restrained, and somewhat innocent. It's beautiful to see, very, very beautiful," Stone said.
"I think that we have ways to go to be like them, because I find that they are very, very talented. For us, it seems we do a little … a bit of song like that, as amateurs … When you see this level of professionalism it's fabulous. I admire all the people who can reach such degrees of talent at all levels!"
Very moved by the show, Stone, as an accomplished professional, said she "appreciated the whole production."
"The level of work needed to put on all of these numbers … with the number of people that are on the stage for just one scene, and they are all fabulous."
According to the Shen Yun website, "Through the universal language of music and dance, Shen Yun weaves a wondrous tapestry of heavenly realms, ancient legends, and modern heroic tales, taking you on a journey through 5,000 years of Chinese culture. Its stunning beauty and tremendous energy leave audiences uplifted and inspired."
A Shen Yun performance, the website adds, "features the world's foremost classically trained dancers, a unique orchestra blending East and West, and dazzling animated backdrops—together creating one spectacular performance."
Stone said Shen Yun is very colorful, and also has a happy tone, prompting audiences to view the performance "with the eyes of a child."
"We can only applaud all these people [Shen Yun's artists]," she said.
Shen Yun, Stone added, is a must-see performance.
Reporting by NTD Television and Sarita Modmesaïb
New York-based Shen Yun Performing Arts has four touring companies that perform simultaneously around the world. For more information, visit Shen Yun Performing Arts.
The Epoch Times considers Shen Yun Performing Arts the significant cultural event of our time. We have proudly covered audience reactions since Shen Yun's inception in 2006