TORONTO—The Shen Yun Symphony Orchestra garnered two standing ovations and two encores from an audience that didn't want to see the performance end on Saturday afternoon at the Roy Thomson Hall.
For City of Toronto clerk Ella Bennett, the music sparked a sense of intrigue and wonder, conjuring up images of China's ancient civilization. 
"This music is so, so different. We are both European so to us it's really ethnic, and by the same token very, very attractive and moving. Your heart beats faster, and imagination kicks in. With the music I was imagining the old China and street festivals, and the clothing and the colours, and you know, all of it would combine with the music."
The Shen Yun Symphony Orchestra is unique, building on Chinese melodies and including Chinese instruments. A Western orchestra serves as a foundation and accentuates the distinct character of Chinese instruments. 
"I really enjoyed it. The combination of so many different instruments was just amazing. Really, really appreciated the afternoon," said Ms. Bennett
"Fantastic, especially in Toronto when we have such a big Chinese community. And at the time when we entered [the hall], I said it's fantastic to see so many Chinese coming to the concert, and I'm sure they've enjoyed it as well."
'Distinct Feeling of Emotion'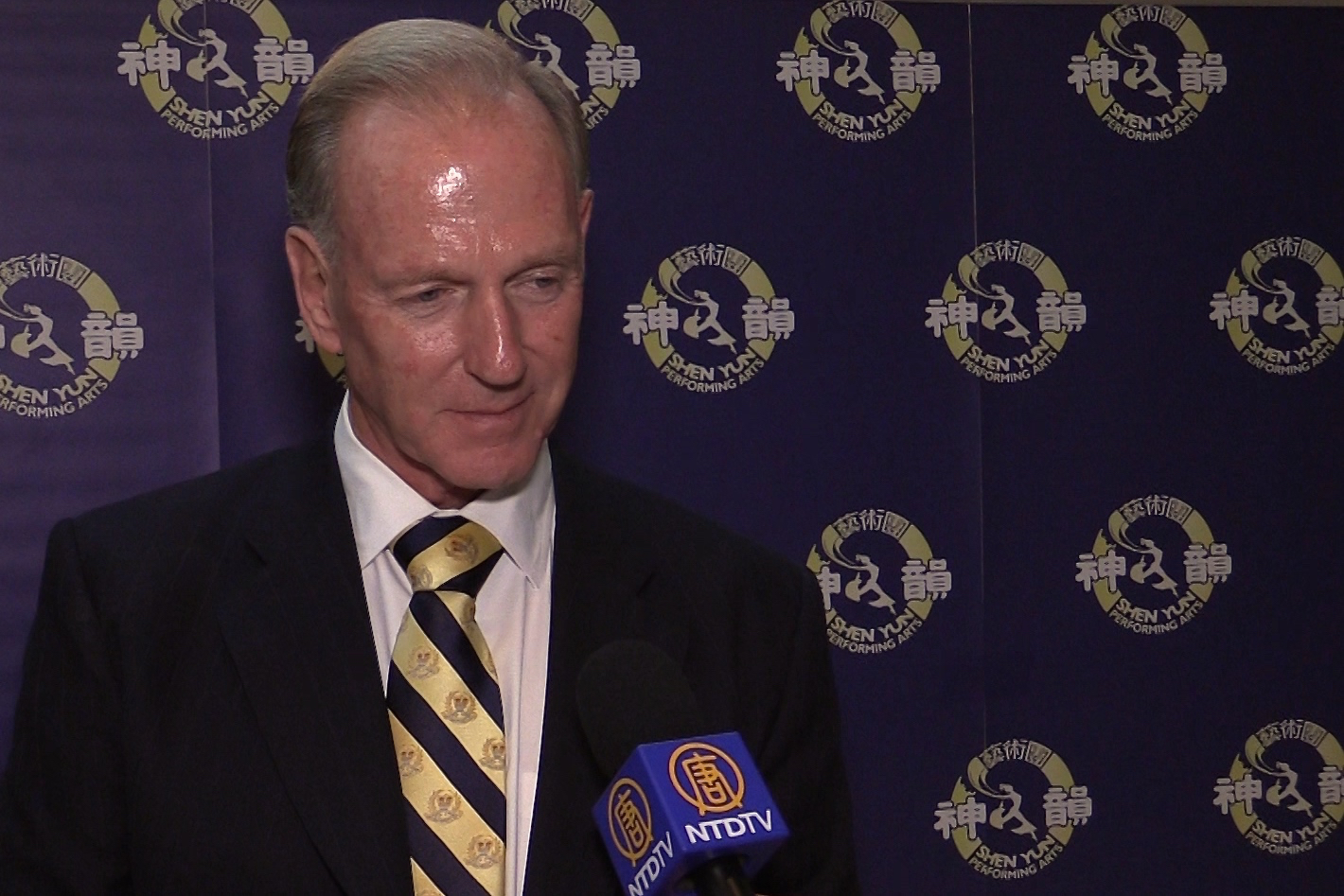 Peter Cullen, who sits on the board for the Royal Agricultural Winter Fair and owns companies that design and supply electrical and robotic systems, said the performance featured a nice blend of Eastern and Western culture. 
He found the erhu, China's two-stringed violin with a history going back 4,000 years, particularly evocative.
"It does emote a great deal of feeling, more so than a typical violin. Violins are beautiful, but the cultural instruments were very moving, very emotional."
Mr. Cullen said Shen Yun was a unique chance to experience those cultures together and see how they interact.
"It's a great opportunity to come and experience both Eastern and Western cultures and the mix of the instruments, and you do get a very distinct feeling of the emotion between the two different styles of instrument. You don't get that if you just see one or the other, so it's a very, very nice opportunity to compare."
"That's why I came this time. … I've heard of it before but I've never been able to attend, so it was very nice to be able to attend."
'Very Complete'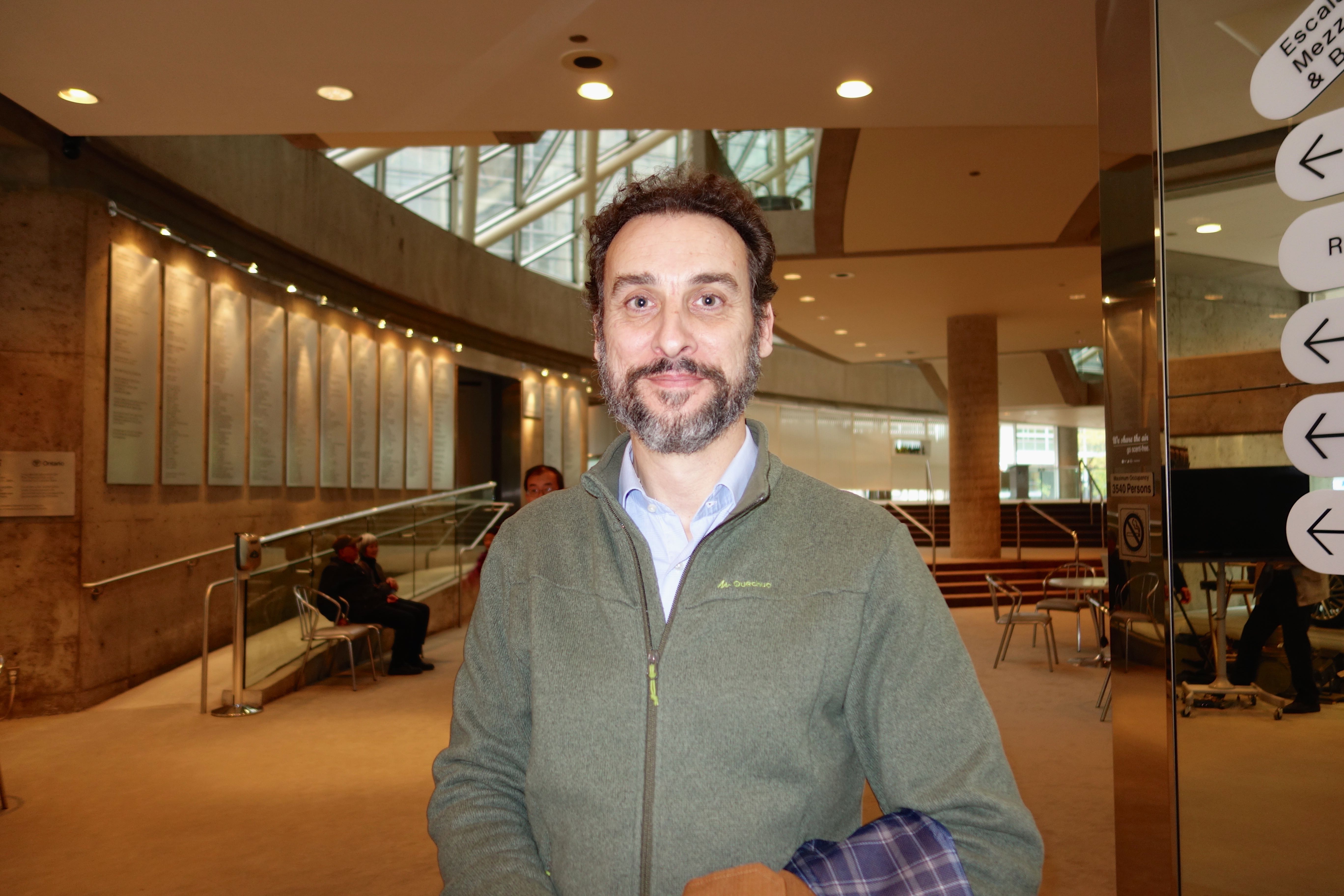 Music is near and dear to Andres Barrado's heart.
"Music is one of the best experiences that we have as human beings," he said after attending the performance.
He's a professor of electrical engineering at the Charles III University of Madrid in Spain, but is living in Toronto temporarily as a visiting professor at the University of Toronto.
A fan of symphony music, Barrado said Shen Yun's music was very well done.
"Very nice, very complete, the sound is very calibrated," he said.
"I like [the inclusion of Chinese instruments] because the Chinese culture is very rich, very complete."
'Just Beautiful'
Gary Cooper, who works in advertising, rushed back from a Calgary business trip to attend the performance and was very glad he did.
"Just beautiful. We just thoroughly enjoy it. So we're very grateful to be here."
Mr. Cooper said he watched each musician carefully as they played, and was impressed by the artists' perfect synchronicity with each other.
"I'm just amazed at how they work together," he said, adding that the blending of Eastern and Western instruments was flawless.
"They've done really well to blend the sounds together. It's very tasteful and beautiful to listen to."
With files from NTD Television
New York-based Shen Yun Symphony Orchestra comprises musicians from the four Shen Yun Performing Arts touring companies. For information about the October performances, visit: ShenYun.com/Symphony