MELBOURNE, Australia—Attending Shen Yun Performing Arts at the Melbourne Arts Centre on Feb. 27 was Dr. Garry Brown, Emeritus Professor in Aerospace Engineering. Dr. Brown, retired from Princeton University, in New Jersey, felt uplifted after watching the Shen Yun performance.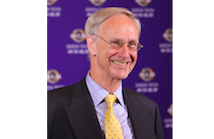 "This is very different from anything that I've ever seen. It's wonderful, quite wonderful! Very, very inspiring … I think it's such a rich culture and so beautiful, and has such wonderful values. It has been lost in the modern materialism that China is experiencing. So that must be a source of sadness to some Chinese people."
Shen Yun's mission is to revive the divinely inspired traditional Chinese culture that was almost lost under communist rule.
Dr. Brown was pleased to see Shen Yun's revival of the culture and the depiction of its 5000 years.
"I think it's a wonderful thing to do!" he said. "I think the saddest thing is that it seems it's not to be permitted in China. … A very nice thing would be for it to be seen in China, where the roots of all of it are."
With state-of-the-art graphics technology, Shen Yun's digital backdrop team creates vivid animated settings, extending the stage and transporting the audience to a world where heaven and earth are one.
"I thought the very clever thing was the way the screen portrayed a much bigger picture than you could portray with just the dancers. I thought that was really wonderful! I've never seen anything like it!"
"It created a wonderful feeling, that there was something almost magical, mythical," he said.
"It's uplifting, and beautiful, and spectacular, and makes you feel good about people.
"[In] every single folk dance, and traditional dance,  classic dance—everyone was wonderful."
'The erhu-I'm in love with it'
Dr. Joseph Galbally, a veterinarian, saw the same performance.
Shen Yun was almost beyond description for him, and was certainly sweet music to his ears. "I love music—I adore it. To come here and have two hours, something beautiful, something special. It's all very new to me," he said.
"Wonderful, magnificent, splendid, superb, absolutely brilliant, and beyond all my expectations."
Mr. Galbally is a Senior Fellow and Academic Associate of the University of Melbourne Faculty of Veterinary Science. He loves classical music and opera, and grew up in a musical family. He studied flute and is learning the piano. He said he has a fascination for music and was very interested to hear music of Shen Yun.
"The music was in harmony with the dance, the colour, and the traditional stories—I think that was something special that I wasn't even expecting, beautiful stories. But the instrumentation and the harmony of the Western orchestra and the beautiful Chinese instrumentation, particularly the erhu, I'm in love with it, it's beautiful, absolutely spectacular."
Western strings, percussion, woodwinds, and brass accentuate the sound of ancient Chinese instruments—like the two-stringed erhu and the plucked pipa. Never before have the exquisite beauty of Chinese melodies and the grandeur of a Western symphony been so seamlessly combined, according to the company's website.
Virtuoso Xiaochun Qi, featured in the program, played 'All for Today' on the erhu.
"It [the erhu]… was just superb. It's very hard to describe, it's very spiritual, it's lovely listening to it, something that just has purveyed eternity."
Shen Yun features a live orchestra that seamlessly combines traditional instruments from East and West. "The ensemble at once expresses both the grandeur of a Western orchestra and the distinct sensibilities of China's 5,000-year-old civilization," says the Shen Yun website.
Mr. Galbally said, "It was beautiful. Beautiful compositions, so all due credit has to go to the composers. What I did love was having the colour of the dance because the dance brought back what the origins of the music were."
He could sense Shen Yun's mission.
"It's like a renaissance too. I'm feeling that this music is so engrained in Chinese culture that has been forgotten, at least over the past 60 years, and coming back as renaissance. Really important, not only for the Chinese but the whole world, its beautiful music, it's wonderful," he said.
"I feel really good, I feel exhilarated, spiritually too."
Reporting by NTD Television and Christine Ford
New York-based Shen Yun Performing Arts has four touring companies that perform around the world. For more information, visit ShenYunPerformingArts.org.
Epoch Times considers Shen Yun Performing Arts the significant cultural event of our time. We have proudly covered audience reaction since Shen Yun's inception in 2006