EDINBURGH, United Kingdom—Flowing sleeves, gliding movements, flips, tumbles, and a live orchestra that blends music from the East and West. Shen Yun Performing Arts has touched the hearts of theatergoers around the globe, with the company's latest performance in Edinburgh, Scotland, on Jan. 24.
Among the audience at the Edinburgh Playhouse, which seats 3,000 people, was Lady Jennifer Bute, who belongs to one of Scotland's most historic families.
"Those women with their long, pink scarves, every scarf seemed to go just the same height and the same width and nothing went out of place. Everything was just done exactly together. It was really amazing!" she said.
Lady Bute wasn't just impressed by the precision of the dancers, but the expressive movements of the performers, who are trained in classical Chinese dance.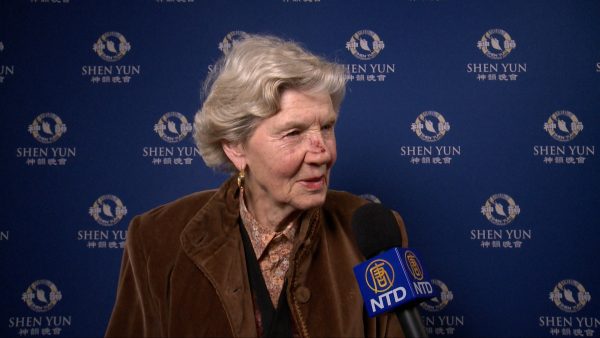 Dating back millennia, classical Chinese dance is one of the most expressive art forms in the world. Artists can convey a wide range of emotions through its dance movements.
Shen Yun was founded in 2006 with the mission to revive the authentic Chinese culture that has almost been lost in recent times under the communist regime.
"It's different from a lot of things we have here in Edinburgh, and it brings something really different and good," said Griselda Cuthbert, Chatelaine, or owner, of Beaufront Castle in Northumberland, United Kingdom.
"I'm very impressed by the braveness of this company for their beliefs in bringing it and carrying on in difficult times," she said.
She described the choreography and steps as "wonderful and very serene."
Shen Yun features a digital backdrop, and in some pieces it seems like the artists fly up into the air. CEO Sunita Poddar was especially impressed by the technology in the performance.
Poddar said that everything from the performance was "out of this world."
"I was mesmerized with the whole show," she said.
Her friend, company director Lisa Ameur, was so touched by the erhu virtuoso it brought tears to her eyes.
The two-stringed erhu has a history of over 4,000 years and, unlike a Western violin, it is played vertically.
"I thought she was fantastic," she said.
With reporting by NTD Television, Mary Man, and Jane Gray.

The Epoch Times considers Shen Yun Performing Arts the significant cultural event of our time and has covered audience reactions since the company's inception in 2006.