Fall is here, and tailgating season has begun. Not that we need a reason to gather around food, but if there's a moment in time that best represents the melding of fun, food, and camaraderie, it's during the tailgate party, that essential preamble to a sporting event.
Spectators must be well-nourished to keep rooting for their favorite team! And so, we bring a feast of food and beverages to remote school fields, to fancy polo games, or to stadium parking lots, to gather around the back of the car to eat, drink, and fuel up for the game.
There really is no limit on what you can bring to a tailgate party. You can certainly go all out with a folding table, chairs, and outdoor cookers; tents to protect from the sun and rain; and portable heaters for a bit of extra warmth. Blankets and tablecloths are helpful, and even carpet remnants can be useful in protecting from mud. I've seen buckets of clams and oysters being shucked on the spot, grills fired up for burgers and hot dogs, and portable stoves arranged to make hearty soups and stews. As long as it fits in the car, anything goes.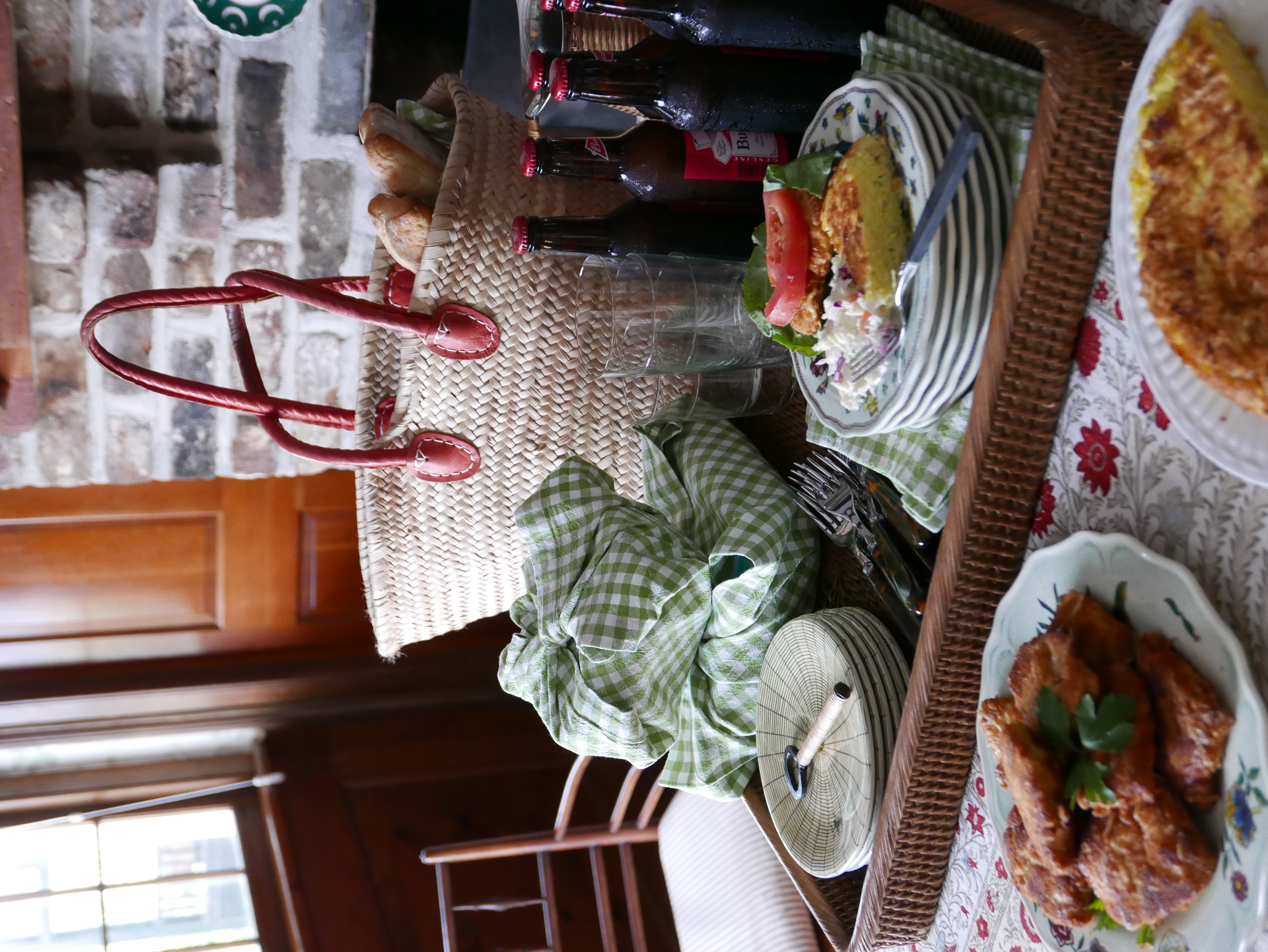 A Thoughtful Tailgating Strategy
I have to admit that I am much more restrained when traveling with food, and focus my efforts on how to transport it, what happens to it en route, and how it will look when it gets to its destination.
My strategy is to do all the prep work in my own kitchen, and choose mainly finger foods that don't need to be eaten with a fork and knife. I make everything the day before, so that the early morning departure is as smooth as possible.
I'm sharing a menu of a Spanish tortilla de patatas, breaded chicken cutlets, and coleslaw, all recipes that stand the test of time—that is, overnight in the fridge, where they actually improve a bit. The tortilla settles down and becomes a bit denser, the chicken cutlets reabsorb their juices, and the coleslaw absorbs all the flavors of the creamy dressing. None are terribly juicy, so spilling isn't an issue, and all are easily eaten sitting down, standing up, or hopping from car to car.
I'll supplement my menu with baguettes, sliced salami, and brie, for making open-faced sandwiches, and condiments such as mayonnaise, mustard, and ketchup. For dessert, brownies and cookies are easily portable crowd-pleasers, and to drink, we'll have lots of lemon iced tea.
I'll pack it all in lidded containers and take with me some rattan trays, lots of napkins, serving utensils, and forks and a few knives (just in case). Charming wicker baskets may be the "it" pastoral accessory, but coolers for ice and drinks and insulated bags for perishables are much more practical alternatives. I also pack melamine plates and acrylic glasses, a thermos to keep beverages hot or cold as needed, and a few garbage bags for cleanup.
And don't forget the bottle opener and the beer, to celebrate the winning team—ours, of course!
RECIPE: Tortilla de Patatas
RECIPE: Breaded Chicken Cutlets
RECIPE: Easy Creamy Coleslaw