Dr. Matthew Cohen Says Shen Yun 'Very Educational And Very Beautiful'
April 9, 2014 10:20 pm Last Updated: April 18, 2014 2:06 am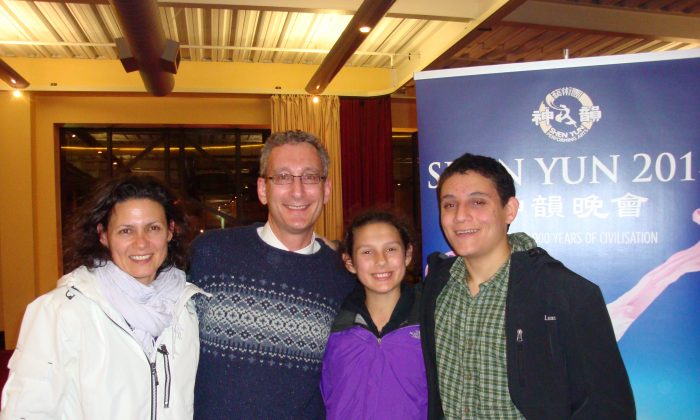 WELLINGTON, New Zealand—Windy Wellington lived up to its name on Friday April 8, but inside the St. James Theatre patrons were blown away in a different way by the performance of Shen Yun Performing Arts International Company on opening night.
Dr. Matthew Cohen was in the audience, and was very impressed. "It was a delightful performance, nice cross-cultural experience, and very colourful," he said.
According to the company's website, "Through the universal language of music and dance, Shen Yun weaves a wondrous tapestry of heavenly realms, ancient legends, and modern heroic tales, taking you on a journey through 5,000 years of Chinese culture."
Dr. Cohen found the combination of the ancient and the modern dance, the Western orchestra blending with Chinese instruments and the use of an animated digital backdrop especially interesting.
"It was a mixture between the classical and the contemporary. Their use of the orchestra and backdrops with computer generated animation were really a wonderful meld," he said.
The website tells us; "The Chinese, too, have legends depicting the culture's divine origins. This mythology continued to grow throughout the generations, creating incredibly rich folklore. Stories and legends are commonly scattered amongst many different sources which, when put together, reveal a tapestry extensive and brimming with details."
Dr. Cohen found the performance a learning experience, as he had limited prior knowledge of Chinese culture demonstrated through the arts. "I found it very educational and very beautiful."
At first glance, one is struck by the beauty of Shen Yun, but as the website describes… "digging deeper, one discovers a sea of traditional Chinese culture. Mortals and divine beings merge on stage as one. Principles such as benevolence and justice, propriety and wisdom, respect for the heavens, and divine retribution, all come to life, washing over the audience."
Dr. Cohen said he saw themes in the performance. "Good triumphs over evil, there is repression in China and that the performers are able to share their art with the world but not in the country in which it originated."
Dr. Cohen said he will tell his friends to "Go see it!"
Based in New York, Shen Yun Performing Arts mission is to use performing arts to revive the essence of Chinese culture—traditionally considered a divinely inspired civilization. Since the CCP is officially an atheist regime, it is afraid of the freedom of expression this arts company enjoys in the West.
Reporting by Margo MacVicar and Christine Ford
New York-based Shen Yun Performing Arts has four touring companies that perform simultaneously around the world. For more information, visit Shen Yun Performing Arts.
The Epoch Times considers Shen Yun Performing Arts the significant cultural event of our time. We have proudly covered audience reactions since Shen Yun's inception in 2006.