Doctors Say Shen Yun Appealing on So Many Levels
April 11, 2014 12:43 pm Last Updated: April 11, 2014 11:42 pm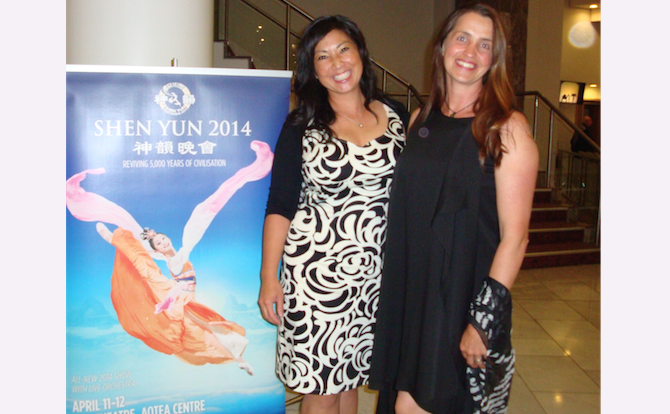 AUCKLAND, New Zealand—Shen Yun Performing Arts International Company held its opening performance for Auckland in the Aotea Centre, on Friday evening April 11, and two appreciative audience members were Dr. Kaa-Sandra Nardia Chee, who has a doctorate in biomedical science, and veterinarian Dr. Nicole Brown.
"I really love it, I really love the costumes, colourful, we just decided that the male dancers and the acrobatics were really appealing," said Ms. Brown. Shen Yun's website says that Chinese dance includes "combinations of leaps, turns, flips, spins, and other aerial and tumbling techniques."
"The story line behind it, it's lovely," she added.
Ms. Chee was awed at the skill of the dancers and the variety of the costumes from the different dynasties.
"It's interesting to see the different costumes matching to the different times. I didn't know that the Manchurian's wore the head dresses, and the high heeled shoes. … You see the different costumes, but you don't realize how they fit into time," she said.
"I think they are so athletic and … can see where the martial arts developed from and, it's fantastic. It's a different kind of dance." Martial arts and classical Chinese dance have a shared root, explains Shen Yun's website.
Based in up-state New York Shen Yun has classical Chinese dance at its heart, but also included folk and ethnic dance as well as mini-dramas along with solo singing performances.
Ms. Brown found the mini-dramas delightful.
She said, "What I really love about, like, having some of the stories about the boy and the dragon, and all the little scenes, a couple of scenes around the different scenery."
The program explains that Ne Zha was the most unusual boy in Chinese mythology, and in the performance of Ne Zha Churns the Sea the extent of Ne Zha's extraordinary powers would soon be revealed.
With state-of-the-art graphics technology, Shen Yun's digital-backdrop team creates vividly animated settings, extending the stage and transporting the audience to a world where heaven and earth are one.
"That's cool, the integration was good, and I loved it," said Ms. Brown referring to the backdrop.
Shen Yun is entirely non-profit and independent of the Chinese regime. It enjoys the artistic freedom of New York, enabling it to now bring ancient traditions to the stage.
"Over its past 60 years of rule, the communist regime has treated traditional Chinese values?centered on the idea of harmony between heaven and earth?as a threat to its existence. And in its systematic campaigns like the Cultural Revolution, it has uprooted traditional beliefs and destroyed ancient treasures?bringing traditional 5,000 years of civilization to the brink of extinction," explains the Shen Yun website.
"I think it's interesting because … there's always a return back to that as people start to meditate again. Meditation's becoming really popular, and I think that it's important for us to learn from the past because we can learn a lot from the past, and I think also that how they had a little bit of the contemporary, the recent … I think that that was quite relevant," said Ms. Chee.
"In the way that the people are oppressed, and that they're based in New York because they can't have the freedom to perform in their own country, and I think that's important for us to learn, because it is a very suppressed society, and only the ones who can speak out; live outside of China," she said.
According to the website, "Mortals and divine beings merge on stage as one. Principles such as benevolence and justice, propriety and wisdom, respect for the heavens, and divine retribution, all come to life, washing over the audience."
"I'd say it's a cultural performance, that, it's got certain messages I think that we can all take from it; whether it be a learning of the past, or a learning about Chinese culture and how the Divine comes into it, and how spiritual they actually are," said Ms. Chee.
The two ladies agreed Shen Yun was a wonderful experience.
"It's the emotion of seeing a beautiful dance," said Ms. Chee.
Ms. Brown added, "It's more the entertainment value of the stage."
Ms. Brown and Ms. Chee are both standouts in their fields.
Ms. Brown is the Principal Veterinarian at "The Pet and Vet Team" in Auckland and according there website her boss describes her as "an outstanding Veterinarian."
Ms. Chee's has a PhD majoring in biomedical science, as a research scientist she is the author of many publications and sought after for presentations in her field, ocular injury, Ms. Chee has won many awards during her studies.
Reporting by Margo MacVicar and Christine Ford
New York-based Shen Yun Performing Arts has four touring companies that perform simultaneously around the world. For more information, visit Shen Yun Performing Arts.
The Epoch Times considers Shen Yun Performing Arts the significant cultural event of our time. We have proudly covered audience reactions since Shen Yun's inception in 2006.