Dancers In Awe of Shen Yun Dancers' Ability
April 11, 2014 8:22 pm Last Updated: April 12, 2014 12:36 am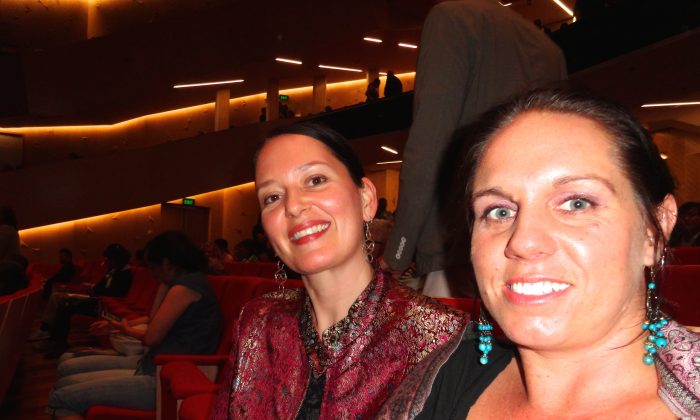 AUCKLAND, New Zealand—Dancers Sandy Danford and Kirsty Pacey were in awe of the ability of the Shen Yun Performing Arts dancers when they saw them on opening night on Auckland's Aotea Centre, on April 11.
"I love classical dancing and authentic dancing, and I've never experienced anything quite like this, it's beautiful. It's really beautiful," said Ms. Danford who's passion is Middle Eastern dance, she teaches part time at MEDANZ, and works full time as a solicitor.
"I'm envious," she added.
As a dance teacher she felt the choreography and precision of the dancers on stage was "incredible."
"I can't believe how they manage to coordinate so many dancers together. I can truly appreciate the work behind what we're seeing. … it's challenging to get so many performers to achieve what they're achieving."
Ms. Pacey, a dance student said, "It is absolutely stunning and breathtaking, I'm so glad I came to see it."
"An integral part of Shen Yun's performances is classical Chinese dance, which has been passed down through the generations in China, constantly being refined to develop into the vast and distinctly Chinese dance form we know today", according to the Shen Yun website.
Classical Chinese dance has three integral parts, bearing, form and technique.
The website explains "Form refers to the techniques and methods expressed externally, including the hundreds of exquisite movements and postures. Even though many of these poses might look very simple, they actually require the perfect coordination of every part of the body. For example, the movement and rotation of the trunk, the direction of the gaze, the placement of the fingers, and so on, all require accuracy and coordination."
Referring to a vertical split where the dancer stood on one foot and had the other above her head. Ms. Pacey was very impressed.
"It's incredible, they're just stunning," she said.
"They're so graceful, very graceful, very talented people. I'm jealous."
She wanted to encourage others to experience Shen Yun.
"It's amazing. Absolutely amazing. I'd tell anyone to come watch it if they want their mind-blown."
Ms. Danford added, "It's difficult to articulate but I would certainly say it's the kind of dance I've never seen before. … I would certainly encourage people to come and see it."
Reporting by Libei Guo and Margo MacVicar
New York-based Shen Yun Performing Arts has four touring companies that perform simultaneously around the world. For more information, visit Shen Yun Performing Arts.
The Epoch Times considers Shen Yun Performing Arts the significant cultural event of our time. We have proudly covered audience reactions since Shen Yun's inception in 2006.