Dancer Calls Shen Yun 'Absolutely Amazing'
April 17, 2014 8:40 pm Last Updated: April 18, 2014 3:13 am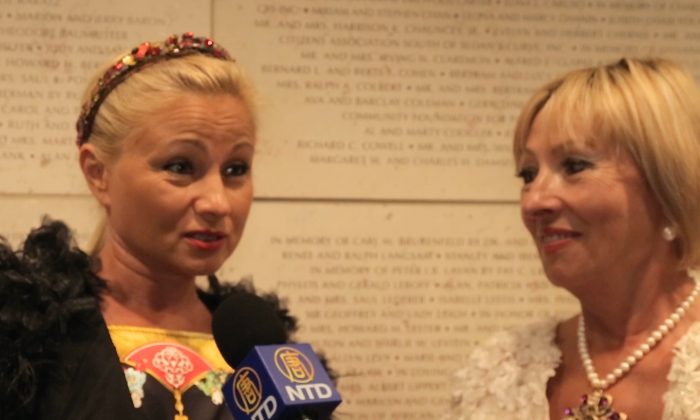 WEST PALM BEACH, Fla.—Former dancer Ludmila Kalinina and her friend Anjelika Kouznetsov, a fashion-show producer, highly praised Shen Yun after seeing the Wednesday, April 16, performance at the Kravis Center for the Performing Arts.
"It's amazing, it's absolutely amazing," said Ms. Kalinina, who danced for 22 years with the Kiev Ballet Theatre.
The program aims to bring China's 5,000-year-old civilization to audiences, the Shen Yun website states. The company performs ethnic and classical Chinese dance. Large-scale, synchronized dances are one of its distinguishing features. An orchestra that combines Western and Chinese traditions accompanies the dancers.
"These dancers are absolutely gorgeous—the technique, the synchronization," Ms. Kalinina said. "The costumes are gorgeous, the colors, and all the show. It's amazing, it's absolutely amazing. Beautiful, beautiful!"
Her friend Anjelika Kouznetsov also spoke highly of Shen Yun: "I need to say how impressed I am with the costumes, the decorations, and the combination of high tech on the background and the dancers on the stage—just amazing."
She was referring to the digital projected backdrop Shen Yun uses to set the stage. The dancers interact with the backdrop, sometimes visually entering or exiting the stage through the projected scene.
"The designers and the dancers who put the show together did an amazing job," said Ms. Kouznetsov, who works in fashion.
Ms. Kouznetsov said she would be encouraging her friends to see Shen Yun. "I will go on Instagram and Facebook [to say] that everybody needs to go tomorrow to see the show. It's beautiful and amazing."
When Ms. Kouznetsov learned that the April 16 performances were the last in West Palm Beach for the season, she said she would tell her friends to see Shen Yun in Miami. The company will perform at the Adrienne Arsht Center for the Performing Arts, in Miami, Friday–Sunday, April 18–20.
Reporting by Serene Lee and Nicholas Zifcak

New York-based Shen Yun Performing Arts has four touring companies that perform simultaneously around the world. For more information, visit Shen Yun Performing Arts. 
The Epoch Times considers Shen Yun Performing Arts the significant cultural event of our time. We have proudly covered audience reactions since Shen Yun's inception in 2006.