Dance Teacher Says Shen Yun so Beautiful 'I started to cry'
'I started to cry because it was so beautiful'
April 16, 2014 11:29 am Last Updated: April 16, 2014 11:29 am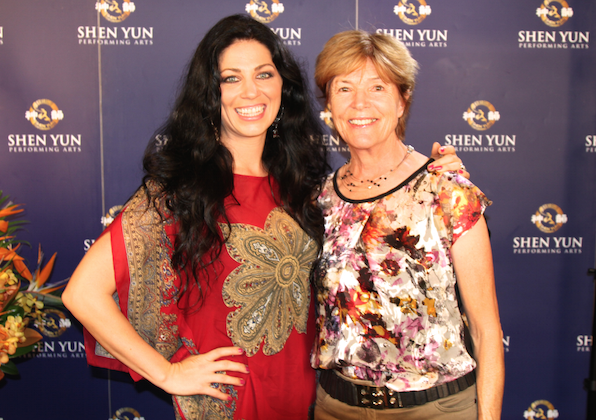 SYDNEY—"The opening sequence really blew me away," said dancer, Sophie-Alize, when she experienced Shen Yun Performing Arts International Company at the Sydney Theatre, on April 16.
"I started to cry because it was so beautiful, the mist coming off the stage and the colours. It was just stunning, really stunning."
The first dance performance is called Grand Descent of the Deities where in the upper reaches of the cosmos, divine beings dance in a golden paradise.
"I was just so bright and beautiful and eloquent," she said.
According to Ms. Alize's website she is "one of Sydney's top performers and has been dancing all her life. Her devotion to captivate her audience is dazzling as she expresses her versatility of being a brilliant performer and exceptional entertainer!"
Shen Yun is based in up-state New York and according to their website "Chinese dance is at the heart of what Shen Yun does. Known for its incredible flips and spins, and its gentle elegance, it is one of the most rigorous and expressive art forms in the world."
As a professional eye Ms. Alize has a critical eye and notices everything.
"Watching such professional dancers really blew me away. The professional choreography, so beautiful," she said.
"I can only imagine that those dancers have been training their whole life since they were children to gain that kind of expertise. It looks like an incredibly difficult dance form, incredibly difficult," she continued.
"The choreography was amazing, the colours were just spectacular."
The website explains, "Every costume in a Shen Yun performance is presented with brilliant colors, displaying a splendid spectacle—from the Tang Dynasty's "Raiment of Rainbows and Feathers" to imperial dragon robes, phoenix coronets, and cloud capes; from the civil official's headdress and robes to the warrior's helmet and armor; and from the traditional rightward cross-collared Han clothing to the ethnic attire of the Manchurian, Tibetan, Dai, Mongol, and Uyghur ethnic groups."
Ms. Alize loved what she saw and how the dancers and the costumes worked in unison to produce something "so beautiful, really spectacular."
"The costumes were just beautiful. The colours, the movement—colour and movement is what it is all about. It's just spectacular! It's breathtaking!" she said.
State-of-the-art digital backdrops are another unique feature of Shen Yun that people find delightful.
"The integration of video, dance and their telling of the stories and fables, I thought it was really, really beautiful and well done," Ms. Alize said.
The Shen Yun website explains, "For 5,000 years divine culture flourished in the land of China. Humanity's treasure was nearly lost, but through breathtaking music and dance, Shen Yun is bringing back this glorious culture."
Ms. Alize appreciated the snippets into China's history and culture.
"I love it … basically what can be better than learning history through dance or through performance," she said.
"I learnt a lot throughout the show about Chinese history."
Ms. Alize was touched by the performance The Steadfast Lotus where "on a street in today's China, people are practicing Falun Dafa. This is a spiritual mediatation discipline, also known as falun gong, whose practitioners have been persecuted in China for over a decade," according to the program book.
She really appreciated Shen Yun using the arts as a medium to bring this awareness to the audience.
"I think it is really sad. I think that I was really touched by the modern day Chinese scenes. … I think it gives us more awareness as an audience and makes us think. And then again what can we do? Can we do something to help? Can we do something to change that? Or is it literally just getting that word of mouth out there that this goes on that makes the world more aware and question the authorities in China," she said.
Ms. Alize said everyone should experience the wonder of Shen Yun.
"It is definitely worth it. Dazzling, spectacular."
She continued, "beautiful dancing, … really heartfelt … exquisite technique … beautiful showmanship."

Reporting by NTD Television and Leigh Smith
New York-based Shen Yun Performing Arts has four touring companies that perform simultaneously around the world. For more information, visit Shen Yun Performing Arts.
The Epoch Times considers Shen Yun Performing Arts the significant cultural event of our time. We have proudly covered audience reactions since Shen Yun's inception in 2006.