LONDON—Czech politician and composer Michael Kocáb said he almost couldn't believe the technique of the Shen Yun dancers.
Kocáb, who saw the peformance at the Eventim Apollo in London on April 27, also said the performance was "deep, very deep."
Kocáb founded the Czech rock-jazz band Pražský Výběr in 1975, which was named in reference to a cheap Czech wine brand. The band was prohibited from performing between 1983 and 1986 due to communist censorship.
He therefore had direct experience of the repressiveness of communism—something the Shen Yun performance touches on in its story-based dances.
Through about 20 vignettes, Shen Yun takes audience members on a journey to different eras, regions, and into the worlds of famous characters in history and literature, all the way up to the modern era.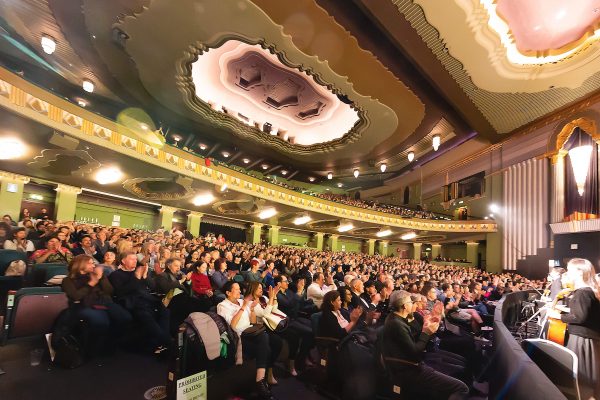 Shen Yun depicts the devastation wrought by communist rule through its stories about the persecution of practitioners of the spiritual discipline Falun Dafa in China.
However, Shen Yun's stories of persecution ultimately end in a message of hope—that of goodness overcoming evil and suffering.
Kocáb called the Chinese communist regime "terrible" and said that it must make the regime "crazy" that Shen Yun is raising awareness through art.
'This Orchestra is Absolutely Perfect'
He has had an extensive career as a politician, being instrumental in ending the Soviet occupation of the country in 1989, and advising Czech president Václav Haval for 20 years.
Most recently, in 2009 he was nominated for a ministerial position in the Czech government by the Green party.
But running alongside this, he resurrected his old band as Pražský Výběr II in 2006, with most band members changed.
He had great respect for the music in Shen Yun, which combines Western and Eastern classical instruments.
Kocáb said the music in the show was "perfect, this orchestra is absolutely perfect."
In broken English, Kocáb had some words for the music's composer: "I almost cannot believe how many such very complicated and good quality orchestration he can do all the time, he is … he must understand, he is very good … how he understands this … system of composing of all the time, it's not easy."
Turning to a translator to continue what he wanted to say, Kocáb added that he could "imagine how difficult it is to capture the historical aspects of the Chinese culture and translate it into modern music with the combination of the instruments."
He said he "can imagine how hard it is to make it so beautiful."
With reporting by Mary Mann and John Smithies.
The Epoch Times considers Shen Yun Performing Arts the significant cultural event of our time and has covered audience reactions since the company's inception in 2006.