Crochet Designer Enchanted by Shen Yun
April 12, 2014 12:33 am Last Updated: April 13, 2014 1:40 am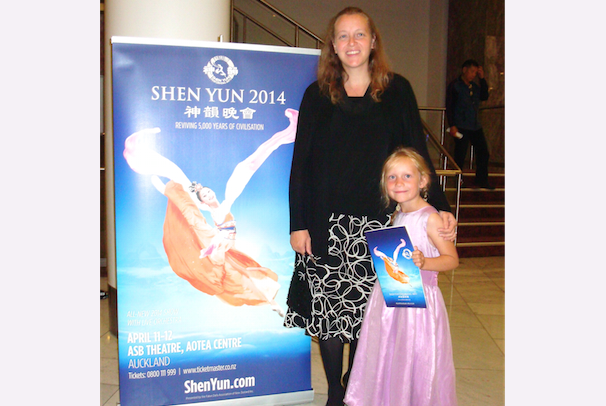 AUCKLAND, New Zealand—"It's just enchanting, beautiful colours and very engrossing; beautiful to watch" said Lisa van Klaveren after she saw Shen Yun's performance in Auckland, on Saturday April 12.
Shen Yun is a New York-based company whose mission is to revive ancient Chinese culture. Through their performances they take their audiences on a 5,000 year journey of divinely inspired culture.
Mrs. van Klarveren designs crotchet patterns for children's clothing and accessories and sells them on line. As a designer she expressed her appreciation saying, "I especially love the costumes and the bright colours and the sleeves on the dresses as they spin; it just looks like fans"
Shen Yun website explains further. "Every costume in a Shen Yun performance is presented with brilliant colors, displaying a splendid spectacle."
Mrs. van Klarveren found the performance to have educational value "when they [Masters of Ceremonies] were saying how the flips that we see in the dancing was original to classical Chinese dance rather than like gymnastics or other art forms, it was actually in China where they originated, so I thought that was really fascinating."
In addition to ancient legends and myths, some of the dances relate stories about the current situation in communist China—the repression of people of faith. For this reason, Shen Yun is banned from the country.
Mrs.van Klarveren said, "Over five thousand years of history there's been a lot of oppression … Being American I'm used to a country where everyone is free to practice their own religion so [I've] never been oppressed in the same way."
Mrs. Van Klarveren concluded by saying she would encourage her family to come to Shen Yun, "I'd just tell them it's beautiful, it's just very entertaining and lovely. It's nothing like any other show I've seen before."

Reporting by Margo MacVicar and Judy Shakespear
New York-based Shen Yun Performing Arts has four touring companies that perform simultaneously around the world. For more information, visit Shen Yun Performing Arts.
The Epoch Times considers Shen Yun Performing Arts the significant cultural event of our time. We have proudly covered audience reactions since Shen Yun's inception in 2006.