DALLAS—Celestial maidens, magical flutes, enchanting lantern light—Shen Yun Performing Arts transported sights and sounds from China's ancient culture to a stage in Dallas on the evening of Jan. 25, 2020. The performance's profound themes and beautiful scenery touched the hearts of two couples in the audience.
The performance in Dallas happened to fall on an auspicious date—Chinese New Year—and was the first time Robert and Susan Ruston had seen New York-based Shen Yun. Robert Ruston is in the oil and gas business. His wife Susan, formerly an account, is now a homeschooler.
"It was absolutely fantastic," Susan said. "We're very impressed with it. Loved the costumes, the music was wonderful, the choreography was great. And I thought they were so athletic, that they could jump so high. And they told a great story."
Robert described one piece where dancers used their long, flowing "water sleeves" like props as exhilarating, and Susan chimed in with how much she enjoyed a Mongolian ethnic dance that seemed to take place in the grasslands. Shen Yun's roughly 20 short pieces throughout the performance include ethnic and folk dances, as well as stories both ancient and modern—told through classical Chinese dance.
"I will tell [my friends] that they need to come and see it next time it's in Dallas for sure," Susan said.
"I thought it was very enlightening," she continued. "I thought it gave me a hint of optimism, and of peace, peacefulness, yes. I felt good and I felt optimistic and enlightened and at peace."
Robert felt that if he took one message from the show, it would be "Endure. Just endure, and wait your time, and it will all come around for you. I'm glad I came. We're glad to have experienced it."
Shen Yun's mission is to revive traditional Chinese culture and share it with the world through art forms like classical Chinese dance, bel canto singing, and a live orchestra comprised of Eastern and Western instruments. Because ancient China was such a deeply spiritual civilization, they acknowledged the Creator. The legend of the Creator returning is depicted on stage in Shen Yun.
"I thought it was great," Robert said of Shen Yun's depiction of that legend. "I thought it was wonderful."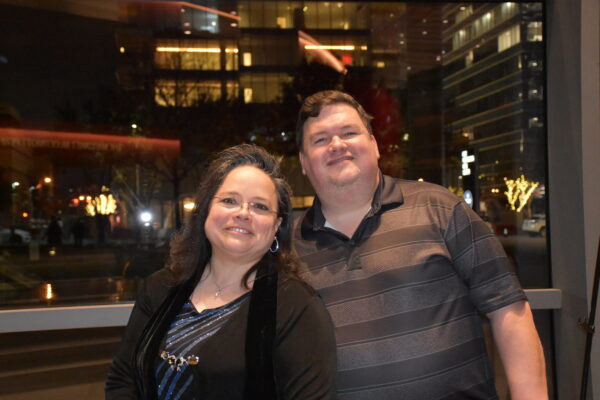 Shen Yun Offers Variety and a Rarely Heard True Story
While different aspects of the performance stood out to Mike and Susan Norwood than did to the Rustons, the Norwoods said they thoroughly enjoyed the Shen Yun performance.
Mike, the vice president at a mortgage firm, appreciated "the variety of it."
"It had comedy, it had romance, it had action—just a little bit of everything," he said.
"Aside from the vibrant colors that you saw in the costumes, it was definitely enjoyable just to watch the dance in general," Susan said, "the interpretive [classical Chinese] dance, and seeing the story roll out. It was good. It was fun."
The Norwoods learned a lot about China, both past and present.
"The most shocking time for me was when they announced that they're [China] still under communist regime and so, therefore, they can't express that type of interpretive dance, or, they can't express their choice to not only show there but what you look beyond that and what they mean is that you can't pray the way you want to pray.
"You are still having to hide your prayers if they don't match with the communist regime. So that was a little shocking because it's so common in the United States, whereas you don't realize that that was such a big deal," Susan said. During the performance, they met a fellow theatergoer who had been in China during the Tienanmen Square protests and shared her account of it, and how her family fled the oppressive state in the aftermath. "But that means there is still so many millions that are still under that regime and that is scary," Susan said.
Susan said Shen Yun was successful in spreading the truth, and Mike felt that the values and freedom of expression in the performance were indicative of universal commonalities.
"They were promoting peace and love and loving one another and having the freedom to express that," he said.
With reporting by Amy Hu, Sophia Zheng, and Brett Featherstone.
The Epoch Times considers Shen Yun Performing Arts the significant cultural event of our time and has covered audience reactions since the company's inception in 2006.
Dallas, United States
Shen Yun North America Company