Couple Inspired by Shen Yun's Performance
April 12, 2014 2:00 am Last Updated: April 12, 2014 2:00 am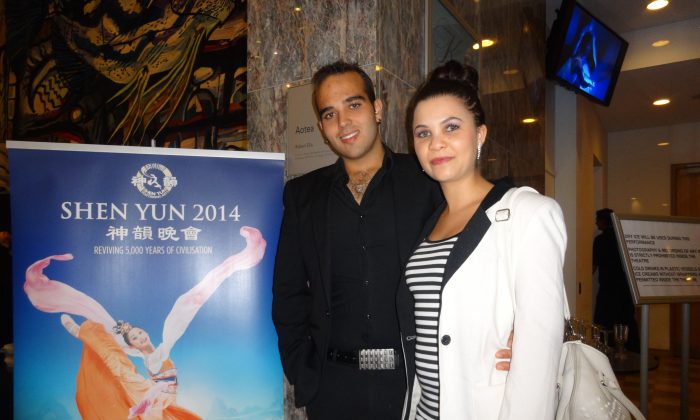 AUCKLAND, New Zealand—Ms. Melissa Blignaut and Mr. Sage Lasseter attended the Shen Yun performance in Auckland's ASB Theatre on Friday, April 11.
Ms. Blignaut is a lab technician who works for Assure Quality, a bio security surveillance and response service which assists MAF Bio security, New Zealand in protection against exotic pest and disease incursions. Mr. Lasseter is a student.
Ms. Blignaut said she loved the dancing, "The show was awesome, fantastic. So beautiful; the colours were beautiful, I'll always come back," she said.
Shen Yun's mission is to revive 5,000 years of authentic Chinese civilization. The website says, "Classical Chinese dance has a long history of thousands of years, passed down continuously within the imperial palace and ancient Chinese theatre and opera.
Ms. Blignaut noticed the dancers' facial expression, saying "the expression of the dancers was awesome. I'll always come back. I'm a dancer so it's very inspirational to watch the way they dance—the technique, very, very beautiful, " she said.
The website explains the choreography as allowing "its movements to be deeply expressive such that the personalities and feelings of the characters can be portrayed with unparalleled clarity."
Ms. Blignaut fully appreciated how the dance stories were "beautifully put together, all the stars, and how they put it together was really nice; it was beautiful, fantastic. We loved it."
Shen Yun also depicts contemporary stories from modern China. In The Steadfast Lotus which tells of a mother and daughter practicing Falun Dafa in a park, the mother gives her daughter a banner with the tenets of their faith written on it—Truth, Compassion, Forbearance.
Mr Lasseter said he "liked the influence from the Dafa. I liked how they tell us about the story where they can't speak about what they show us, in China. I like how they told us about it."
Falun Dafa is a spiritual practice that has been brutally persecuted in China since 1999.
He appreciated this saying, "Yes, the beliefs, and the values that they can't express in China. I loved it how they shared that with us. I didn't know about that. [It] was new to me."
Shen Yun's website describes the ancient history. "China was once known as the Divine Land, its glorious culture said to have been brought down from the heavens."
Ms Blignaut said "We didn't know about it, we didn't know about the ancient history of China. So now we have more background knowledge about it which is really, really nice."
Summarising her feelings Ms. Blignaut said, "I'd tell my parents and everyone to come because it's so awesome, so beautiful, so inspirational as well. All the colours, it just brings joy."
Reporting by Libei Guo and Judy Shakespear
New York-based Shen Yun Performing Arts has four touring companies that perform simultaneously around the world. For more information, visit Shen Yun Performing Arts.
The Epoch Times considers Shen Yun Performing Arts the significant cultural event of our time. We have proudly covered audience reactions since Shen Yun's inception in 2006.