Costume Designer says Shen Yun Costumes are "Fantastic – Absolutely Beautiful!"
April 20, 2014 11:36 pm Last Updated: April 20, 2014 11:36 pm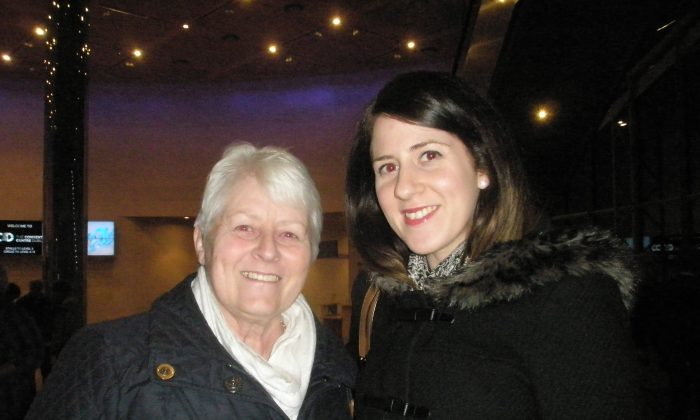 DUBLIN, Ireland—Banking employee Gillian Quinn came to Shen Yun in Dublin with her mother, former Irish-dancing costume designer Eileen Quinn, on Sunday, April 20th, after Eileen gave her daughter the tickets as a heart-felt birthday present. Mrs. Quinn admired the flow, colour, and movement of the costumes, and described them as "fantastic."
According to the Shen Yun website: "Every detail [of each costume] is given meticulous attention and is the result of artistic inspiration and careful polishing. The designers stress harmonic balance and contrast."
Mrs. Quinn said, "The costumes were absolutely beautiful, the colours in them were lovely, and the movement of them; there was lovely flow to the costumes." Her daughter Gillian agreed: "The colours were so vibrant; they worked so well together!"
Mrs. Quinn has vast experience making elaborate costumes for Irish dancing performances, and enjoys going to dance shows to admire the costumes.
An Irish dancer herself, Gillian Quinn said: "It was an amazing show, they moved so elegantly and gracefully. They made it look so easy!" Her mother agreed: "It was the first time we had seen any Chinese dancing, and it was absolutely brilliant, really lovely!"
The dances that presented contemporary Chinese culture made a deep impression on Mrs. Quinn.
She said: "I had heard about the persecution of Falun Dafa before. There was a World Day of Culture in Dun Laoghaire and I met a group, and they spoke of how they were persecuted. It was lovely to see it worked into the show." The Shen Yun dance  The Steadfast Lotus depicts an all-too-common story from modern China, where a family is torn apart due to the Chinese communist regime's persecution of Falun Gong.
The piece depicted how a daughter endures tribulations while searching for her mother, until her steadfast faith gives her newfound hope.
Reporting by Wen Hua and Gerald O'Connor
New York-based Shen Yun Performing Arts has four touring companies that perform simultaneously around the world. For more information, visit Shen Yun Performing Arts. 
The Epoch Times considers Shen Yun Performing Arts the significant cultural event of our time. We have proudly covered audience reactions since Shen Yun's inception in 2006.