MISSISSAUGA, Canada—Successful business leaders famously draw inspiration from China's ancient books, be it leadership, strategies, or wisdom about humanity. Tonight, that tradition came to life when C-suite executives and company founders attended Shen Yun Performing Arts.
Story of Overcoming Persecution Touches CEO's Heart
"I loved it, I would recommend it to anybody," said Heather Welner, CEO of Organic Potash Corp., who took in New York-based Shen Yun at Mississauga's Living Arts Centre on Jan. 9, 2020.
"I love the stories. I love the color. I love the vibrancy. I love the enthusiasm. It was amazing. It was all very good," she said.
The stories that stood out to her the most, told through classical Chinese dance, were "Abetting the Wicked" and "Lantern Grace."
"For example, the young lovers, and what happens to them, and how the brothers come together at the end of it. I just thought that was a lovely story," she said. "Abetting the Wicked" depicts a young man who steps in when his sweetheart becomes the target of a brutal attack by China's ruling force, the Communist Party. It's a story that's unfortunately true to life—the Party persecutes those who practice the spiritual discipline Falun Dafa, which teaches truthfulness, compassion, and tolerance, along with five simple exercises. Practitioners of this tradition are regularly abducted and tortured in jail.
Other Shen Yun dances may depict a beautiful scene in the heavens, an ancient dynasty's court, or in a setting where folk dances take place. In "Lantern Grace," "court ladies bearing exquisite bronze lanterns glide to and fro."
"The dancing with the lanterns, that was just amazing!" Welner remarked.
Finally, Welner couldn't help but remark on Shen Yun's original orchestral compositions, performed live by one of the company's seven orchestras that tour with the dancers of each company.
"The music is beautiful, the tempos. It's just beautiful. It's very different. The music tells the story. It was very potent, very potent," Welner said.
Shen Yun's music is unique in the world for blending a Western orchestra with Chinese instruments and melodies. The result, audience members report, is familiar and pleasing, and also delightful and surprising.
"It was all a beautiful show. It's well worth coming to see this show," she added.
Corporate Founders Appreciate Integrity and Heritage in Shen Yun
Heather and Claus Lenk founded ReSource Group Canada 25 years ago to help Canada's top retail brands succeed, and grew it into a thriving corporation. Tonight, they found themes and inspiration required in successful business leadership.
"I liked the stories, and the movements, the costumes, the history, the explanations. It was great. They talked about integrity," Claus pointed out about Shen Yun.
Shen Yun's mission is to revive the traditions and guiding principles in China's ancient culture. Once almost lost, this culture is being reborn and shared with the world through Shen Yun artists' techniques, artistry, and their spiritual aspirations.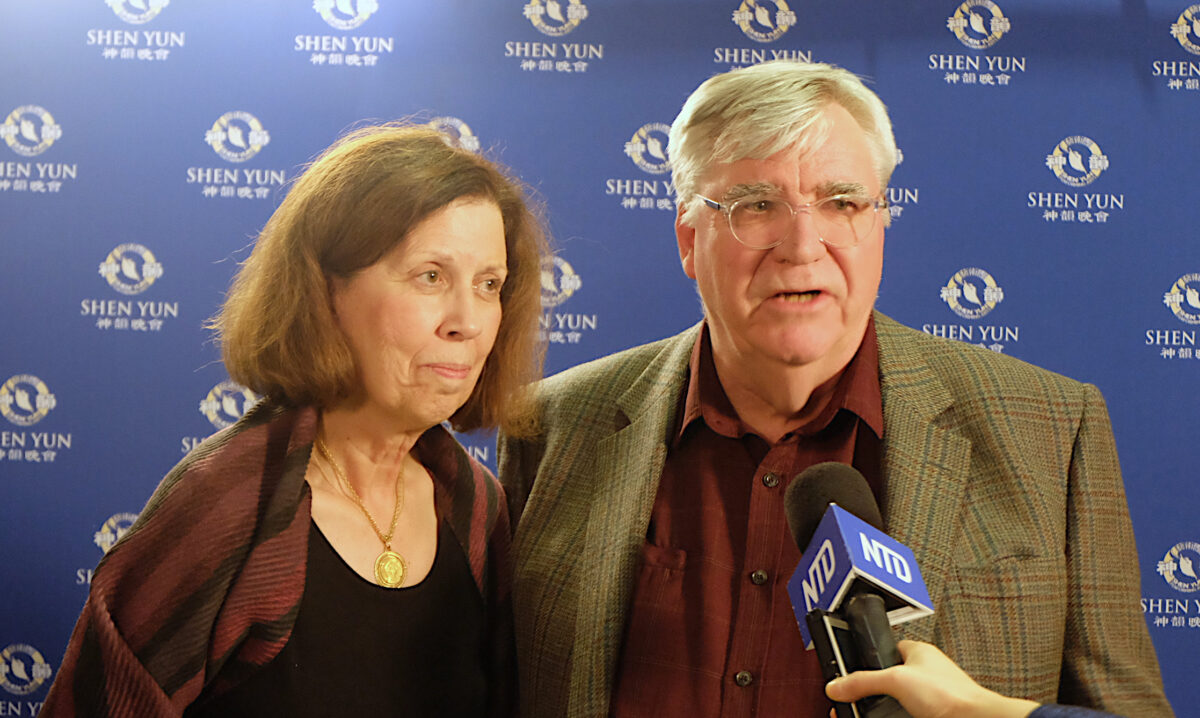 "I think the various parts of China and the various ethnicities and the geographies, I think that's most interesting," Claus continued. The night's performance included dances inspired by the Manchurian court of the Qing Dynasty, Mongolia's horsemen, and folk culture of Shandong Province among others.
"I think the backdrop, and the video part is really very, very good. It's very good quality," Claus said.
Heather was also deeply touched by Shen Yun's dances, stories, and animated backdrops depicting, at times, gorgeous landscapes.
"Amazing. It's such a beautiful country," she said.
"This was amazing. I just learnt so much. The depth of it, the history, 5,000 years, you know it was amazing to be able to grasp the heritage that they are bringing with this."
"It was wonderful, just enjoyed the music, the presentation, the dance. We got lost in the magic of everything … the fairies coming, you just let yourself go, and you are able to fly with them, to just get caught up in the music, and the exuberance. There's a mysticism, there is a magic. You go with it, it's a good experience," Heather said.
With reporting by NTD Television and Brett Featherstone.
The Epoch Times considers Shen Yun Performing Arts the significant cultural event of our time and has covered audience reactions since the company's inception in 2006.
Mississauga, Canada
Shen Yun World Company